Web Marketing for Wisconsin Concrete Contractors
iNET Web Builds a Solid Foundation for Concrete Businesses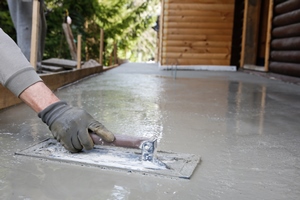 There are hundreds of concrete contractors throughout the greater Milwaukee area, offering everything from driveway repairs to complex foundations for shopping malls. There are also businesses specializing in decorative concrete and concrete countertops. In short, there's a lot of competition.
If you run a Wisconsin concrete business of any type, you need every edge you can get. Which is where web marketing with an iNET Web-designed website comes in.
Face It, You Need a Website
Once upon a time, people turned to those enormous yellow tomes known as phone books when they needed to find a concrete business (or just about anything else). Today, virtually everyone looks online. If your business doesn't have a website, you're not even a blip on their radar.
The thing is, not all websites are created equal. For a website to draw in new business leads, it has to be visible to online search engine users. Specifically, when someone does an online search for "concrete patio installers Waukesha," for instance, your site has to show up on the first page of results. Why? Because most people don't look any further than this!
Just take a look at this chart depicting the online behavior of Google search engine users: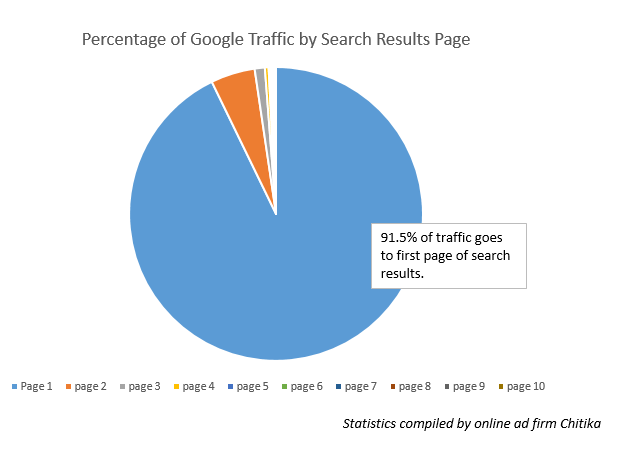 Search Engine Optimization (SEO)
Search Engine Optimization is everything you do on a website to get it to the top of search engine results pages. At iNET Web, we start by developing a robust, fast-loading website, then build it out with useful content designed to answer the very questions prospective customers are asking when they search online. This approach is known as "organic SEO," and it is widely acknowledged as the best strategy for a high placement on search engine results pages.
One of the most important elements of SEO is integrating keywords into the content, and no one does this better than iNET. Keywords are the words and phrases your prospective customers type into search engines when they're looking for a concrete contractor. By researching these terms and thoughtfully working them into the content, your website is more likely to appear on the first page of search results when someone enters those keywords.
About Pay-Per-Click, and Why You Should Just Say No
You may come across web development firms peddling Pay-per-Click, a Google advertising program. PPC, as it's known, places your business (along with other PPC participants) in a grouping above the search results and charges you a flat fee every time someone clicks on your site.
The amount you're charged with a Pay-per-click ad depends on the popularity of the keywords the searcher entered. For instance, if you want your site to appear every time someone does a search for "concrete repair Waukesha," you might pay $1 every time someone clicks on your site. The more popular the keywords, the higher the cost.

Here's a typical PPC ad. Note the "Ad" designation in front of the URL.
PPC will drive traffic to your site in short order, but not without a cost—an often significant one. While $1 per lead may sound reasonable enough, it adds up fast. Then, if you decide to stop using Pay-per-click for a while, your website is suddenly invisible again. You go from top billing to somewhere on the 8th page of search results…or worse.
Something else to consider: your competitors can repeatedly click on your site just to cost you money. Yes, this actually happens. Also, your listing appears with the word "Ad" right in front of it, so everyone knows you paid your way to the top. Studies have repeatedly shown most Internet users trust companies that made it to the top of organic search results on their own merits more than ones who bought their way to the first page of search results.
How SEO Trumps Pay-per-Click
When you invest in monthly SEO development with iNET, new content is added to your site every month, old content is expanded/updated, the site is monitored closely by our SEO professionals, and you are provided a report on a regular basis. Incidentally, search engines electronically "crawl" websites on a regular basis, and regular website updates is a powerful signal a site is worth visiting—which results in a ranking boost on search engine results pages.
Unlike PPC, the content additions to your website stay on your site, even if you discontinue monthly SEO development. With PPC, traffic to your site drops off as soon as you opt out. It's the difference between long-term gain (SEO) and a short-term pop (PPC).
A Full Range of Marketing Services for Milwaukee Area Businesses
What happens if you hire iNET Web to build your website, then find you're going to need some brochures? You just let us know! iNET offers a full range of print and video marketing services, from business cards to broadcast production. Who better to handle these things than the very designers who developed your online brand?
iNET Marketing Services:
Logo design
Print ad production
Brochures and Flyers
Video production (for web or broadcast)
Radio production
Photography (including 360-degree view photography)
Let's Get Your Business Noticed
Whether you're looking to get a website for your business or want your current site to perform better, iNET Web is here to help. Take advantage of a free initial consultation to learn more about how we work, what we've accomplished for other local businesses, and—most importantly—what we can do for you.
Call iNET Web at 262-574-9400, or use the link below to reach us online.