Dornbrook Construction
When iNET's Creative Genius web developers built this concrete company an eye-catching site with search engine optimized content, inquiries and sales took off. Dornbrook flew to the top of free search engines with the brand "Standing behind the concrete Wisconsin business and residents stand on."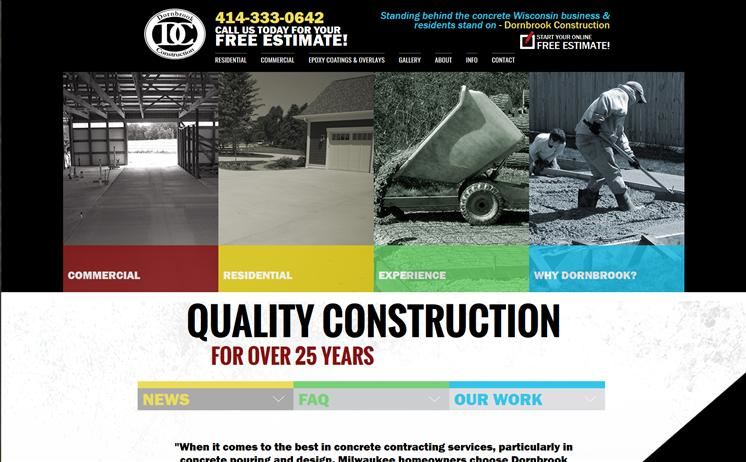 M
Have you ever heard of epoxy coating? What about decorative concrete? If you have, chances are you heard about them from iNETs radio ads for Dornbrook Construction.

Click the links above to learn all about the unparalleled web marketing services that provided Dornbrook Construction
Dornbrook Construction–
Specializing in concrete work and epoxy coatings for homes and business throughout southeast Wisconsin, Dornbrook Construction brings over 30 years of experience to every job.
Website dilemma–
After transitioning from being an employee to becoming the owner of Dornbrook Construction, our client realized the business needed a website to be competitive in the market. With a goal of growing the business as quickly as possible, iNET was the clear choice for the job.
Technology implemented–
Layout and design – Search Engine Optimization - CSS – HTML – Flash – Plug-in javascript – Content management system
Outcome–
iNET created a visually unique website with a mobile responsive design so it displays perfectly on mobile devices. A "walk on" video of the owner himself greets the visitor upon arriving to the site—a personal touch that makes a great impression. Through keyword research and monthly SEO work, the site now ranks at the top of search engine results for the queries most commonly searched by prospective clients. Visits to the site have increased dramatically, and it regularly brings in new requests for estimates. The performance of the site has been as solid as the concrete work Dornbrook does.