Advanced Foot and Ankle
A clean, crisp and bright design instills trust in potential patients. Featuring a quick contact form to request a consultation, advancedfootandanklewi.com provides a simple and effective user experience.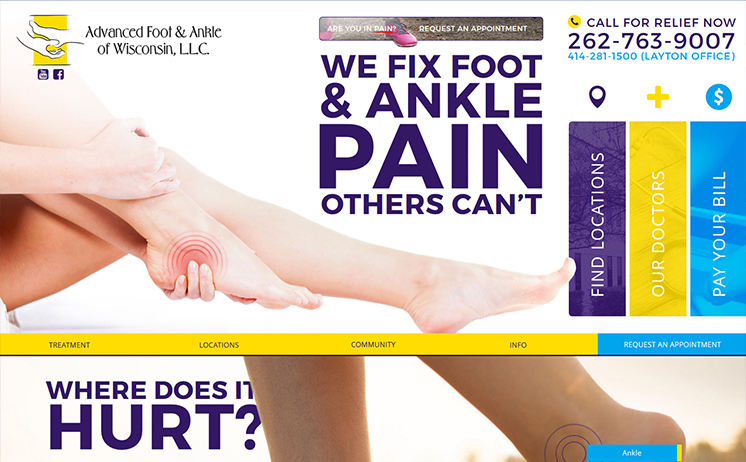 Click the links above to learn all about the unparalleled web marketing services that provided Advanced Foot and Ankle
Advanced Foot & Ankle of Wisconsin
Advanced Foot & Ankle was founded in 2006 by a local podiatrist committed to bringing quality, caring treatment for foot and ankle problems to the Milwaukee area. Since then, the business has expanded to 5 locations throughout greater Milwaukee.
Website Dilemma
Before coming to iNET Web, Advanced Foot & Ankle had a template website with little in the way of content, SEO or visual appeal. Coming to iNET for a new website was a step in the right direction.
Technology Implemented
Layout Design – HTML – Search Engine Optimization – Plug-in javascript – Content Management System
Outcome
iNET developed a visually engaging site optimized for the topics their target audience typically searches for online. Since going live, the new site has been hugely successful in converting visitors into patients, and business shows no signs of slowing.
Advanced Foot & Ankle is one of several physical therapy businesses that have turned a profit with help from iNET.
For prompt relieve of lame design and limping sales, contact iNET's web development experts.