Website Design for Landscaping Companies
Waukesha Web Development Company Helps Landscapers Grow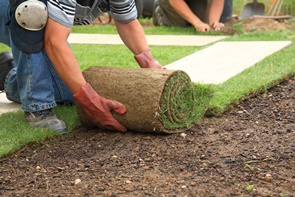 There are hundreds, possibly even thousands of landscaping companies in the greater Milwaukee area. Those with websites have a distinct advantage over their competitors without a web presence, but website design for landscapers is about more than just showing off nice photos of your work. It's about getting your website top billing on search engine rankings.
Growing Your Landscaping Business, One Online Search at a Time
For a website to actually contribute to your cash flow, it has to bring in leads. Your website has to be optimized for the many search engines that rank web pages based on the searches actual people perform online every day. The closer your web page comes to answering a query entered into a search engine, the more likely your site will have a high placement on search engine results pages.
If a potential customer searches for "snow removal services," they're going to get millions of results. Narrowing the field to "snow removal services in Milwaukee" barely makes a dent. If your website isn't among the top results, no one will see it. Countless studies have shown that if your website appears after the second page of search results, you might as well be in Outer Mongolia. Most Internet surfers never even venture beyond the first page of results. This is why Search Engine Optimization (SEO) is so critical for a website.
How is SEO Useful for Landscapers?
SEO for landscaping websites helps customers know what services you have to offer. Let's take a look at the example below:

Google has become the de facto search engine for a vast majority of Internet users. Type in a word or phrase and Google automatically suggests related search terms commonly entered by other internet users. iNET Web uses this information to optimize websites by answering the most common queries made by searchers. In this case, searchers commonly want to find landscapers who buy trees, lay sod, and remove poison ivy. If your website doesn't even mention poison ivy, you won't be able to compete against competitors who do.

Search engines also recognize synonymous terms. What's useful here are the variations on "patio installers." Google recognizes searchers may use terms like "contractor" or "paver," and iNET recognizes these terms are a chance for greater site optimization. If your current website just says "patio installation," you're missing out on everyone who prefers the term "contractors."
Looking at Landscaping Search Terms
Here's a list of commonly searched landscaping business related terms used in the Milwaukee area and the average monthly searches for each: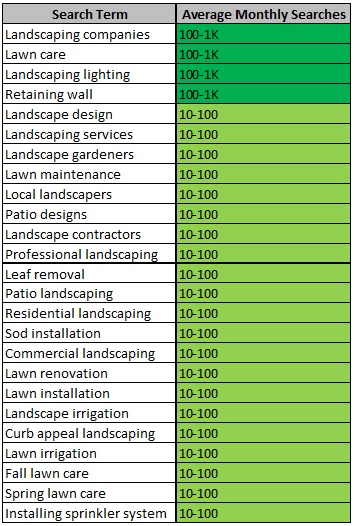 With data like this, iNET Web is able to develop content integrating the most commonly searched terms, giving your site a better chance of being ranked highly by search engines—and you getting inquiries from prospective customers.
These numbers are always changing, especially with a seasonal industry like landscaping. iNET SEO experts keep track of which terms are rising and which are falling to keep your website ahead of the curve.
Zeroing In On Location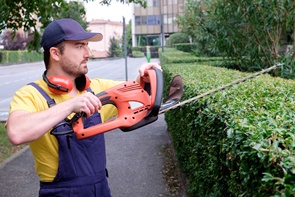 Although search engines can identify where the searcher is located and provide relevant search results, most Internet users looking for a particular service are likely to qualify their search with a location. For instance, "patio builders New Berlin WI." Knowing which geographic areas you want to target, iNET can focus the content so your website will appear in search engine results pages when they specify a landscaping service in that area.
Location optimization helps landscapers avoid bad leads as well. After all, you don't want your Milwaukee company to get calls from customers in Green Bay. iNET-designed will specify your service areas so you get quality leads within your location.
An Optimized Website is a Beautiful Thing
When your website is optimized for the key search terms prospective customers are typing into search engines, you'll get more prospects clicking on your site. The more visitors to your site, the greater the likelihood you'll get inquiries…and, ultimately, more business.
iNET Web is all about making your landscaping company more profitable with our web design and search optimization services.