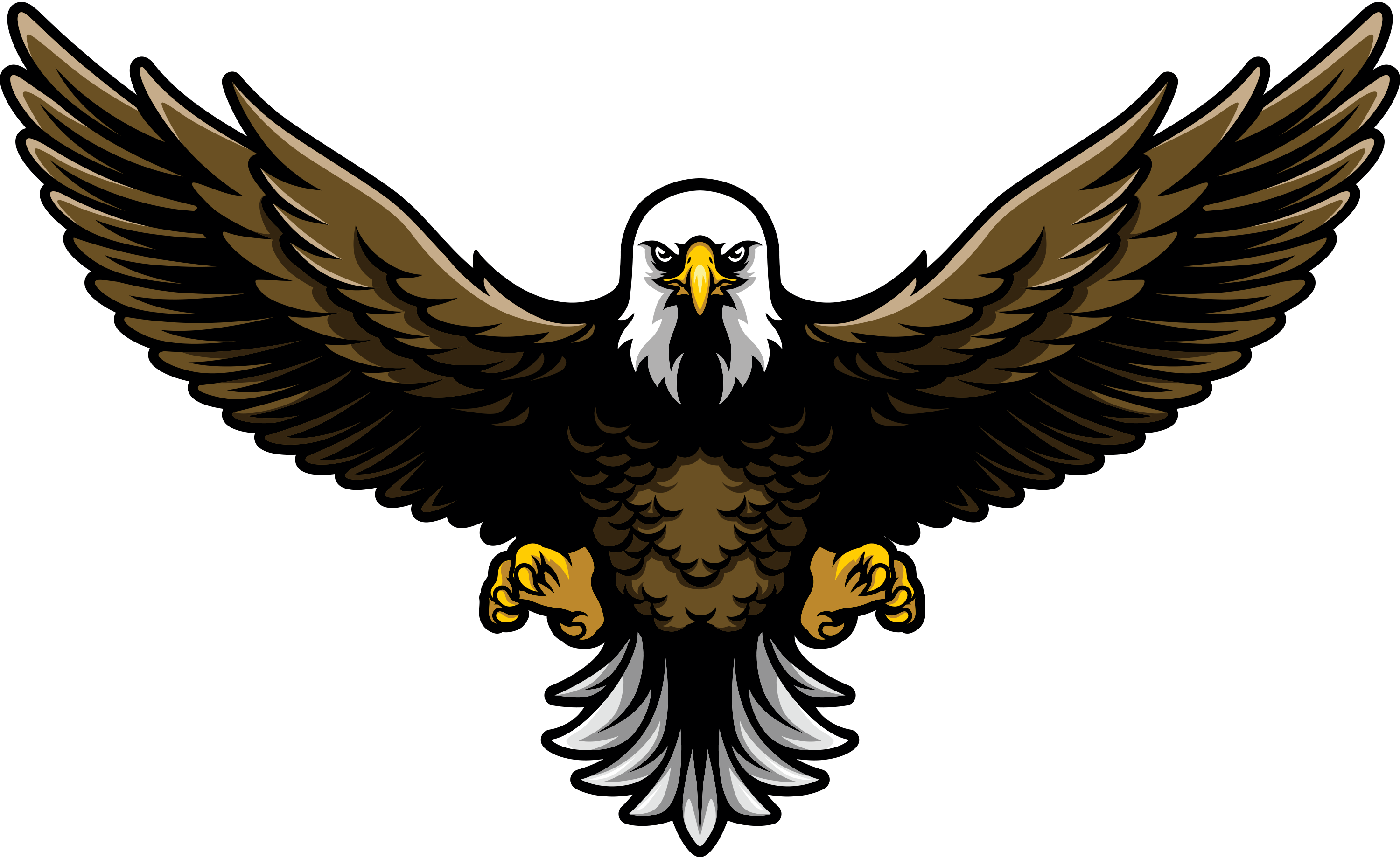 Website Design for Landscaping Companies
How is SEO Useful for Landscapers?
SEO for landscaping websites helps customers know what services you have to offer. Let's take a look at the example below:

Google has become the de facto search engine for over 90% of English-speaking Internet users. Type in a word or phrase and Google automatically suggests related search terms commonly entered by other internet users. iNET Web uses this information to optimize websites by answering the most common queries made by searchers. In this case, it looks as though searchers commonly look for landscapers who buy trees, lay sod and remove poison ivy. If your website doesn't even mention sod or poison ivy, you won't be able to compete against competitors who do.

Search engines also recognize synonymous terms. What's useful here are the variations on "patio installers." Google recognizes searchers may use terms like "contractor" or "paver," so iNET would incorporate all these terms to better optimize the site for search engines. If your current website just says "patio installation," you're missing out on everyone who prefers the term "contractors."
Looking at Landscaping Search Terms
Here's a list of commonly searched landscaping business-related terms used in the Milwaukee area and the average monthly searches for each: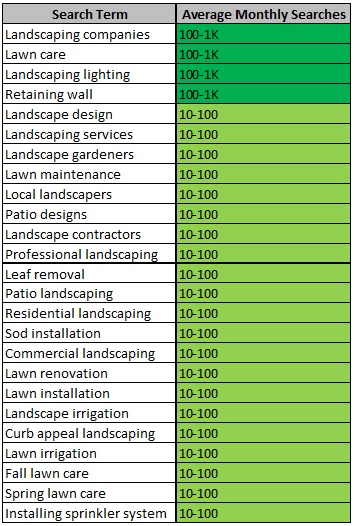 With data like this, iNET Web is able to develop content integrating the most commonly searched terms, giving your site a better chance of being ranked highly by search engines—and a better chance of getting found by prospective customers.
These search terms and numbers are always changing, especially with a seasonal industry like landscaping. iNET SEO experts keep track of which terms are rising and which are falling to keep your website ahead of the curve.
Zeroing In On Location
Although search engines can identify where the searcher is located and provide relevant search results, most internet users looking for a particular service are likely to qualify their search with a location. For instance, "patio builders New Berlin WI." Knowing which geographic areas you want to target, iNET can focus the content so your website will appear in search engine results pages when they specify a landscaping service in that area: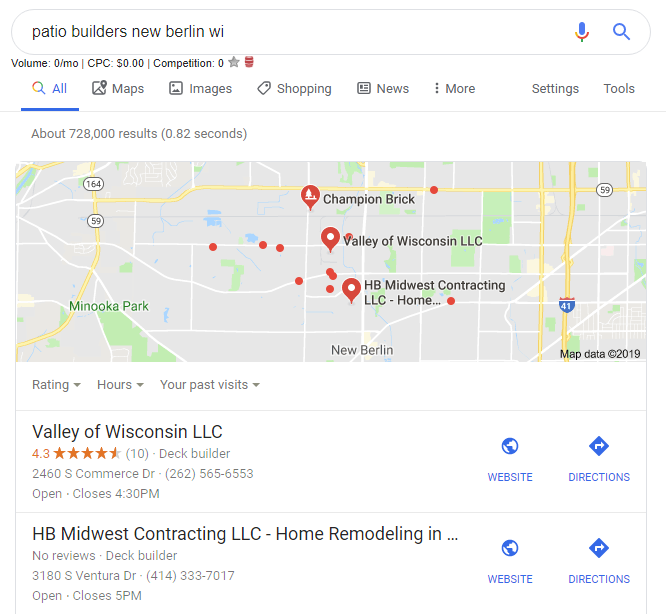 This search resulted in a maps pack, showing the top local recommendations. These businesses are what Google thinks are most relevant to the user based on their search. If your company is outside of the top three, you're probably not being listed for certain search terms. Luckily, there are things we can do to get your business listed in the top three.
iNET helps businesses stay high in the rankings with two main strategies:
Website SEO
Specialized branding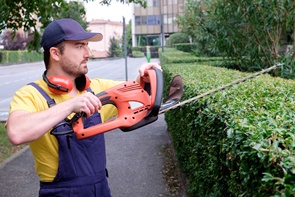 Website SEO is all about content. There are several elements on a page that can be optimized by adding location and other relevant keywords. Some of these page elements (like headers) can be seen by users, while others (like image alts) are only visible to search engines.
Specializing your brand means making your website fulfill specific search queries. Don't try ranking for a broad query like "landscaping." Instead, tailor your brand to something specific that locals search for. "Milwaukee landscape architects," for instance, would make your business more likely to rank in the top listings for local businesses.
Location optimization helps landscapers avoid bad leads, as well. After all, you don't want your Milwaukee company to get calls from customers in Green Bay. iNET will specify your service areas so you get quality leads within your service area.
Comprehensive Marketing Services iNET-Web Offers:
An Optimized Website is a Beautiful Thing
When your website is optimized for the key search terms prospective customers are typing into search engines, you'll get more prospects clicking on your site. The more visitors to your site, the greater the likelihood you'll get inquiries…and, ultimately, more business.
iNET Web is all about making your landscaping company more profitable with our web design and search optimization services. Conveniently located in Waukesha between Madison and Milwaukee, we're succeeding for hundreds of businesses within and beyond southeastern Wisconsin. Check out our portfolio, then contact us for a free initial consultation.
iNET Web Delivers Real Results
Investing in a website is big step for many small businesses, but it brings big results. iNET Web has totally transformed small businesses all over southeast Wisconsin. If your business is struggling and you're tired of seeing your competitors grow while your business stagnates, ask yourself:
Do I have a website optimized to bring clients to ME?
Does my website best reflect my work & experience?
Is my website a reliable source of information for buyers & sellers?
Am I content with my current number of weekly leads?
iNET Web has a range of options for businesses of all sizes. You can start out small and invest more as you start seeing results. However you choose to proceed, you can count on iNET Web doing everything possible to set you up for lasting success. We don't waste your budget on getting you meaningless "likes" on social media, and we'll never sell you on the budget-busting scheme known as Pay-per-click. What we will do is get your business to the top of search engine results pages.