eAchieve Academy
Helping Wisconsin students gain a real education through online schooling is the goal of eAchieve Academy, and iNET-Web has designed a beautiful new, easy-to-use website to help enroll more students than ever before.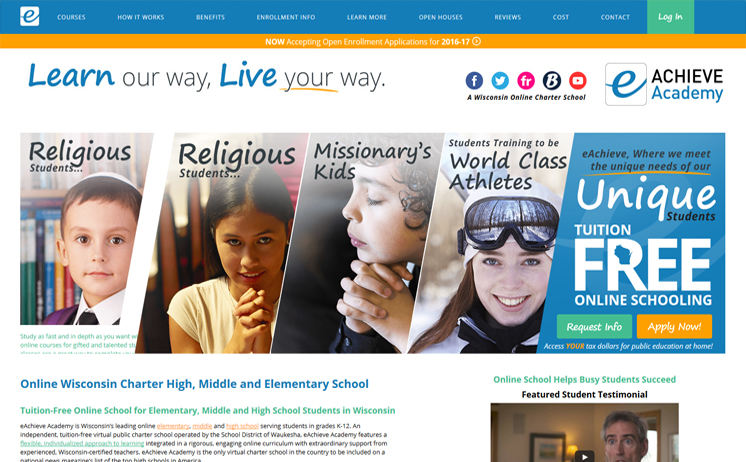 M
The tagline "Learn Our Way, Live Your Way" succinctly conveys the benefit of enrolling for online learning with eAchieve Academy.
M
A single, cursive letter "e" is all the eAchieve logo contains, but the message behind it is clear. The subtle design makes it unique and impactful.
M
eAchieve Academy launched a national radio campaign produced by the Creative Genius team at iNET Web.
Listen to eAchieve's Radio Ads!

Click the links above to learn all about the unparalleled web marketing services that provided eAchieve Academy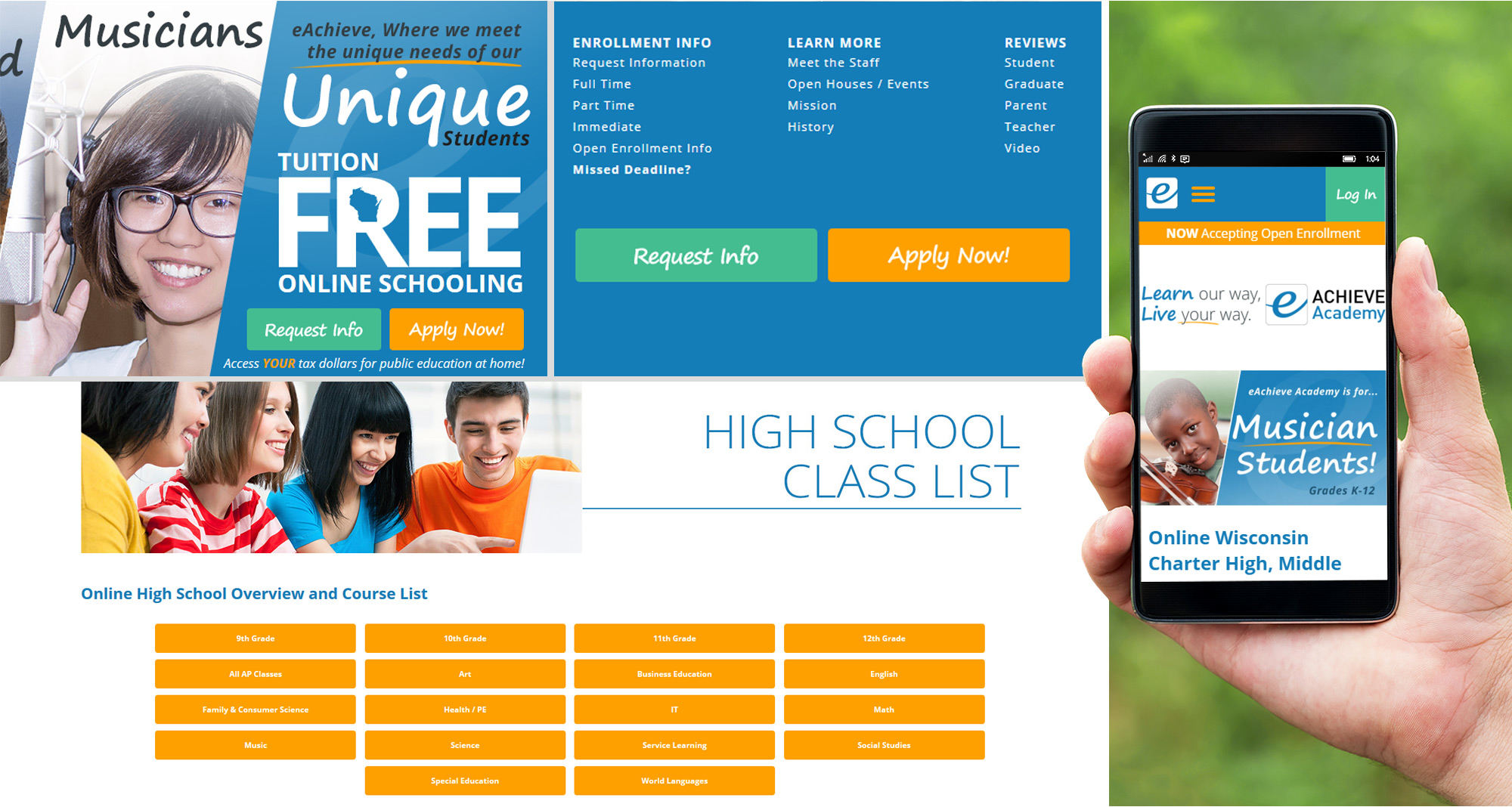 eAchieve Academy-
eAchieve Academy is Wisconsin's leading online school serving students in grades K-12. Operated by Rick Nettesheim and the school District of Waukesha, eAchieve Academy is a tuition-free virtual public charter school with a fully-integrated online curriculum taught by experienced, Wisconsin-certified teachers. This online school offers core, Honors, AP and elective classes for students of all ages, and even includes special needs options for students who need a little extra help. Thanks to the consistently high test scores of eAchieve's students, their academy is the only virtual charter school in the United States to be included on a national news magazine's list of the top high schools in America.
Website Dilemmas-
When classes are entirely done online, it's vitally important to have a user-friendly website. It's also important to have a site that will be found by prospective students looking online for alternative schools. eAchieve's original website format was far from user friendly, and it lacked SEO--which meant the site wasn't ranking on Google or other search engines. With prospective students unable to find the website, enrollment suffered.
Technology Implemented-
Responsive Technology – Search Engine Optimization – Professional Copywriting – CSS – HTML
Outcome-
Since iNET implemented the new eAchieve Academy site in early 2015, registration for their site has increased exponentially. January and September have always been the most important months for enrollment, and with the help of iNET's SEO and copywriting team enrollment has been on an upward trend. With eAchieve's investment in monthly SEO work, the school will continue to see enrollment grow.
Contact the Creative Geniuses at iNET today to get started on your professional website.