Warshafsky Law Firm
From well-known and feared among their opponents to well-known and trusted by the average Wisconsinite, this personal injury law firm has risen to the top of search results. The easily recognizable brand "Injured? It IS About The Money" carries throughout the site and radio ads.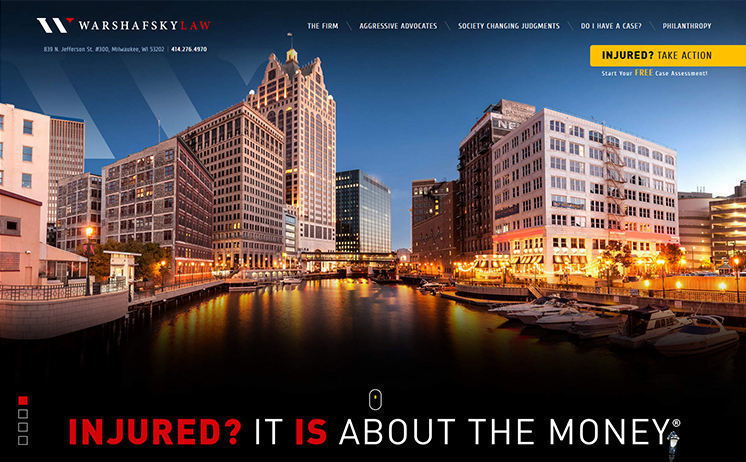 Responsive:
Finding a good lawyer online can be a hassle, especially when their firm's website cannot be accessed at all times. With iNET, the Warshafsky site transitions seamlessly from computer to mobile devices for optimal convenience.
SEO:
Lawyers across the state of Wisconsin are constantly competing for new clients. With monthly SEO, iNET-Web is able to put them at the very top of the pack.
Copywriting:
By creating informative content for the website, the copywriting team at iNET has made the Warshafsky Law website a useful resource.
Custom Programming:
Their website is not pieced together from a template. It's all coded from scratch for a unique look and a glitch-free user experience.
Branding:
Thanks to iNET, their catchy taglines and memorable logo are recognized by many throughout the Milwaukee area, giving them the legitimacy their firm showcases.
Logo Design:
Warshafsky is all about professionalism, and that is precisely what iNET has captured with the Warshafsky logo.
Radio:
With the tagline "Injured? It IS About the Money," iNET has made their radio ads instantly recognizable to anyone who hears them. Listen to Warshafsky's radio ads!


Click the links above to learn all about the unparalleled web marketing services that provided Warshafsky Law Firm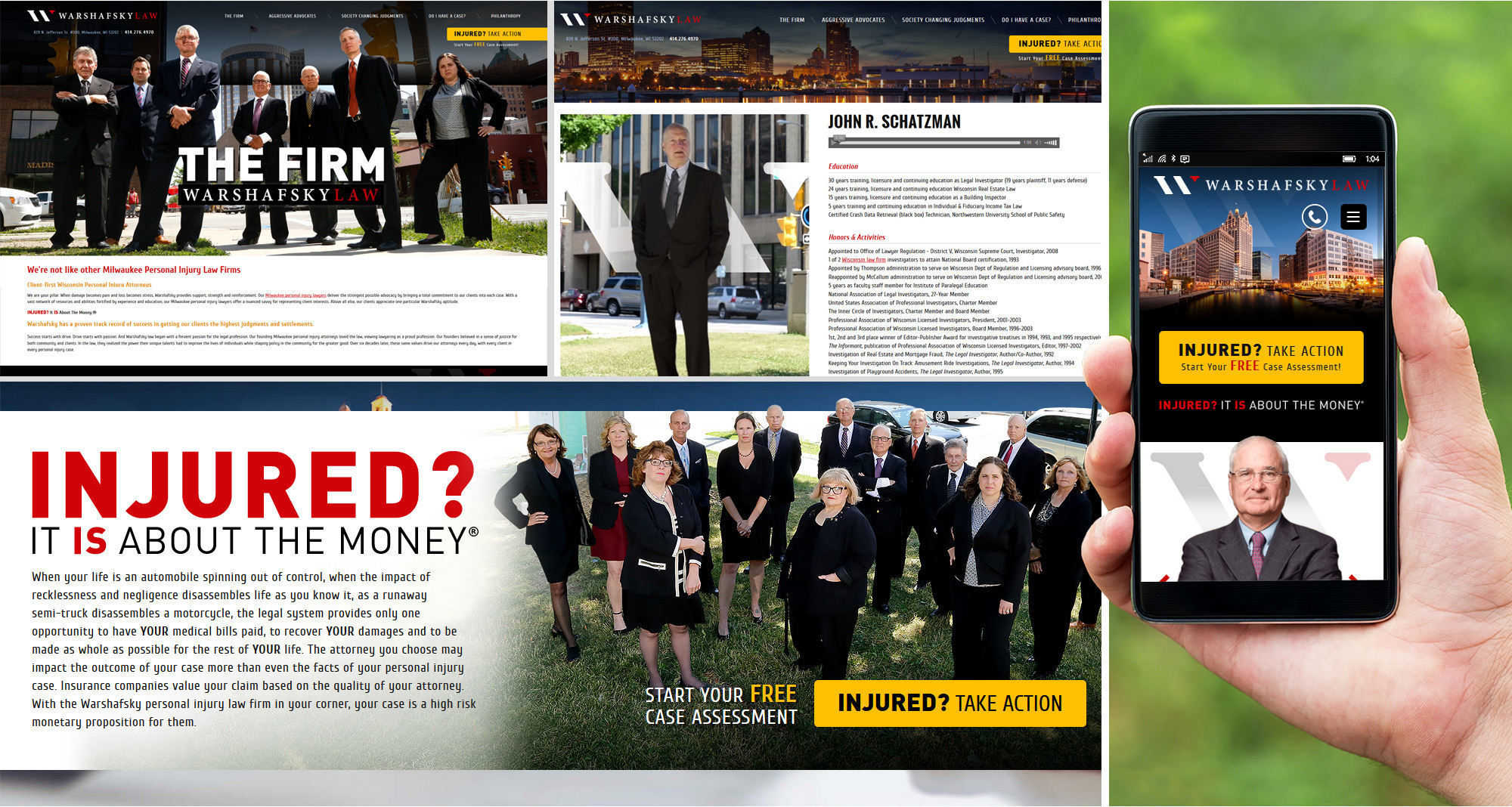 Warshafsky Law Firm - Web Marketing for a Milwaukee Personal Injury Attorney
Warshafsky Law Firm is a group of superb personal injury attorneys dedicated to maximizing compensation for personal injury victims. When Warshafsky came to iNET, they were looking for a redesign of their simplistic pre-existing website. Warshafsky Law Firm asked iNET to initiate a search engine optimization campaign capable of placing their website to the top of industry related search engine results.
Website Dilemmas
Warshafsky's pre-existing website was not profitable and was not producing leads for the law firm. No search engine optimization meant the Warshafsky website wasn't found in searches and wasn't generating the leads they were hoping for. The law firm's website hadn't been updated in a long time, further increasing the website's invisibility to search engines. Furthermore, the plain and uninteresting layout and design of the Warshafsky website wasn't catching the attention of people who actually visited the page.
Technology Implemented
Search engine optimization – Layout design – Content Management System – HTML – Creative Genius – CSS – Flash – jQuery
Outcome
The new Warshafsky website features stunning graphic design and an easy to navigate layout, grabbing the attention of visitors and keeping them on the site. The new website design conveys a professional impression, instilling confidence in those visiting the new Warshafsky Law Firm website. iNET's search engine optimization efforts for Warshafsky were wildly successful. Within two weeks of going live, iNET successfully positioned the Warshafsky website as the number one search engine result for Milwaukee car accident attorney. Car accident cases are highly valuable to personal injury attorneys, so claiming the first result for related queries is a huge win for Warshafsky. iNET's success with the Warshafsky website has already transcended search engine rankings and is delivering profitable results. Within one month of going live, the personal injury law firm had already received substantial leads for significant cases from the website.
Thanks to iNET, Warshafsky law firm now has a visually appealing, lead generating website producing measurable results. Warshafsky Law Firm will continue to experience these great measurable results with an ongoing SEO campaign with iNET.
Contact iNET Web for your own success story with measurable results.