Upper Nemahbin Lake
Wisconsin is full of beautiful lakes and natural locations to visit. Upper Nemahbin Lake's website designed by iNET gives visitors information about the lake and upcoming events, while showing off its natural splendor with a photo gallery and eye-catching banner images.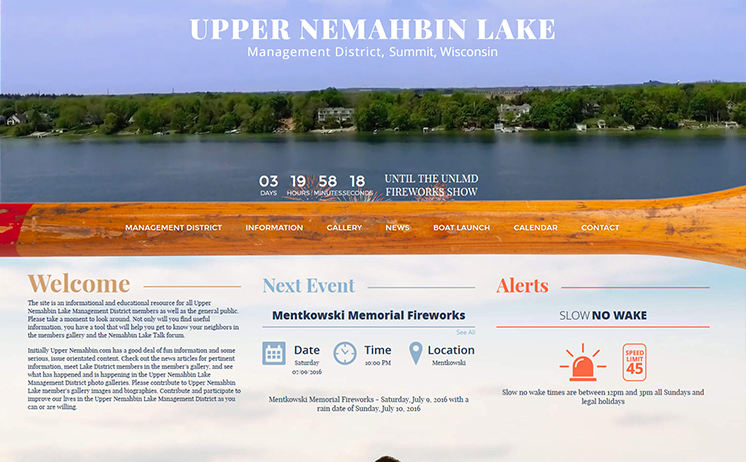 Click the links above to learn all about the unparalleled web marketing services that provided Upper Nemahbin Lake
Upper Nemahbin Lake–
Located in the scenic Lake Country area of Waukesha County, Upper Nemahbin Lake is a beautiful 277 acre lake enjoyed by local residents and visitors alike. Boating, fishing and an annual fireworks show on the Fourth of July are the primary attractions.
Website dilemma–
The Management District for Summit, Wisconsin (where the lake is located) saw a need for a website to keep residents and visitors informed of events and issues relevant to the lake and its environs, as well as to promote the lake. Their old website, which offered little more than a rundown of their board meetings, was in desperate need of updating, and iNET was just the web developer to launch them into the 21st century.
Technology implemented–
Layout and design – HTML – CSS – Secure Transaction (for fireworks donations) – Content Management System - Search Engine Optimization
Outcome–
It's not often we're tasked with building a site for a client who has no pressing need to sell products or a service. In this case, it was all about making a visually appealing site which would accommodate all the information the Management District of Summit wanted to make accessible online, including photos submitted by residents and visitors. With our easy-to-use, proprietary content management system, the Management District can update content on the site whenever the need arises. Another great example of how iNET dives right in to create websites that work.