Uluro
How do communications websites reach customers? With iNET-Web, of course. We specialize in making easy-to-use sites for better user experience.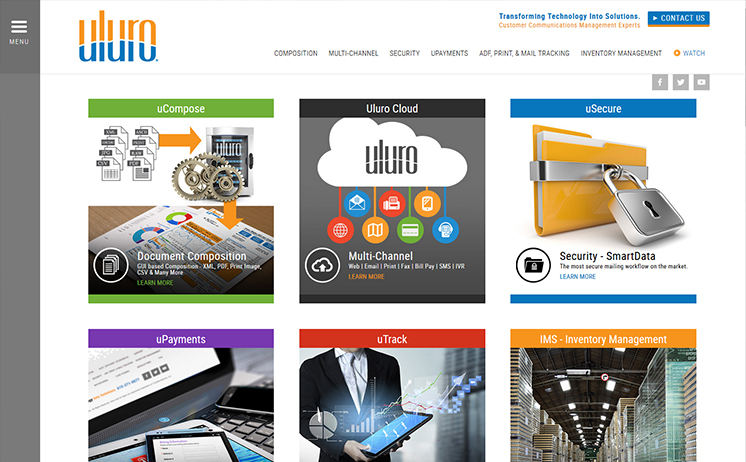 Click the links above to learn all about the unparalleled web marketing services that provided Uluro
Uluro Transformations -
Uluro provides businesses across the country with a unique software solution for managing print and electronic communications. The business also provides inventory management software for archiving communications and a fully integrated bill payment system. Merging lean manufacturing and document delivery, Uluro helps businesses maximize efficiency while cutting costs.
Website dilemma –
Uluro had a barebones website with no visual appeal. Worse yet, it had not been updated to reflect changes in product offering. Uluro wanted something clean and modern looking but also needed a comprehensive and clear explanation of their product benefits. Additionally, the site would need to house downloadable white papers and flyers, as well as a section for news and videos. Good thing Uluro came to iNET!
Technology implemented-
Layout and design – HTML – CSS – Search Engine Optimization – Flash – Secure Transaction – Content Management System
Outcome –
iNET developed a visually engaging website with content conveying features and benefits of Uluro's product line. Additional product literature is housed on the site as downloadable pdfs. iNET also produced an informational video for Uluro to explain the company's software solutions simply and accessibly. The new site offers customers the flexibility of secure transactions, and it tracks the customers' document production process. After seeing impressive results, Uluro came back to iNET to sign on for monthly Search Engine Optimization work. iNET Web carefully crafted content to win high rankings on national search engine results.
Let iNET Web transform your site today to a gorgeous, interactive experience for prospective customers. Contact iNET Web to get started.