The Bee Guy
If you've got stinging insect problem, you need The Bee Guy. If you've got an underperforming website, or none at all, you need iNET Web.

Responsive:
iNET's talented developers have created a seamless transition from desktop to mobile devices for The Bee Guy's website, a must-have in today's world of mobile devices.
SEO:
iNET performs ongoing search engine optimization to ensure The Bee Guy is at the top of search results in a competitive field.
Copywriting:
Copywriters at iNET are experienced in making content readable, enjoyable, & valuable. iNET has helped The Bee Guy appeal to everyday consumers looking for their services.
Custom Programming:
Web developers at iNET-Web built a website from the ground up for The Bee Guy, customized for their needs.


Click the links above to learn all about the unparalleled web marketing services that provided The Bee Guy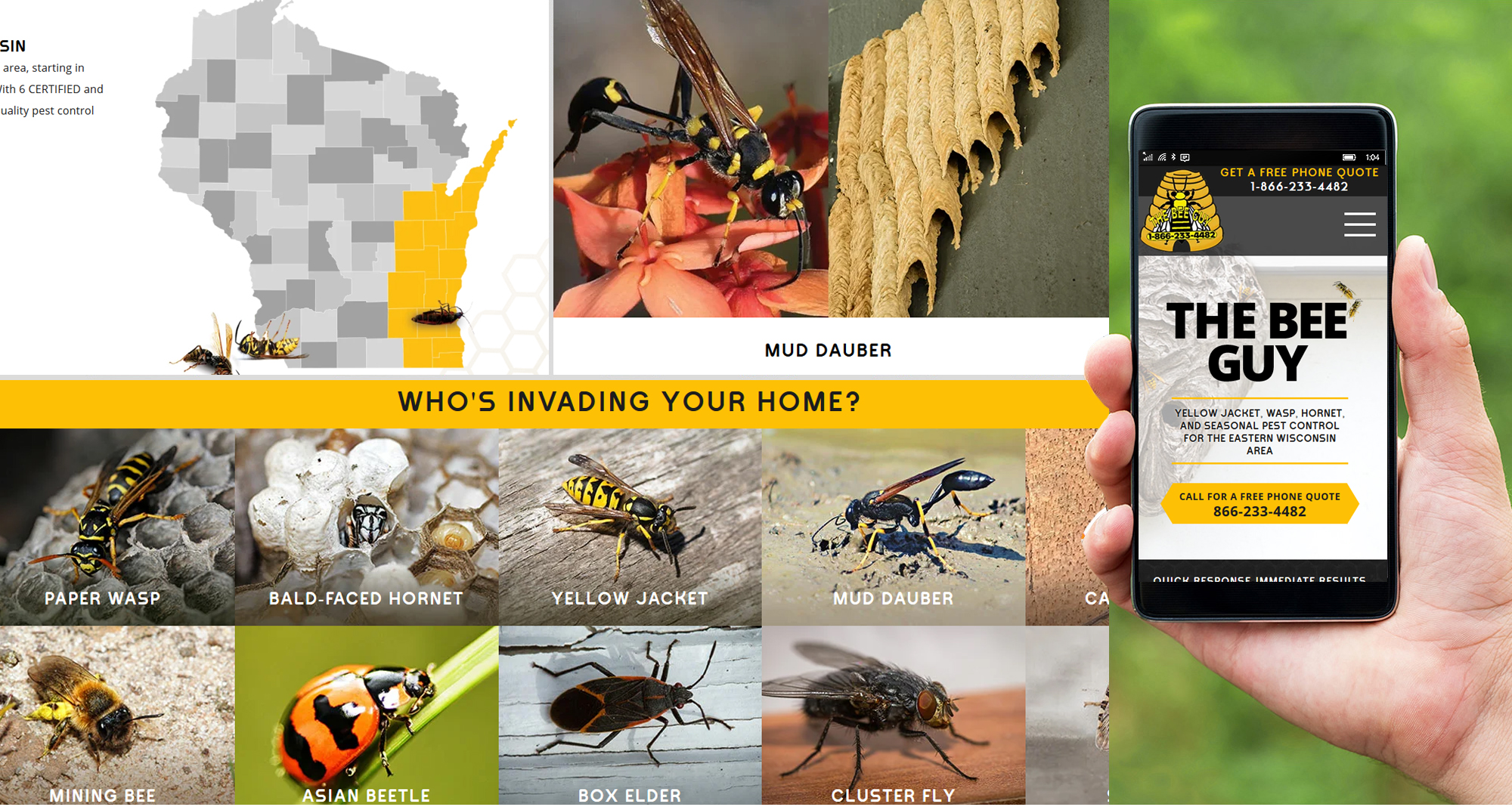 The Bee Guy
The Bee Guy specializes in the prevention, control and extermination of wasps, hornets, yellow jackets and other stinging insects, as well as beetles, stink bugs and miscellaneous nuisance insects. With a reputation for honesty and integrity, the business has grown from a one-man operation to 6 certified technicians serving southeast Wisconsin from Kenosha up to Oconto Falls.
Website Dilemma
The Bee Guy had a website before coming to iNET Web, but realized he needed to step up his game to generate more buzz. With potential customers increasingly using cell phones to search online for exterminators, he also knew his website needed to work on mobile devices as well as desktop computers.
Technology Implemented
Layout and design – Search Engine Optimization – Responsive Design – Copywriting – Content Management System – HTML –CSS – jQuery –HTML
Outcome
iNET Web designers gave the site a more contemporary look, while our back end developers made the site mobile responsive so it displays perfectly on phones and tablets. Although there was already content on The Bee Guy's old website, iNET Web's SEO specialists honed it to ensure the site would rank at the top of search engine results pages for the key terms prospective customers use in online searches. When the new site was complete, iNET Web trained the Bee Guy on our proprietary content management system so he can make updates to his site as needed.