Murf's Frozen Custard
I scream, you scream, we all scream for custom web design! Okay, maybe they're actually screaming for ice-cream. But iNET-Web uses our personalized website design to bring hungry ice-cream lovers to these Waukesha and Brookfield burger and ice-cream joints.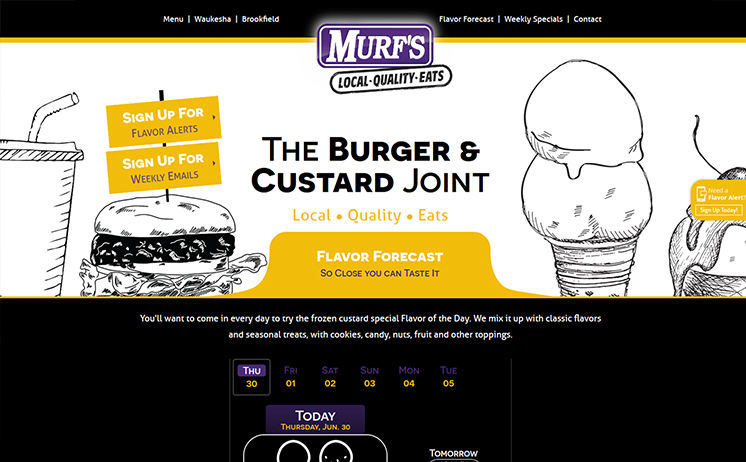 W
Behind every great website is great content. iNET copywriters had to create mouthwatering content to draw customers into Murf's custard stand and burger joint.
W
How do you get the attention of ice-cream aficionados? You give them more flavors than anyone else! iNET-Web created a custom flavor forecast for fans to keep track of their favorites.
M
With Murf's getting an upgrade, it only made sense the logo should get a makeover, too. iNET used Murf's color scheme and gave the logo leaner lines for a fresh look.

Click the links above to learn all about the unparalleled web marketing services that provided Murfs Frozen Custard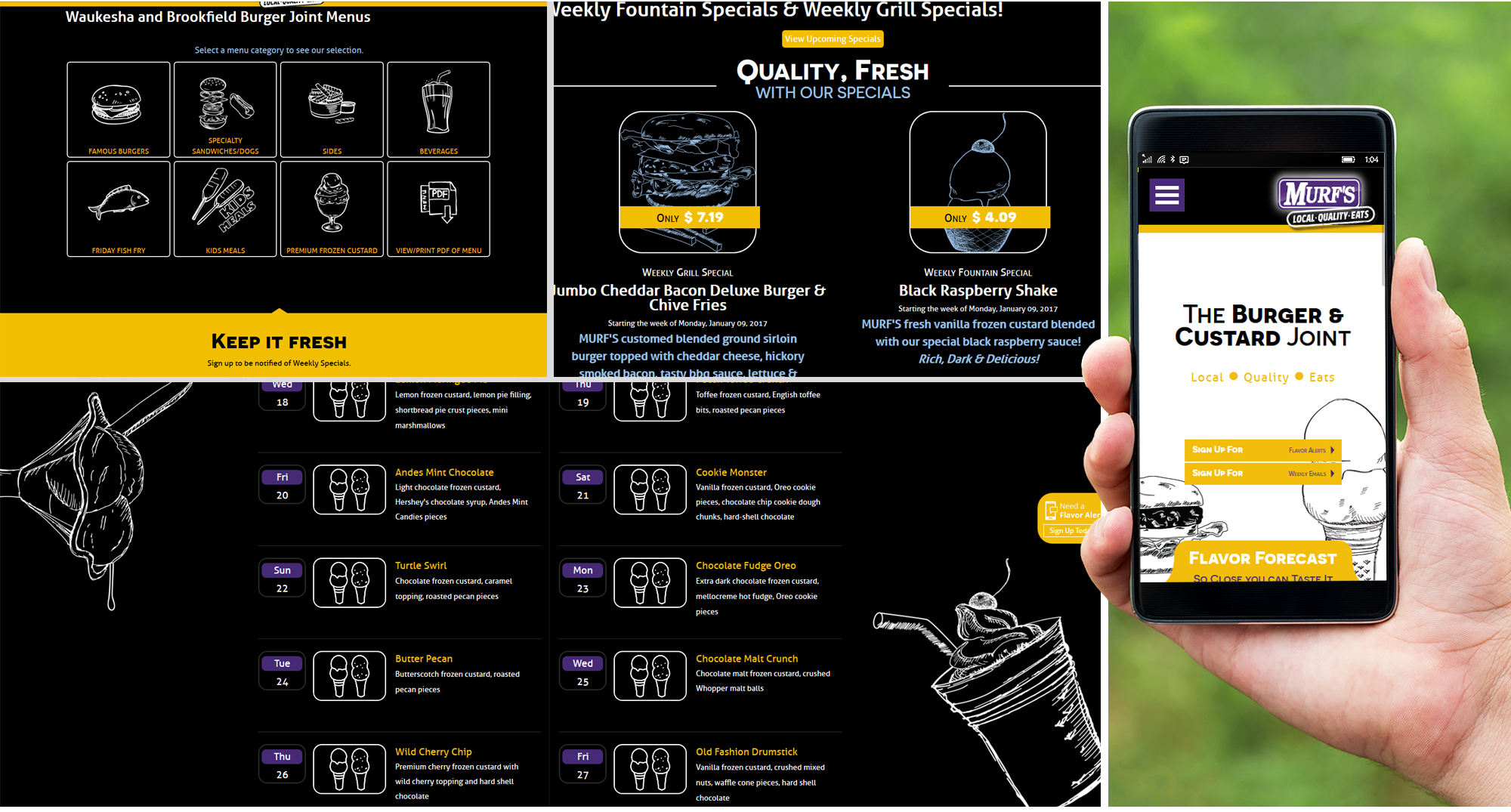 Murf's Frozen Custard
Ah, the old timey burger joint. The Cherry Cokes flow like water, and there's always a Temptations tune on the Wurlitzer. You can order a malt with two straws for you and your squeeze and then twist the night away.
While iNET Web knows you can't go back to the heyday of the custard and burger joint, Murf's Frozen Custard gets Waukesha and Brookfield pretty gosh darn close. Since 1993, Murf's has delivered old fashioned food tailored to Wisconsin's cuisine preferences. Particular favorites are the delectable Friday Fish Fry and the iconic golden fried cheese curd. Murf's custard, though, is its main draw.
Website Dilemmas
Murf's flavor of the day is a marketing mainstay. The promotion generates huge volumes of foot traffic as passers-by enter for impulse Butter Pecan or Birthday Cake cones after reading the marquee. Murf's contacted iNET Web about expanding on the flavor of the day concept. Murf's owner knew the web was the place to do it but struggled to translate the concept to web-based advertising alone. INET web had the expertise to do it, and we were happy to help--especially for a (wink-wink) custard sundae on the side.
Technology Implemented
Content management - SEO - Responsive Web Design - User Alerts
Outcome
INET Web revamped Murf's Frozen Custard site using responsive web design, an advanced web programming technique that adapts page displays to the device used to access it. INET Web designed the flavor forecast in concert with the new portability from responsive design. The forecast page invited users to register for flavor of the day updates sent to their phones. Customers could also use their portable devices to check the flavors of the day throughout the month. While Murf's customers became better apprised of the flavors of the day, Murf's was the real winner with enhanced web traffic. The page also provided Murf's valuable user behavior data Murf's marketers could then use to make decisions about what flavors of the day would be successful.
Using some ingenuity, advanced programming technology and a deep respect for fried cheese curds, iNET Web put a marketing and contact plan into play for Murf's that continues to increase both web traffic and in-person traffic to this day.
Contact iNET web now to put iNET's advanced programming and SEO technologies to work for your community hot spot.