Mainus Construction
Mainus Construction has carved out a niche as a premium quality shed builder. When they were looking to build a website, they turned to the pros at iNET Web.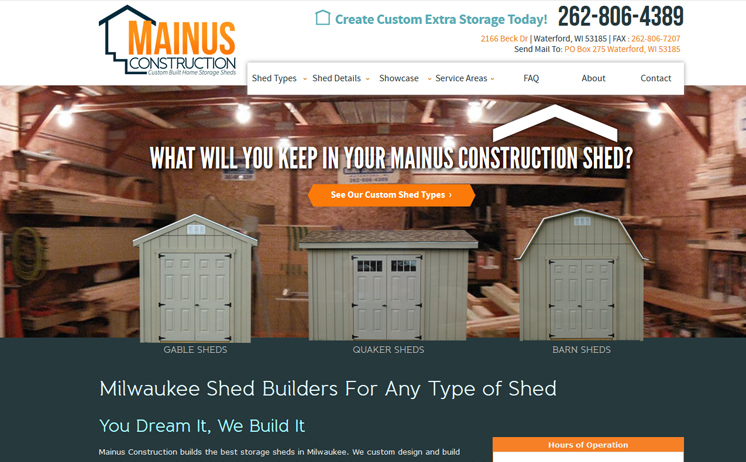 Responsive:
Mobile responsive websites provide the same great user experience across all types of devices. The Mainus Construction website delivers the same results on desktop, tablet, or mobile phone thanks to iNET's expert designers.
SEO:
Search engine optimization can be the difference between a business thriving and floundering. iNET SEO has helped Mainus Construction outgrow the competition at an amazing pace.
Copywriting:
The Mainus Construction website features custom content on gable roof, saltbox, and barn roof sheds all written by iNET copywriters.
Video:
The Mainus Construction home page features a video showing the delivery and installation of a custom shed. This helps interested customers get a clear idea of the expert service they'll receive with Mainus.
Custom Programming:
iNET programmers created a custom coded website for Mainus.


Click the links above to learn all about the unparalleled web marketing services that provided Mainus Construction
"Never in my life had so many storage sheds to build. I never realized how much of the market I was missing by not having a website. We're getting customers all over, from Illinois to West Bend to Slinger and everywhere in between. So many comments about the website- all the information they need is right on the website. Very professional and easy to navigate."
– Tom Mainus, Mainus Construction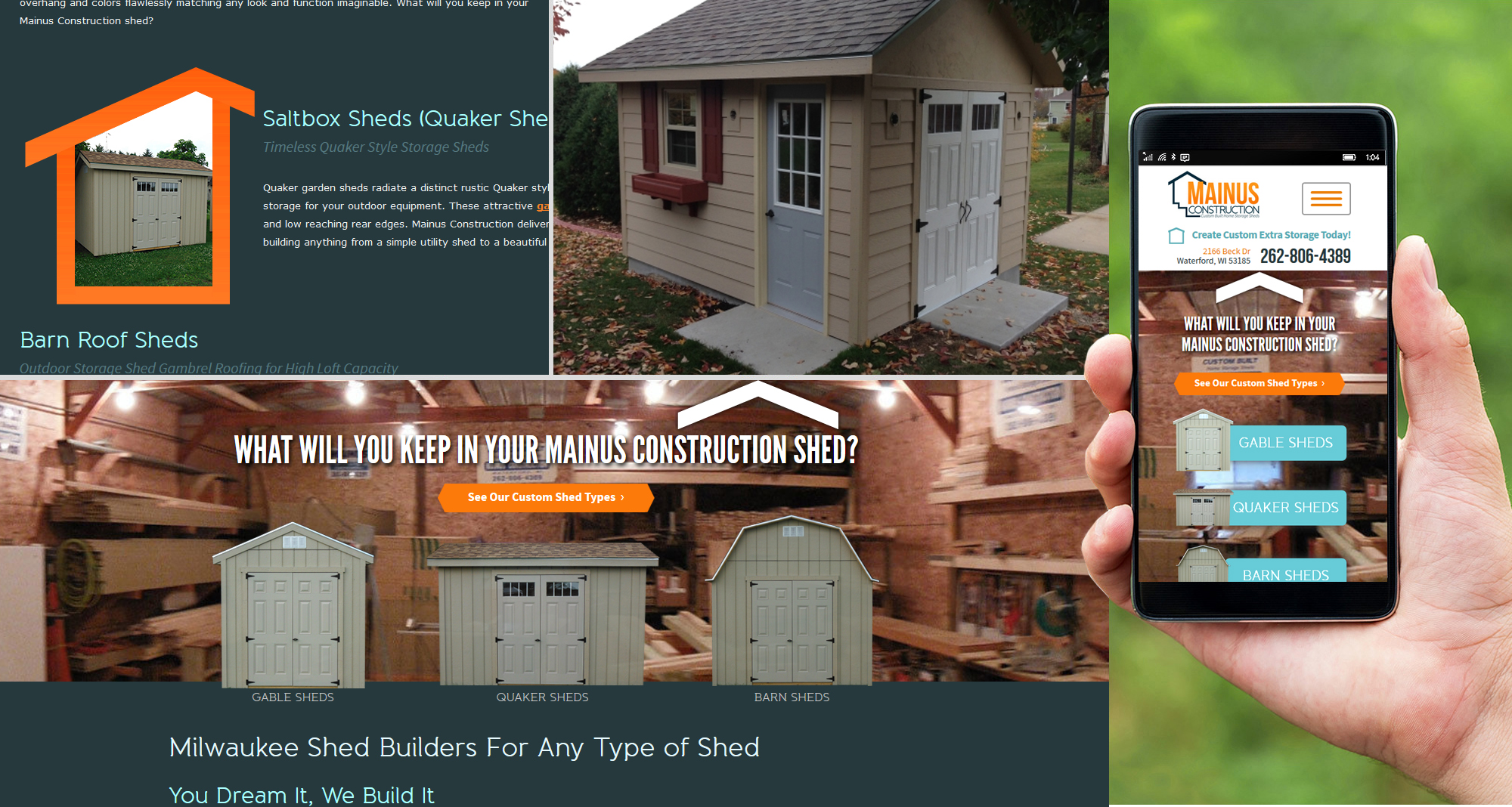 Mainus Construction
In business for over 30 years, Waterford-based Mainus Construction specializes in standard and oversized storage sheds throughout southeast Wisconsin and northern Illinois. They use only quality LP building products to ensure their sheds are the best.
Website dilemma
Mainus didn't have a website before coming to iNET. Building sheds was a side job for the owner, but something he hoped to one day build into a full-time business. He came to iNET without realizing how quickly we could turn his "one day" into "today."
Technology implemented
Search engine optimization – Layout and Graphic Design – Mobile Responsive Design – Programming – Creative Genius Branding & Copywriting –Content Management System – HTML –CSS – jQuery
Outcome
iNET designed and built a professional-looking website that covers all the different types of sheds Mainus Construction builds, with plenty of detail for prospective customers.
Although the owner signed on for monthly SEO work by iNET, he was so overwhelmed with new business he had to suspend the SEO work. In his own words:
"Never in my life had so many storage sheds to build. I never realized how much of the market I was missing by not having a website. We're getting customers all over from Illinois to West Bend to Slinger and everywhere in between."