MKE Wave
The artistically designed Milwaukee Wave logo is carried throughout the team's uniforms, website, print advertising, and merchandise. With a compelling brand and a logo design people actually want to wear, iNET Creative Genius is filling up the seats at every MKE Wave game.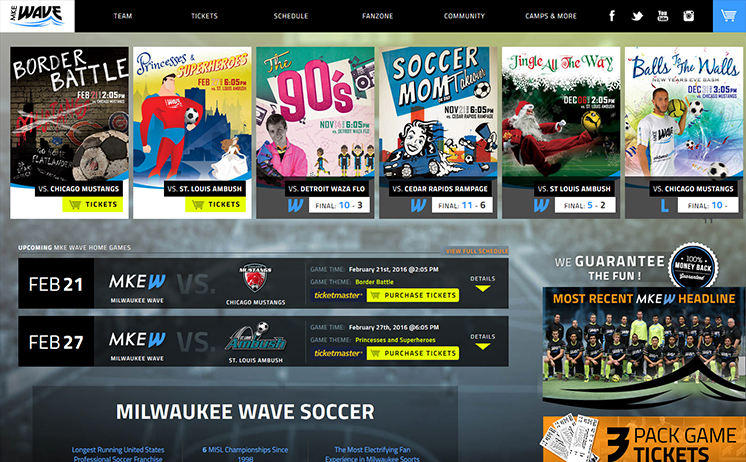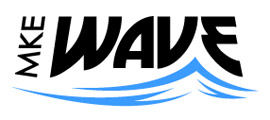 Responsive:
How many times have you heard, "I'll wait until I get to a computer"? Those days are over. iNET designed the Milwaukee Wave's website to be as easy to use on the worst smartphone as it is on the best desktop.
SEO:
In certain parts of the U.S., soccer teams with lesser marketing can be a tough sell to the general public. iNET's search engine optimization placed the Milwaukee Wave at the top of free search engines for queries beyond just "soccer."
Copywriting:
Occasionally a guy will get the bright idea to brag about how he's never read a book. Then that same guy reads a website like the Milwaukee Wave's and realizes he's been missing out for all these years. iNET copywriting is second to no one's.
Video:
Before each Milwaukee Wave game, the lights go out. Then a video comes on the jumbotron. Thousands of fans get chills as the lights come back on and players take the field. Who produced that jaw-dropper? iNET.
Custom Programming:
It's sad to see major sports franchises trapped within a dull template website. The Milwaukee Wave's website is custom-programmed by iNET with elegant code resembling nothing else on the web.
Branding:
The Milwaukee Wave: Dominating Soccer. Their uniforms, their tickets, their field, their sports apparel for fans…"dominating soccer" is more than just a rallying cry, it's a fact.
Logo Design:
With iNET taking on the Milwaukee Wave's website, their logo is no exception. Of course, it does make opposing teams commit one of the seven deadly sins: ENVY.
Radio:
iNET's radio ads for the Milwaukee Wave featured dialogue that stirred up a fair share of controversy. As a result, the organization has set a new attendance record.
Print:
Check out the vast array of print items and merchandise featuring the Milwaukee Wave, like sports apparel, tickets, and other branding elements.


Click the links above to learn all about the unparalleled web marketing services that provided MKE Wave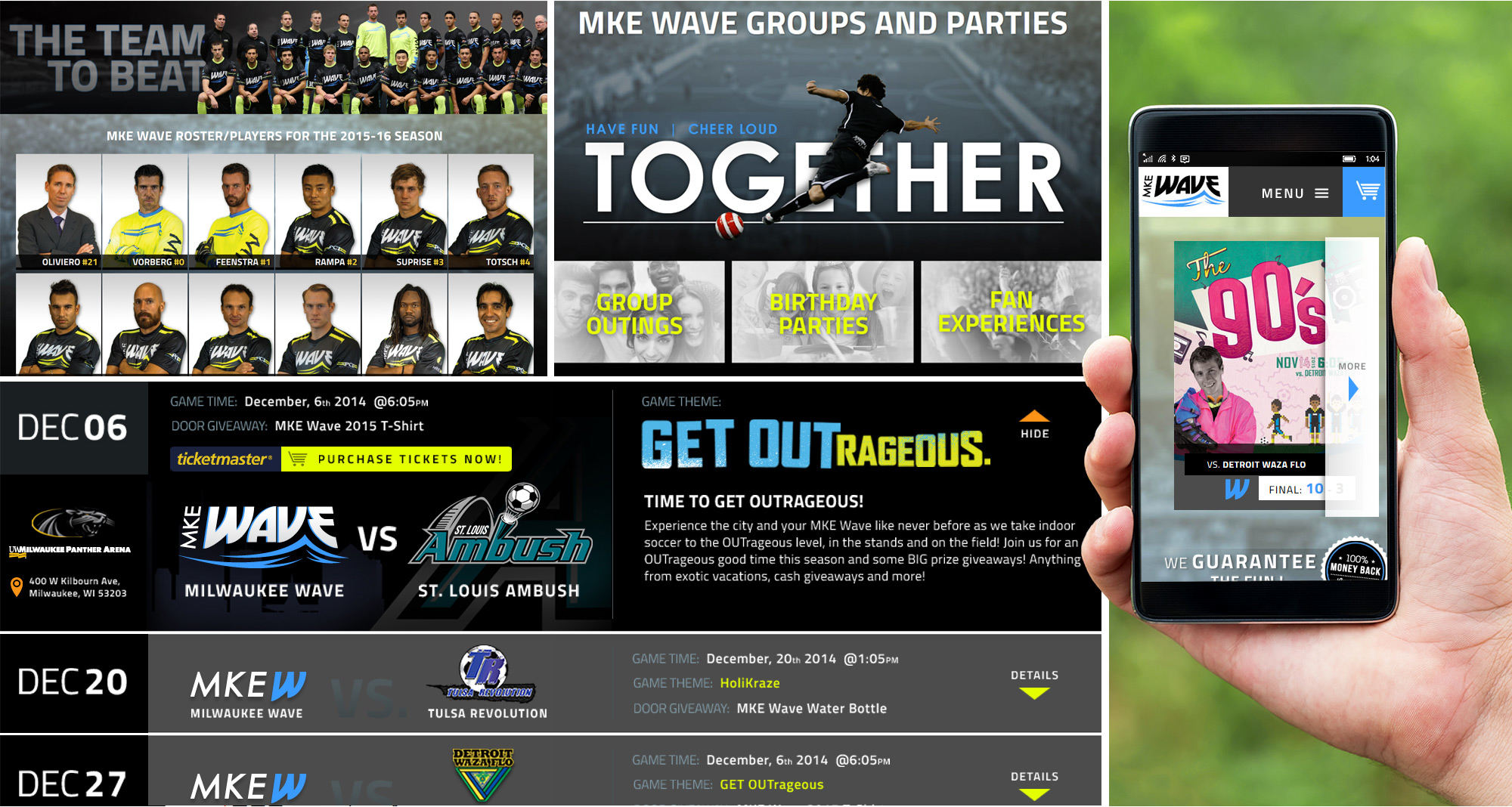 Company
The Milwaukee Wave is the longest-running professional indoor soccer club in North America, claiming six league championships over 31 seasons. Milwaukee Wave players are role models for success on the field and in the community, supporting charity programs and fundraisers in the spirit of good sportsmanship. Wave players are also heavily involved in running dozens of local youth soccer camps, promoting healthy habits and teaching soccer skills to Milwaukee area children. With over 3 million fans (and growing), the team needed a dynamic and powerful website capable of keeping up with the growing swell of excitement.
Website Dilemma
The Wave's existing website resembled a community calendar page, with blocks of text on a white background creating as much excitement and visual interest as the classified section. The layout and color scheme were dull and did little to generate enthusiasm—or income. But on the field and online, promoting the interests of your team is all about competition! Increasing revenue generates the resources and support for more wins—a concept iNET brings to every project.
Website Technology Implemented
Video Production – JavaScript – CSS – Flash – HTML – jQuery – Search Engine Optimization – Copywriting – Content Management System – Layout Design
Website Outcome
The creative genius inspired website from iNET made a splash when it went live, with a beautiful fade-to-black background integrating a wide-angle view of the Panther Arena interior. The team's branded colors are featured consistently throughout all the pages, giving it an instantly recognizable look complementing the new team logo and jerseys, while providing a user-friendly platform for specific tasks. Now fans can quickly browse stats and standings, game event themes, a colorful seating chart, soccer camps, special options for group outings, and more!
With responsive mobile programming, web surfers can catch The Wave whether they're at a desk or on the road. iNET creative genius web designers delivered a polished, top-tier online presence presenting clear visual hierarchy with vibrant colors and oversized fonts, making it fast and easy for users to find information on any size screen.
Goal-oriented SEO specialists and champion copywriters teamed up to create structured content, winning over search engines. While not a text-heavy site, each word was chosen carefully to ensure top rankings and smooth-sailing navigation. The new website not only dominates in searches related to professional soccer, but earns approval from Milwaukee-area parents seeking youth soccer camps—an important source of income for the team.
Contact the Milwaukee's forward-thinking web design firm to remake your idle business website into a profit-generating field of dreams!