Lee Footswitch
iNET-Web helped Lee Engineering modernize their appeal to audiences with a custom website design.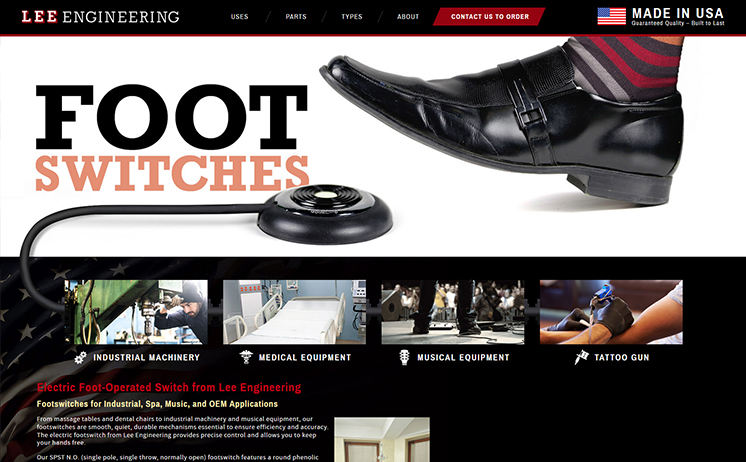 Click the links above to learn all about the unparalleled web marketing services that provided Lee Footswitch
Lee Engineering-
Dr. Royal Lee was a Wisconsin-born visionary. His prolific work on drills and centrifugal units in the '20s earned hundreds of mechanical engineering patents. He invented numerous footswitches and scientific applications, many of which are still in use in manufacturing today. Dr. Lee's name graces three companies: Lee Engineering, Royal Lee Organics and Lee Engineering footswitches, all of which benefit from iNET Web creative genius.
Lee Engineering (lab apparatus site) is one of the only e-commerce site in Wisconsin specializing in scientific lab apparatus equipment. Its target market is just as specialized, for they work with schools, food science labs and professional chemical labs.
Website Dilemmas-
Even though Lee Engineering had a compelling story rooted in Milwaukee's history, they were struggling with brand recognition. They sold reliable products that solved problems for laboratories throughout Wisconsin, but weren't communicating a unified brand to its target audience because they were trying to manage three product lines on one website. One, Engineering by Lee, was an e-commerce site selling lab lattice. Another was their home-use flour mill. They also sold foot switches for applications such as industrial machines and medical equipment.
The user experience experts at iNET web segmented the product lines into three distinct e-commerce pages for more precise branding. INET Web rebranded the flour mill page as Royal Lee Organics based on the keywords users employed to find its product ("organics"). The lab apparatus page was restructured and search engine optimized to rank for searches requesting "science lab equipment" for both industry and schooling.
Technology Implemented-
Logo Design – Search Engine Optimization- Website Design- Flash
Outcome-
The rebranding was a staggering success. SEO reports demonstrated that Lee Engineering's e-commerce revenue almost doubled from November 1 2016 to December 31 2016 for the lab apparatus products on Lee Engineering. iNET Web basically doubled Lee Engineering's revenue from our aggressive campaign of webpage SEO, segmentation and design.
Do you have a floundering e-commerce site? Contact iNET Web for a profit-generating overhaul.