Krausko
The Krausko brand is known throughout the world of high school, college, and pro football for their quality training equipment. When they decided to start selling online with an ecommerce site, they turned to iNET Web developers for a game changing website.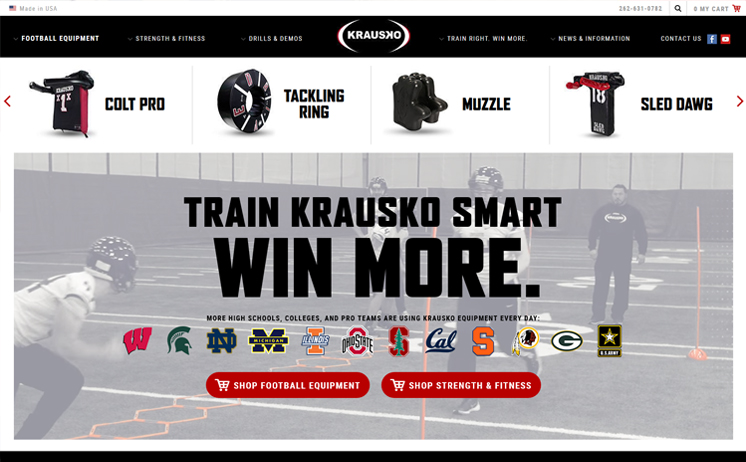 M
The Krausko team made a fantastic product. What iNET creates so well are brands. Thanks to iNET, Krausko proves to the sports training market that better technology equals better players and safety.
M
The Krausko logo was designed to be proudly displayed on thousands upon thousands of blocking pads, serving as a staple for athletes training in mediums beyond just football.
M
Krausko's brand is proudly touted on more than blocking pads. Sports apparel spreads the word to get their products in the right hands.

Click the links above to learn all about the unparalleled web marketing services that provided Krausko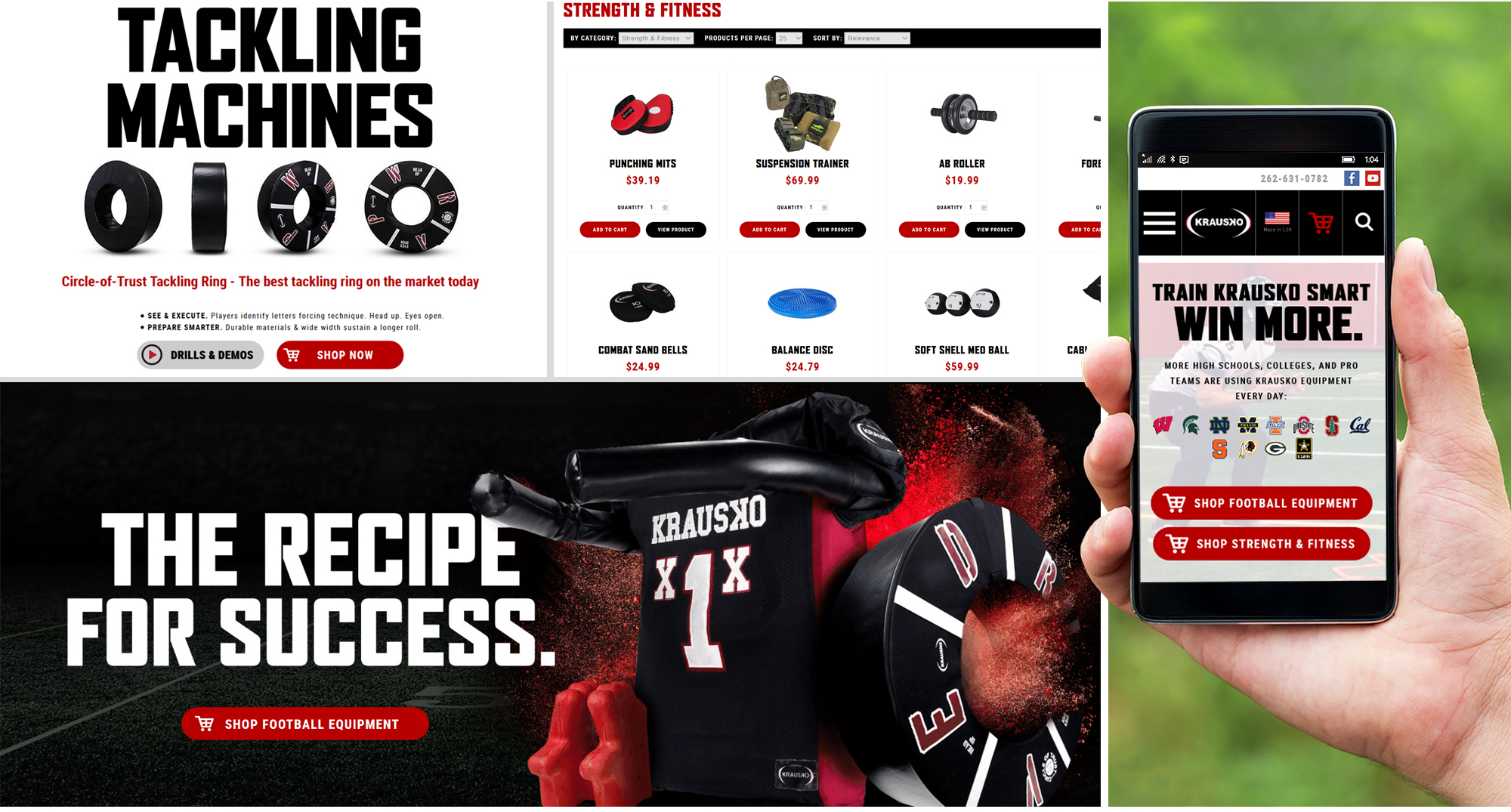 Krausko - Web Marketing for Ecommerce Football Equipment
Krausko manufactures and sells blocking pads, tackling machines, and combine strength training equipment for amateur and professional football teams. Krausko believes in one simple football philosophy: "Train Right. Win More." When they started to sell their football equipment online, they had to have the right website in order to sell more. The new website also had to showcase football drills & demos to create a great resource for players of every skill level.
Website Dilemmas
All of the products sold by Krausko are highly specialized, so the ecommerce website had to reach the right audience to be worthwhile. While most of the equipment is specialized for football, the products can be used in a variety of other sports and professional fields.
Along with requiring ecommerce capabilities, Krausko wanted to showcase their football drills & demos. Using 360 degree videos on the product pages and the filtering to help display the different uses of their products for coaches and managers who need to see each piece of equipment in action before buying them on ecommerce sites.

Technology Implemented
Search Engine Optimization - Content Management - Web Design - Video Gallery
Outcome
Tackling this website was no problem for iNET. Krausko's new ecommerce website makes shopping for training equipment easier than ever for football coaches. The overall design being modern and fun to navigate and explore. Products are divided between general football equipment and strength & fitness training tools.
Next, the ecommerce elements make the checkout process incredibly efficient. Busy managers can make purchases while still on the field.
Finally, the new video feature on the Drills & Demos page filters videos by category and products. It is incredibly easy for coaches to find the right training video for their players and see Krausko equipment in action. The result is an attractive, user-friendly and audience-driven treasure trove of information about the training equipment and how to use them. As a byproduct, the increase of videos keep users coming back to the site for more and more. Search engines then rank the pages higher leading to more traffic to the site.