Korked
Korked loves baseball. How much? So much they design and sell lifestyle sports apparel. iNET-Web created their ecommerce website so they can sell their shirts to baseball fans across the country.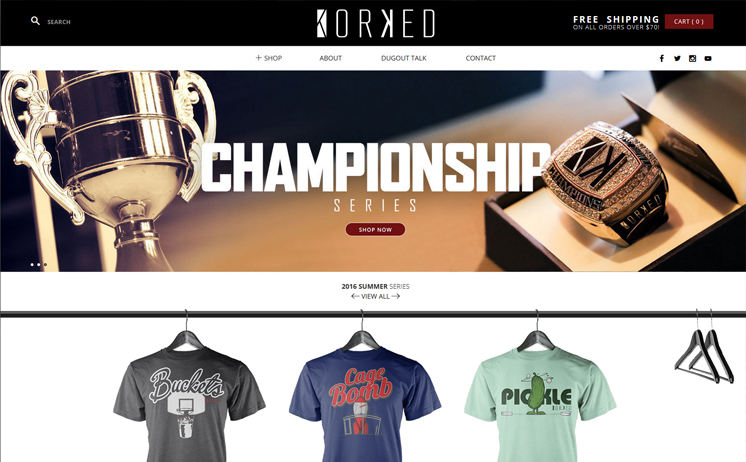 M
The edgy, sporty look of the Korked brand is accurately conveyed through the products. iNET knows that their dark colors and funny graphic tees are what make up their signature look.
M
iNET designed this logo from scratch with two mirrored capitalized K's in reversed colors. This logo conveys the edgy sportiness that the brand does so well.
M
With the recognizable logo iNET has created for them, Korked have sold t-shirts, hats, tank tops, and other sports apparel.

Click the links above to learn all about the unparalleled web marketing services that provided Korked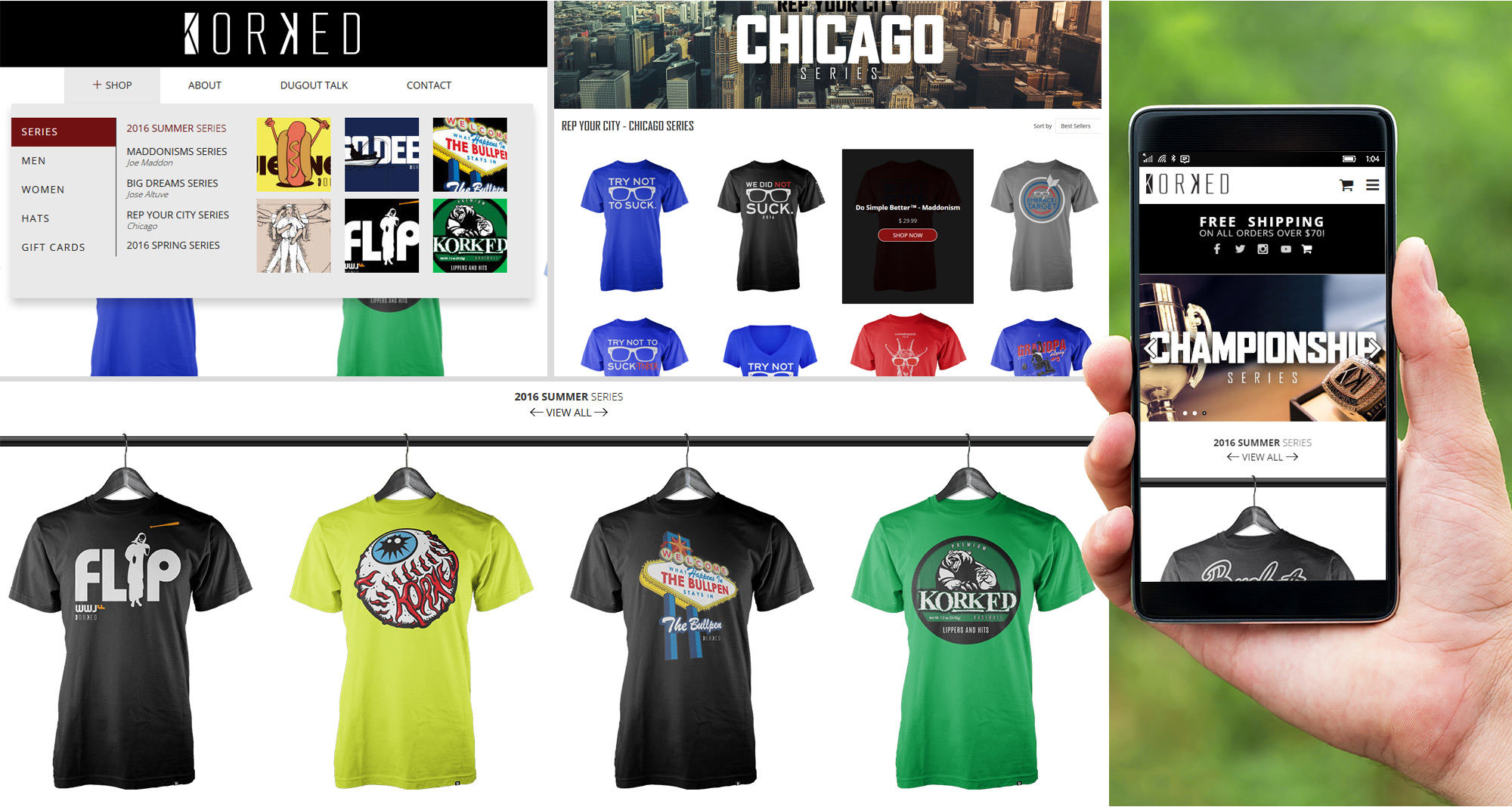 Korked-
Korked helps baseball fans show their allegiance to America's pastime with a lifestyle brand encapsulating and celebrating their obsession. Founded by two friends, both former college baseball players, Korked sells edgy apparel to an audience who appreciates straight-talking style and comfortable gear sporting references to everything baseball--the personalities, colorful quotes and in-jokes only die-hard fans will catch. Korked also gives back: through a partnership with Chicago Cubs manager Joe Maddon, Korked donates a portion of sales to Maddon's charitable foundation, Respect 90.
Website Dilemma-
Korked had no existing website when coming to iNET, so the dilemma was how to give Korked a strong online presence that would set the company apart from the hordes of comparable companies with similar brands and audiences. The solution? DOING IT BETTER. The creative genius team at iNET stepped up to the plate and hit it out of the park with a complete design concept and marketing strategy.
Technology Implemented-
Search Engine Optimization – Content Management System – HTML – CSS – Javascript – jQuery – Flash – Graphic Design – Copywriting – Video
Outcome-
When it comes to creating profitable web marketing platforms, iNET plays hardball.
Web designers wrote unique code for an original e-commerce site customized to the client's specifications. iNET's creative genius marketing team popped the cork with a custom logo and branding. Korked brand awareness blasted off, backed by comprehensive print marketing. SEO specialists helped Korked float to the top of search engine result pages, and iNET copywriters drafted straight-talking content to mirror the brand's edgy attitude.
Korked now enjoys a cult following, and has more employees, more products and more business ventures to develop. Korkedbaseball.com's organic traffic and online sales have exploded (you know you've made it big when you have to worry about wannabes selling knock-offs of your designs). Following the Cubs' 2016 World Series win, iNET worked furiously to help Korked keep up with demand from an energized fanbase. It was a feat lesser design firms would dismiss outright or fail to achieve.
Early in 2017, Korked Baseball secured an exclusive agreement with Perfect Game, the world's largest amateur baseball scouting organization. Korked is now the Official lifestyle brand of Perfect Game apparel. The guys are busy rolling out their first line of branded designs. With creative genius design and marketing from iNET, Korked went from unknown upstart to baseball's brand in its rookie year with no end in sight. When it comes to building profit-generating brands and websites, there is no off season for iNET.