Johnson Level
Online marketing for a national tool brand is about getting products into the hands of the customers. Profitable SEO services built out How-To content drawing in record search traffic. Causally, the domain ranked higher on buying-intent searches, driving people to a website where users unthinkingly shop tools.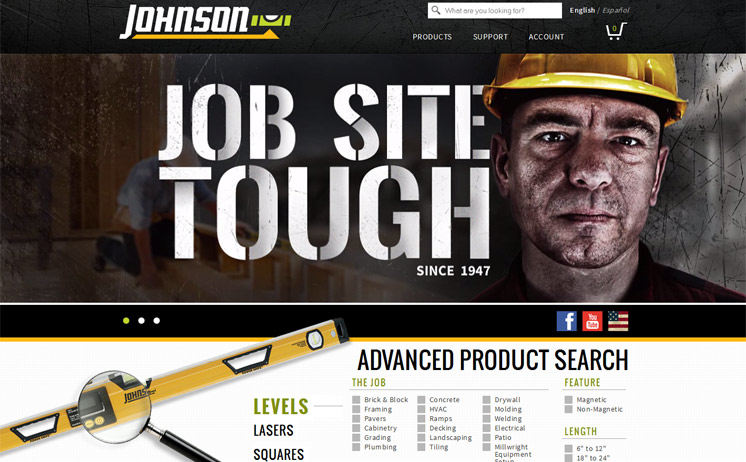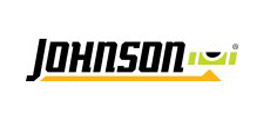 Responsive:
Browsing a site must be convenient when doing it on a mobile device. Johnson Levels offers an enjoyable user experience on smartphones and tablets, and sales continue to rise.
SEO:
Go ahead and Google "how to use a laser level". See what comes up? iNET's SEO specialists made sure to get Johnson Levels in the default answer box with their products front and center.
Copywriting:
When carpenters, construction crews, and installation technicians want detailed instructions, they want them quick. Johnson Levels dominates the web, thanks to clear, concise step-by-step content which solves a variety of user problems.
Video:
Johnson Level's homepage of rotating images offers captivating visual effects to retain site visitors, drastically reducing a typical bounce rate and making potential customers spend MORE time on the site.
Custom Programming:
Programming is a language that template nickel stackers just don't properly understand. iNET's team of web professionals custom developed Johnson Level's site to be a truly original force few will dare to challenge.
Branding:
The leveling industry is sprawling in terms of demand…what iNET did was make "Johnson" synonymous with "levels" the way Kleenex is with facial tissue.
Logo Design:
When you see the logo iNET designed for Johnson Level, your brain makes the connection with levelers before you even consciously realize it.
Print:
Johnson offers a variety of devices that make the toughest jobs run smoothly. Every one of these tools carries the visual brand across its product surface.


Click the links above to learn all about the unparalleled web marketing services that provided Johnson Level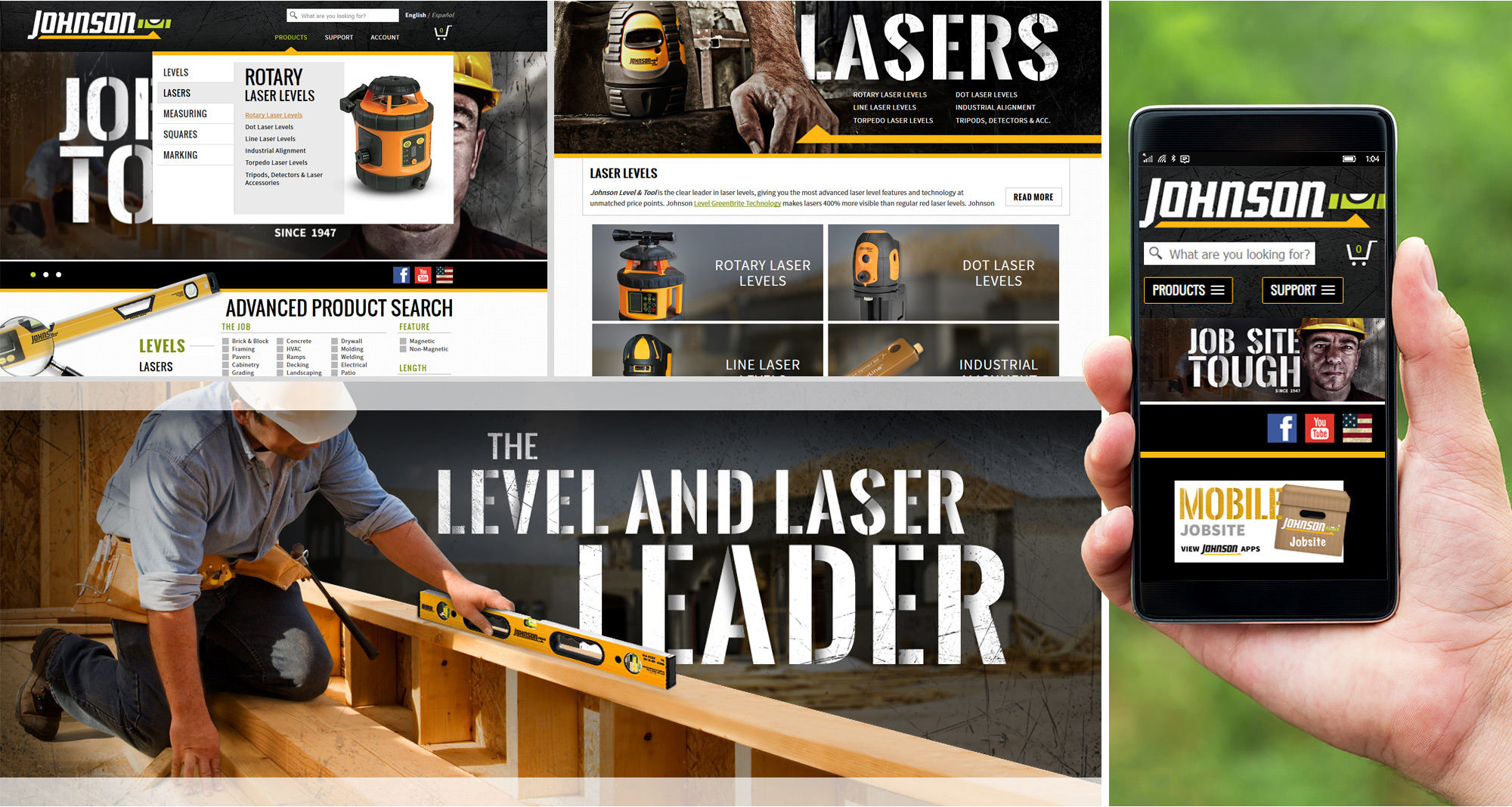 Johnson Level
Johnson Level of Mequon, WI, manufactures top quality levels and workplace measuring equipment for the construction industry. Johnson Level came to iNET Web to build a new website, increase their online sales and raise their rankings in search engines.
Website Dilemmas
Template Website Design – Low Traffic – Low Search Engine Placement
Technology Implemented
SQL Database – Flash – Content Management System – Search Engine Optimization – Copywriting – jQuery – JavaScript – ActionScript – Chroma Key – Adobe After Effects – Layout Conceptualization - Graphic Design - Social Networking - much more
Outcome
Large increase in website traffic. Industry leading visual legitimacy. Front place or first page placement for highly competitive search terms including "construction levels," "Wisconsin construction levels" and "spirit levels."
Contact the expert Milwaukee design team at iNET Web to get started on a great financial future and level out your competition with a profitable web marketing platform.