Hanna Trailer Supply
The responsive design of this site makes it simple for users to find what they're looking for, whether they're using a computer, tablet, or smartphone. iNET's Creative Genius also created genius radio ads and a catchy brand: "What You Want—Where You Want—When You Want."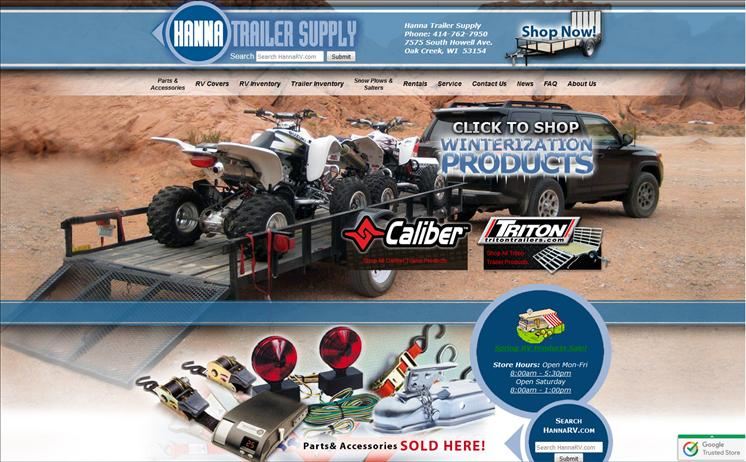 Responsive:
Responsive design enables a flawless user experience for Hanna RV shoppers on smartphones and tablets alike.
SEO:
Researched SEO content development from iNET helps drive customers to Hanna's all new site. Well executed SEO adds value to product pages, and ensures a flow of users who find what they're looking for.
Copywriting:
Custom developed copy from iNET has made Hanna into more than a retailer. Hanna is now a resource for customers from across the country looking for information on trailers and more.
Branding:
Hanna's brand statement says it all: What You Want—Where You Want—When You Want
Radio:
Coupled with Hanna Trailer Supply's creative genius brand, iNET negotiated the best radio rates in Wisconsin.


Click the links above to learn all about the unparalleled web marketing services that provided Hanna Trailer Supply
Hanna Trailer Supply
In the 1950s, Dan and Lola Hanna founded Hanna Trailer Supply, a small do-it-yourself parts store for RVs, campers and van conversions in Milwaukee. Hanna Trailer Supply flourished. The company became a leading trailer parts and service provider in the Midwest, relocating to Oak Creek, WI in 2003. At the new facility, Hanna Trailer Supply built Wisconsin's largest RV and trailer parts showroom. Hanna is now a full-service RV sales and service company, offering quality trailers, trailer parts and trailer services throughout the Midwest.
Website Dilemmas
With the increased volume of products they carried, a new website was needed to make it easier for customers to find and order the correct parts. iNET-Web developers and programmers implemented a more robust and secure ecommerce platform and a better system for reporting. Our SEO team developed content to ensure the site would be noticed by search engines, all while maintaining the friendly, personalized style that has always been a hallmark of Hanna RV.
Technology Implemented
Visually Stunning Graphic Design - User Friendly Navigation - SQL Database - Photoshop - Illustrator - Search Engine Optimization - eCommerce - SSL - JQuery
Outcome
Today, Hanna Trailer Supply consistently ranks at or near the top of every relevant search category in each of its markets, and sales have been on an uptrend for years. Their huge Milwaukee trailer parts inventory attracts orders nationwide. With Wisconsin's largest trailer parts showroom and a service department of professional technicians, Hanna Trailer Supply will continue its upward trajectory as a leading provider of all hauling needs.
Contact the Creative Genius web designers at iNET-Web today for profit-generating ecommerce capabilities for your business website.