Halloween Express
Year-round SEO keeps this site at the top of search engines during the busy season. The eye-catching imagery and videos on the site work together with our attention-grabbing radio ads and simple yet effective brand ("Everything Halloween") to keep the customers coming.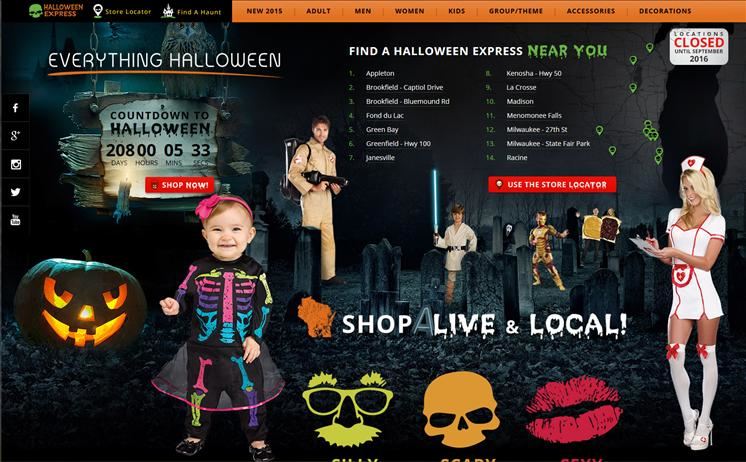 M
"Skully" screams silly and scary.
M
Radio ads during the busy season push the masses to the 14 brick & mortar locations.

Click the links above to learn all about the unparalleled web marketing services that provided Halloween Express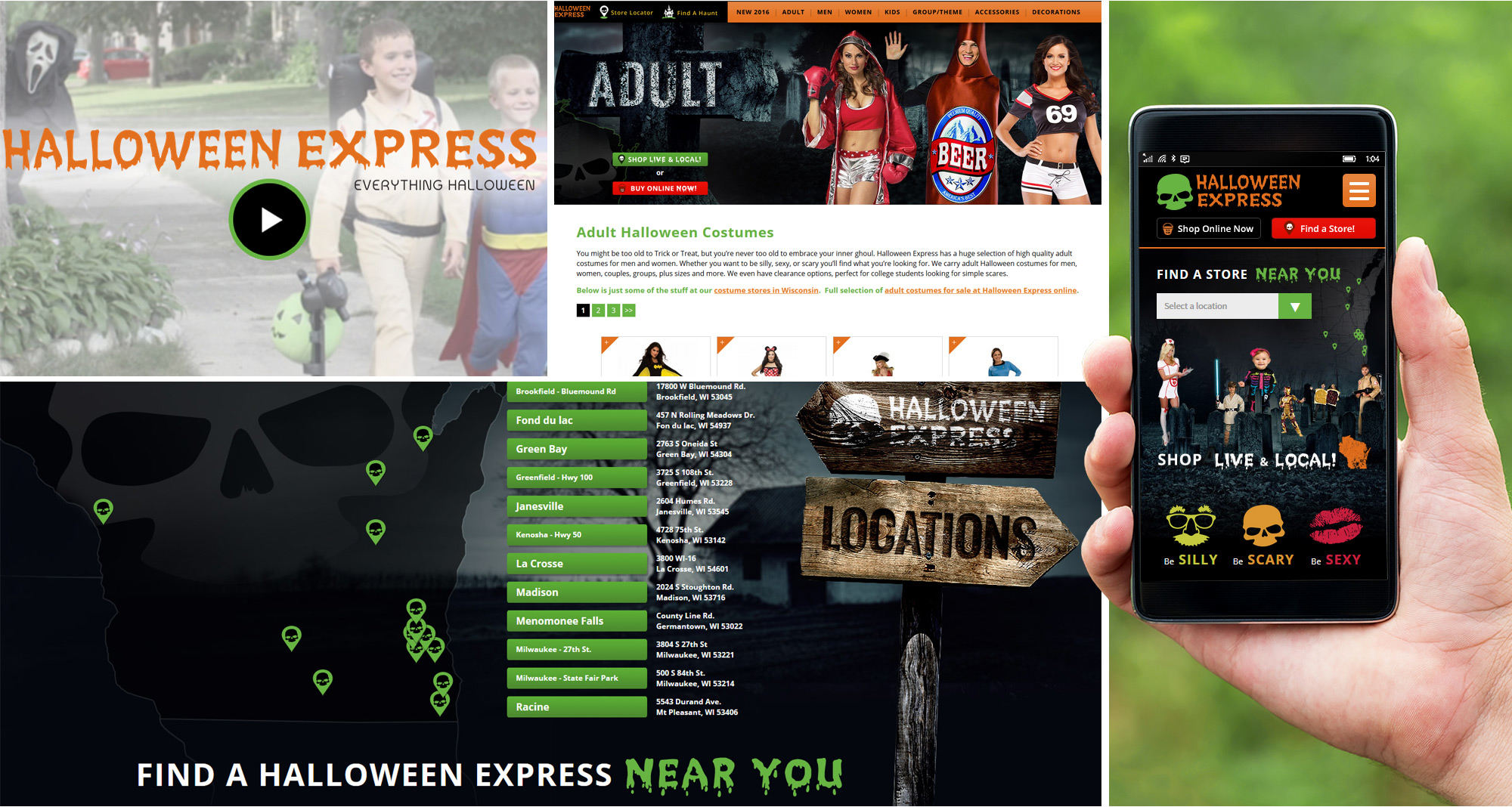 Halloween Express
Headquartered in Appleton, Halloween Express has multiple seasonal store locations throughout Wisconsin. They don't just sell Halloween costumes and decorations, they sell the power to transform yourself, if only for one night. Their website had to compete with hundreds if not thousands of seasonal websites selling Halloween costumes online. They not only needed to stand out, they also had to convince web people to get up from their computers and visit one of their Halloween stores.
Website Dilemmas
Halloween Express' former website got passed over in search results, and its URL was in an internet graveyard. A forgettable layout failed to inspire searchers seeking an incentive to imagine. The most important information—where to find a Halloween Express near you—was barely noticeable and wasn't generating leads. Even for a Halloween-themed business, their bare-bones template website had too much dead space.
Website Technology Implemented
Search Engine Optimization – Content Management System – HTML – Flash - Copywriting – Video Production – Programming – Graphic Design – JavaScript – CSS - jQuery
Website Outcome
iNET's SEO specialists and copywriters worked their magic and crafted strategic, structured content appealing to search engine web crawlers and Halloween revelers alike. Expert programming, search engine optimization and a mobile responsive design were just the start. Adding costume guides and a haunted house directory to the website further solidified their reputation as Wisconsin's authority on "Everything Halloween."
Halloween Express' online presence went from scary-bad to supernaturally good with iNET's graphic design and custom coding delivering a fun and informative experience from first glance to final click. Navigating the attractive, dynamic home page is so easy, even a zombie could do it. Year-round SEO strategies from iNET keep Halloween Express at the front of the pack. Come October, they have an unbeatable edge over the competition.
Since their creative genius inspired website went live in 2015, Halloween Express has BURIED their competitors, gaining significant year-over-year increases in organic search traffic, referrals from the parent website, and foot traffic in stores.
Want to bring your business back from the dead? Contact the Milwaukee Web Design Firm with a spooky talent for profit-generating websites.