Grieve Law
From one-man startup to well-staffed OWI and criminal defense law firm, Tom Grieve's career and client roster has grown like the plants under care of the professional botanists he sometimes represents. The trademark brand "You are only guilty if you are convicted" has indisputably resonated with the accused.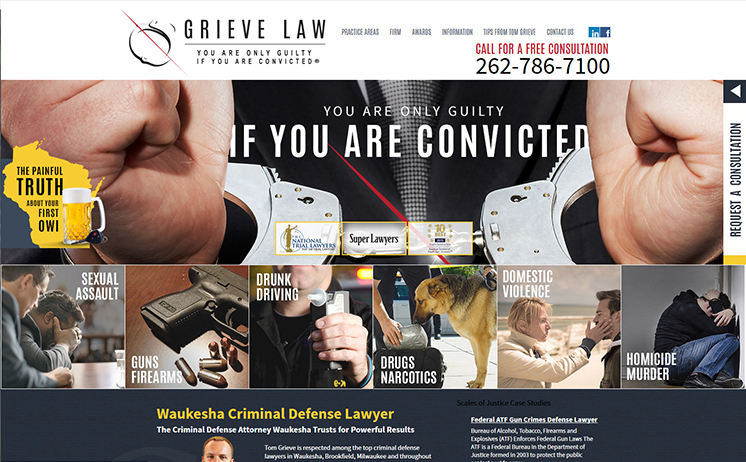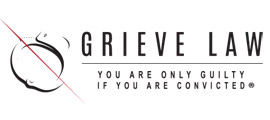 Responsive:
With roughly 50% of Grieve's Law web traffic coming from mobile devices and tablets, a responsive site design was mandatory for a stronger user experience among potential clients.
SEO:
Grieve Law receives an average of several submission forms per day, much of which is generated from strong Search Engine Optimization for organic queries like "Wisconsin OWI" or "Milwaukee firearm attorney".
Copywriting:
Information-rich articles like "The Painful Truth About Your First OWI" have driven in clients eager to pick up the phone and hire the right attorney.
Custom Programming:
Beneath the ocean surface is 320 million cubic miles of aquatic wildlife. Likewise, beneath a site like Grieve Law are countless characters of custom coding.
Branding:
You are only guilty if you are convicted® was such a popular trademark, cease and desist orders were sent out to legal competitors attempting to paraphrase Grieve Law's brand.
Logo Design:
With Grieve Law, "NO JAILTIME" is the unspoken mantra. A logo that has a red slash over the handcuffs conveys impending freedom from all criminal charges.
Radio:
Grieve Law has established a mammoth radio presence, currently smashing all competition within the criminal defense market into complete and total dust.
Print:
Grieve Law t-shirts – featuring their logo and tagline – have been a big hit around iNET's offices.


Click the links above to learn all about the unparalleled web marketing services that provided Grieve Law
"I have three businesses each with iNET and I have referred about twice that number in business owners to iNET over the years. I use iNET for websites, branding and radio. If I could give one piece of advice to someone who is thinking of hiring iNET: buckle up. The tagline they proposed for me was more aggressive than anyone in my industry. The peers I consulted on it were not comfortable. Steve insisted we do it his way. I'm glad I listened. They WILL push you on branding and marketing and your coffee clutch friends will NOT be comfortable with their ideas. You will need to ask yourself about who do you trust: Steve and the team at iNET or your coffee clutch pals. Let me answer that for you: trust Steve. Steve and his team will do more for your business and your bottom line BUT ONLY IF YOU LET THEM.
"You know that friend who always asks for advice; you give it to them; then they ignore you and do the opposite? How many times does that friend complain about how their life has not turned out better? Right. Do NOT be that friend when it comes to iNET. You are hiring a team of marketing geniuses so do yourself a favor and not only listen to their advice but actually follow their advice. How many of your coffee clutch friends have turned many Wisconsinites into millionaires? (Paying your current web/marketing company too much does NOT count.)
"In addition to Steve on branding and marketing you also get the rest of the iNET team, and there are way too many names to cover in one review. Josh is amazing with the account support and is always coming up with new angles on problems. SEO rockstars like Nick, Alyssa and Tamara have taken my websites to new heights and are always on top of the latest search and Google trends. You can trust that your business and website are in fantastic hands with iNET. Bottom line: hire iNET if you are ready to win in your industry, not if you are looking to "tell your story"."
Rated 5.0 out of 5.0 By Tom Grieve - 2017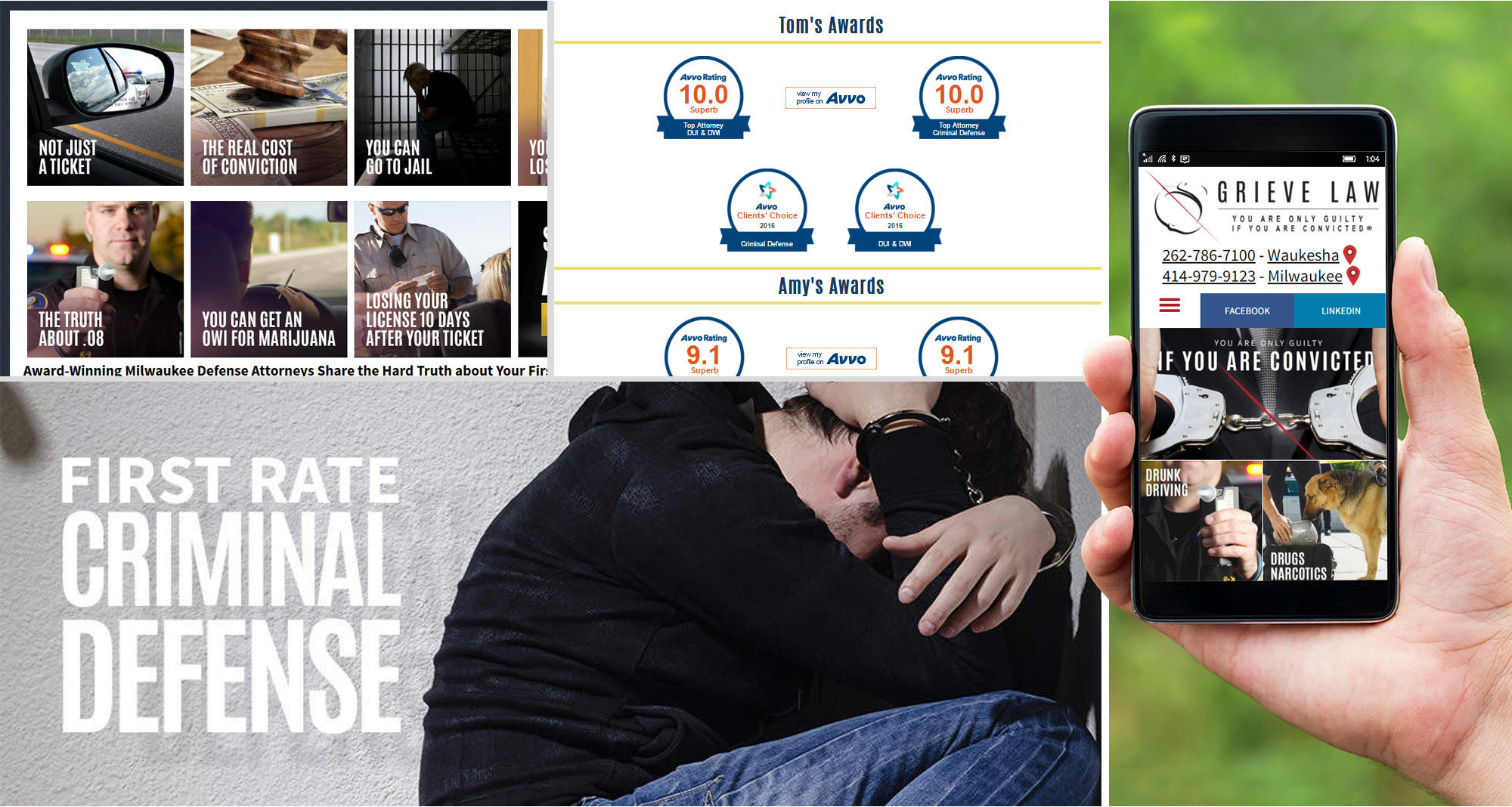 Grieve Law
Grieve Law is a criminal defense law firm with a remarkable record of getting charges reduced or dropped in cases ranging from DUI charges in Milwaukee to domestic violence in Waukesha. The attorneys of Grieve Law are highly respected by peers and the court system. They have received numerous awards and honors from industry publications, and national and statewide attorney rating organizations.
Tom Grieve had been working for another law firm and had a very basic, template-based website when he opened his own practice. iNET-Web designed and built a custom website for Grieve Law, complete with an original branded marketing theme and a proprietary logo.
Since venturing out on his own with a creative genius-inspired website from iNET, Tom has hired three new partners to add to his firm's impressive roster, relocated his office to a larger building, and has been successful enough to embark on a profitable commercial real estate venture.
Website Dilemmas
The competition for Milwaukee-area lawyers is cutthroat, but Tom Grieve gave his firm an edge early on by ditching the forgettable template website format and choosing iNET to craft his firm's brand. Custom coding ensures not only a professional look, but a smooth user experience on any monitor or mobile device.
Technology Implemented
Logo Design – Responsive Graphic Design – CSS – JavaScript – Copywriting – HTML – Creative Genius – Search Engine Optimization – jQuery – Content Management System – Radio Branding
Outcome
iNET-Web partnered user-friendly design with expert search engine optimization to give GrieveLaw.com the commanding web presence its experienced legal team deserves. Web traffic from free search engine results continues to climb impressively, and the number of people seeking and finding the services of skilled criminal defense lawyers through GrieveLaw.com has grown dramatically since 2014, with no sign of stopping.
Tom Grieve has told us his client roster and billable rates have been accelerated by DECADES due to iNET's creative genius inspired website and SEO strategies.
Backed by iNET Marketing, including prominent radio ads, Grieve Law has grown from a solo operation to a dominating presence as the Milwaukee-area law firm for DUI charges and criminal defense. Thanks to ongoing search engine optimization, Grievelaw.com consistently outranks competitors and even the Wisconsin DMV and DOT pages on many important DWI-related search terms, including Milwaukee DWI Lawyer (currently #1).
iNET-Web's creative genius SEO team continues its strategic development of website content, delivering measurable results in the form of increased leads and earnings. If you need a profit-generating website to grow your business, examine the evidence and let iNET-Web build a website that gets results.
Contact our Milwaukee Web Design Firm for a creative genius inspired, profit-generating web marketing platform.