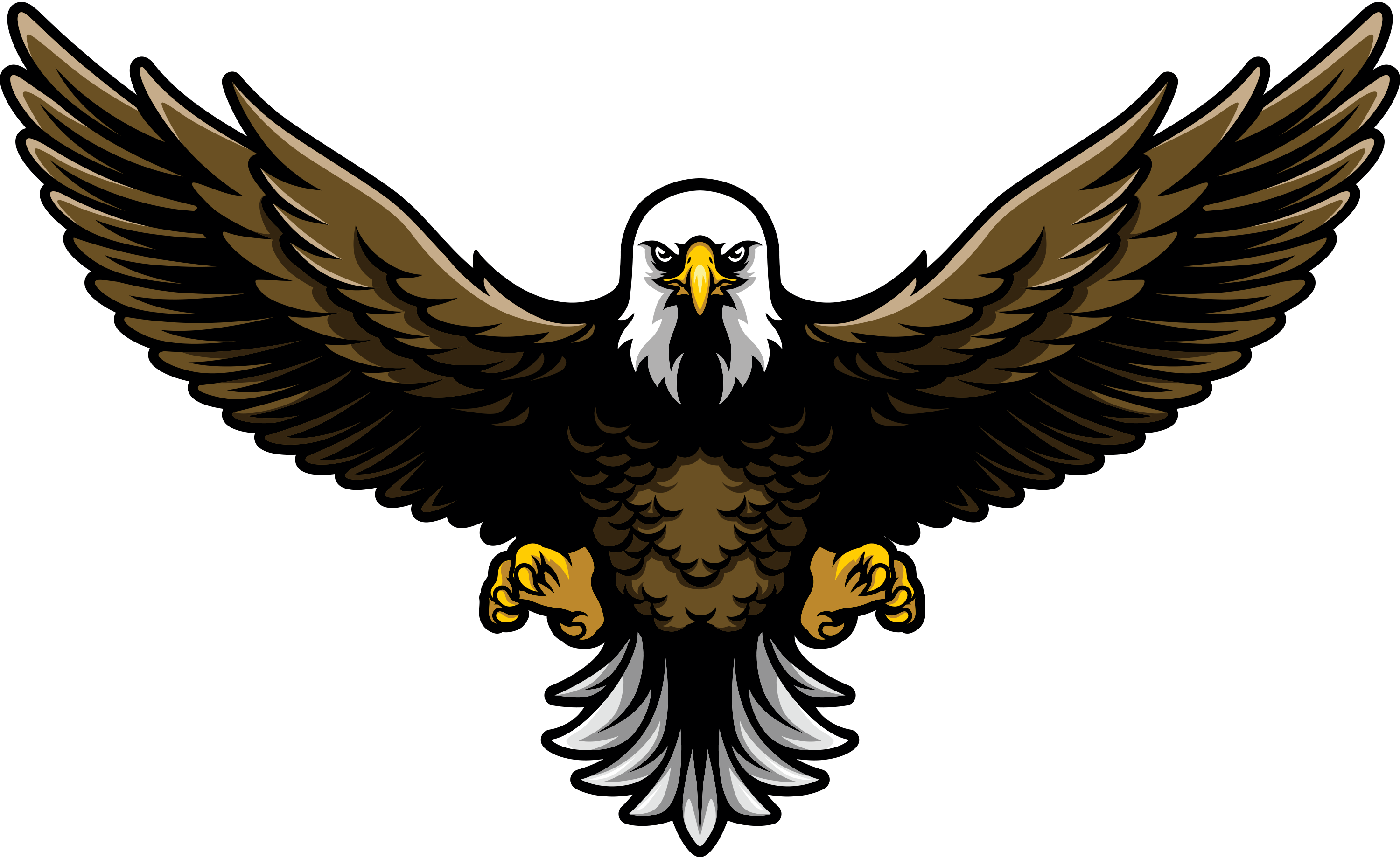 Galway Farms
Every aspect of this site, down to the stitched leather design elements, reflects the business. The beautiful design and informative copy drive users to contact.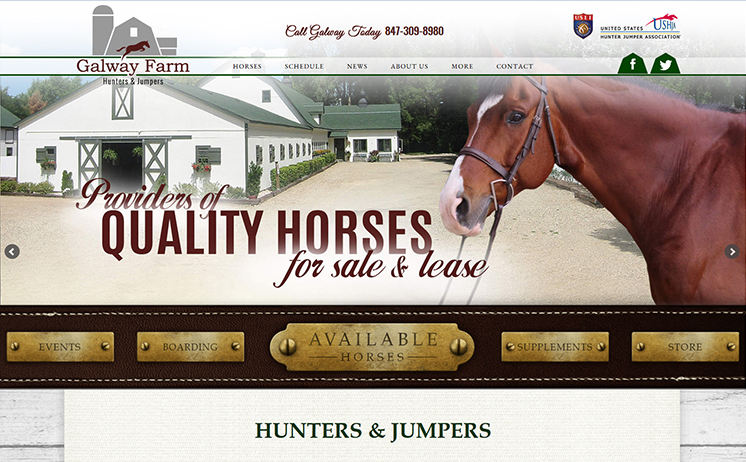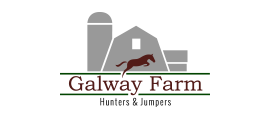 Click the links below to learn all about the unparalleled web marketing services that provided Galway Farms
Responsive
Responsive design allows customers to get all the information they need on any device.
Copyrighting
Content by iNET's copywriters provides detailed, technical information for users.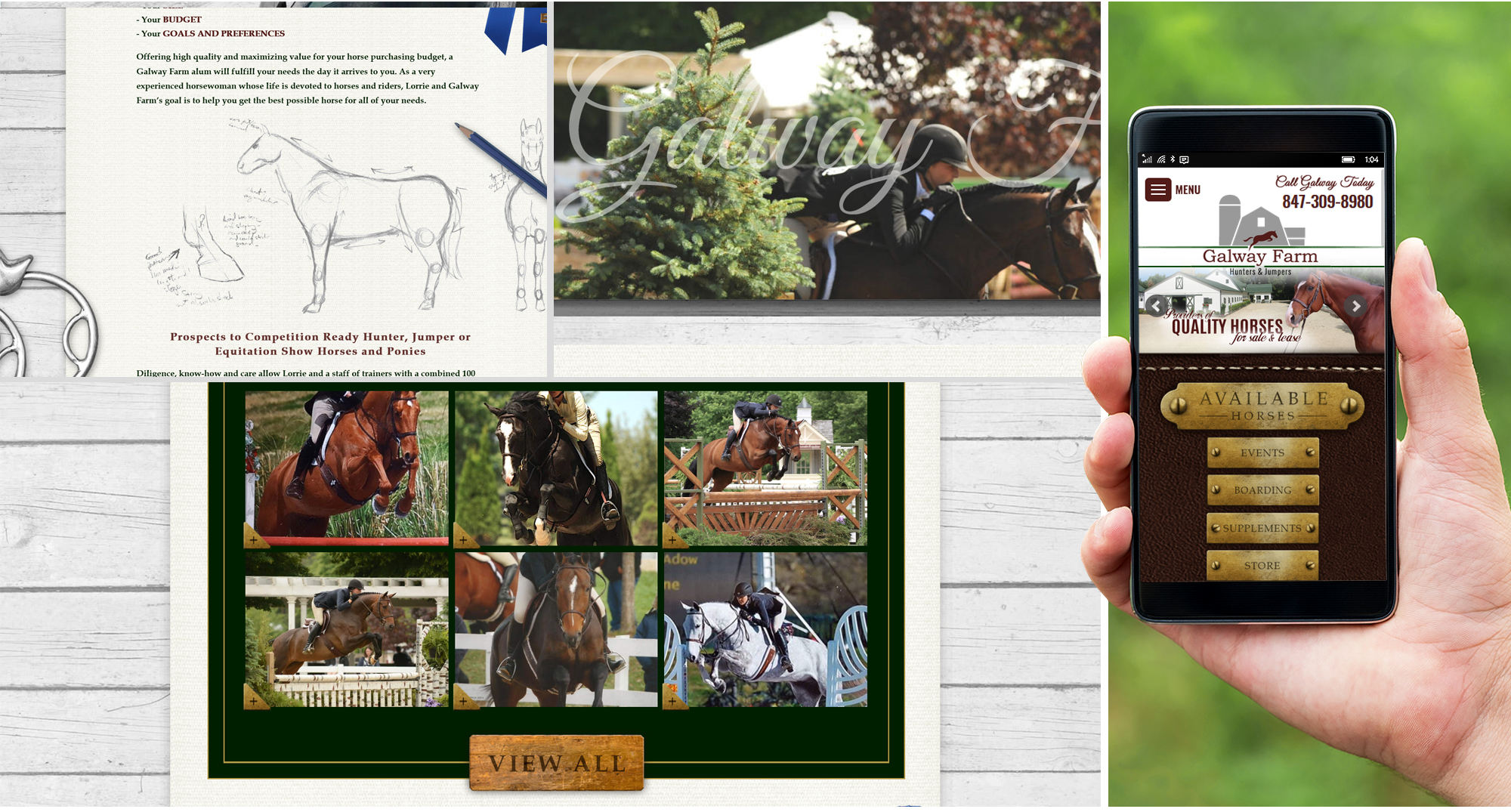 Galway Farm
If you need to see someone about a horse make it Lorrie Canady. She has a storied 40 years in prestigious riding competitions throughout the country and owns Galway Farm, a premier horse farm in the Midwest selling quality hunter, jumper and equitation horses. Her experienced staff nurtures each horse until it is purchased. Canady takes care of her customers with a healthy, well-balanced prize specimen with each purchase.
Website Dilemmas
For years, Galway Farm had a website that was static and served mostly as a flyer for the farm rather than an interactive, engaging depiction of what potential customers are expecting in such a rich horse sales enterprise with top-of-the-line hunters and jumpers. It also lacked a contemporary, consistent brand that users could recognize and connect to, and didn't serve Galway Farms as a showcase of the horses available for purchase.
Technology Implemented
Web design- Search Engine Optimization - Logo Design- Photo Gallery- Content creation-
Outcome
The specialists at iNET Web committed their revamp to branding, user experience and the seamless integration of compelling HD images of Canady's handsome horses. iNET Web collected some of Canady's most compelling professional photography from the farm along with energizing shots of jumpers clearing barriers and integrated the photos throughout the site. Our content writers also quadrupled Canady's original content with in-depth pages about horse breeds sought after by discerning riders according to an SEO audit.
iNET Web's resulting page is a gorgeous, navigable display of the best of what Canady has to offer on her farms. The abundant content and images kept users on the site. The content creators, illustrators and designers at iNET Web transformed Canady's flyer page into an interactive, captivating web site destination for expert riders throughout the Midwest and the nation.
iNET Web is the horse to pick for maximized web marketing, maximized traffic and maximized profit.