ExerClock
This unique site includes an interactive platform requiring revolutionary programming, created by iNET's brilliant web developers. Companies and employees can create accounts, choose exercise videos, set a schedule, and track their progress.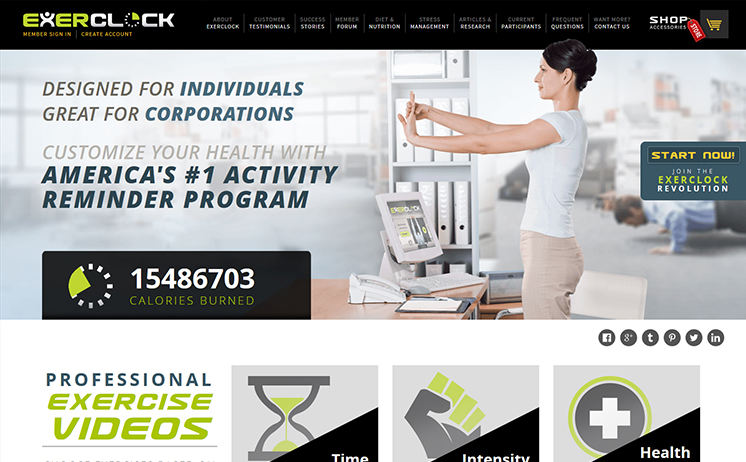 Responsive:
In the vein of being fresh and modern, ExerClock translates seamlessly to smartphones and tablets for an effortless user experience.
SEO:
Getting found on the web is an ever-increasing battle. With iNET's search engine optimization, ExerClock cannot be confined or restrained, only found as a premier health specialist shaking up the wellness industry.
Copywriting:
Business owners had to understand how ExerClock would drastically reduce insurance costs far beyond the affordable price of the program, and the copywriters at iNET deftly captured their scope.
Video:
ExerClock's homepage begins with owner/founder Cory Schneider typing in an office. Using iNET's green screen technology, he then engages site visitors with an explanation of the ExerClock service.
Custom Programming:
iNET's software developers built unique programming for an entire interactive platform. Our client revolutionized corporate wellness with a program no other marketing company has ever produced.
Logo Design:
The logo iNET created for ExerClock isn't just professional, it's downright cool...and meant to be admired by the masses at a single glance.
Print:
iNET captured the essence of ExerClock with a stunning bi-fold brochure which dazzles potential clients.


Click the links above to learn all about the unparalleled web marketing services that provided Exerclock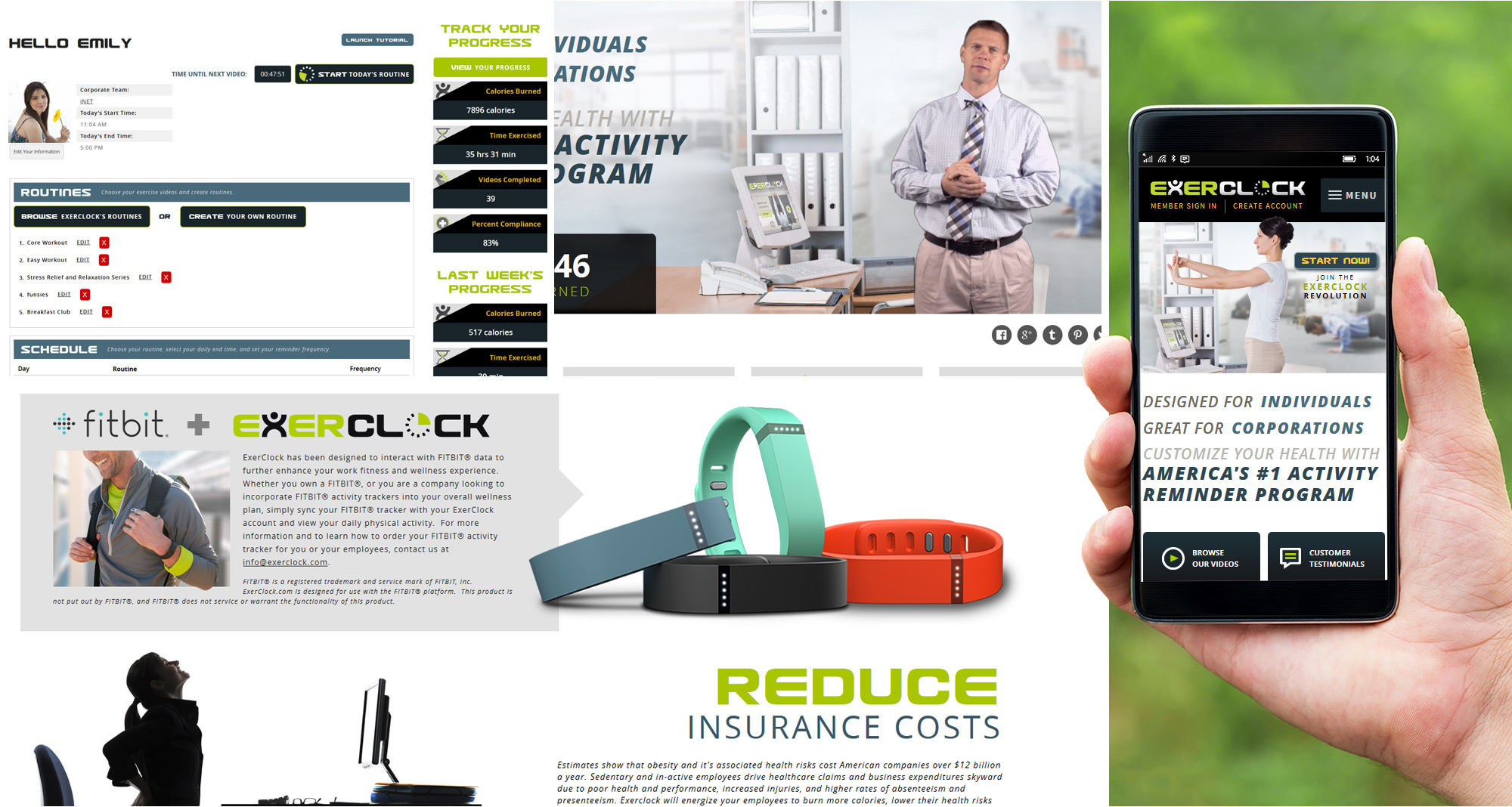 Exerclock
Developed by a physical therapist who saw too much of the toll sedentary desk jobs take on the human body, ExerClock is a subscription-based activity reminder program providing desk workers with short exercises throughout the day via their computer. The exercises are simple enough anyone can do them, yet they increase metabolism, raise mental awareness and productivity, and ultimately drive down health care costs.
Website Dilemma
The client had a genuinely brilliant idea and made an equally brilliant choice in hiring iNET to bring it to life. The challenge was to develop a website to effectively communicate to both small businesses and large corporations the value of becoming a subscriber to the ExerClock program—which is how the site makes money. Making the case to businesses that short exercise breaks throughout a worker's day are ultimately beneficial to the business's bottom line would be critical to the success of the website.
Technology Implemented
Search Engine Optimization – HTML – Flash - eCommerce – CSS – Layout Design – Content Management System
Outcome
Besides making a compelling case for the ExerClock program, the site iNET developed offers a wealth of information on health and wellness topics. The website is working beyond all expectations, with both small businesses and large corporations signing on to the program.
Contact our Milwaukee web developers to find out what iNET can do for your business' success!