Edenwood Ranch & Preserve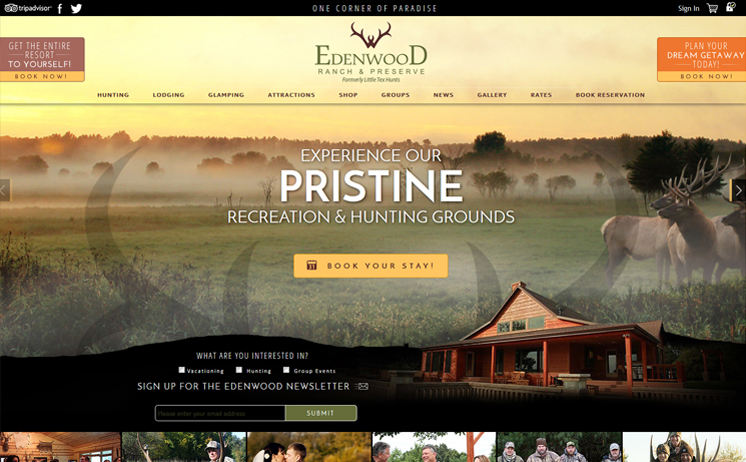 Click the links above to learn all about the unparalleled web marketing services that provided Edenwood Ranch & Preserve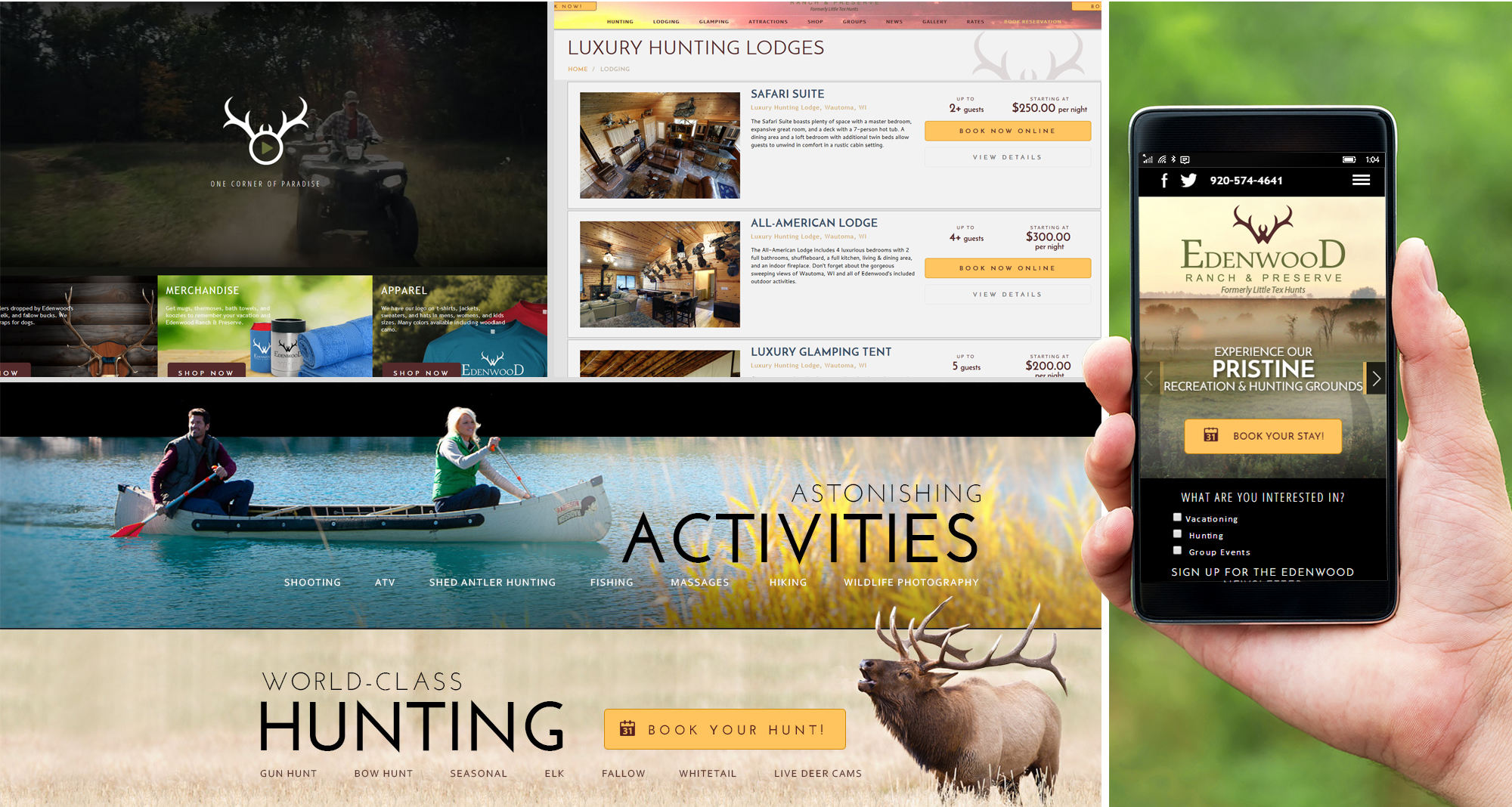 Edenwood Hunting Preserve- Web Marketing for a Central Wisconsin Big Game Destination
It's rare to find a breathtaking panorama of a meadow dotted with elk and fallow deer herds this side of Yellowstone. Who has the time, though, for the 20+ hour drive from southeastern Wisconsin? Edenwood Hunting Preserve lets you discover a secret pocket of shimmering lakes, carpets of green hills, and the rumble of monster buck hooves right in central Wisconsin. Edenwood is THE hunting preserve for regional, national and even international dream hunting getaways.
iNET Web's creative geniuses toured its pristine 400 acres in Wautoma when Edenwood first reached out to iNET Web. They were in awe. Edenwood was a secret that had to be shared. You could say the buck started here.
Website Dilemmas
The problem? Few avid Wisconsin sportsmen (and women) knew such a place existed. A Wisconsin Hunting Preserve encompasses dozens of potentially-lead-generating keywords capable of funneling traffic from Google searches, but Edenwood didn't know which ones to pursue. We also needed to let prospective customers know such a paradise existed and get Edenwood to the top of the rankings so it could bag a higher market share in the industry, region and nation.
Website Technology Implemented
Search Engine Optimization – Layout design – Content Management System – HTML – Creative Genius – CSS – Flash – jQuery
Website Outcome
Our iNET Web search engine optimization specialists did a SEO audit on the business's original site and researched the top keywords likely to generate traffic using analytics software. Then they loaded the gorgeously designed pages with compelling, detailed content designed to "win" in Google's page rank for terms related to hunting preserve. Their content responded directly to any and all queries about such a preserve.
And win they did! While hundreds of iNET Web's clients enjoy number one page rankings for local searches, Edenwood earned the number 2 rank nationwide for Father Son Hunting Trips. The results propelled Edenwood beyond a gorgeous Wisconsin-based hunting preserve and into a sought-after national hunting destination. They've even seen queries from affluent European users looking to travel internationally just to pursue the hunt of their life.
Willing users are big game around here. Just Contact iNET Web today, and we'll find you the herds with our creative genius web marketing.