Discovery Designs Refrigeration
What's cooler than being cold? Being iNET-Web! When a local refrigeration company needed a revamped website, they turned to us for a cool new look.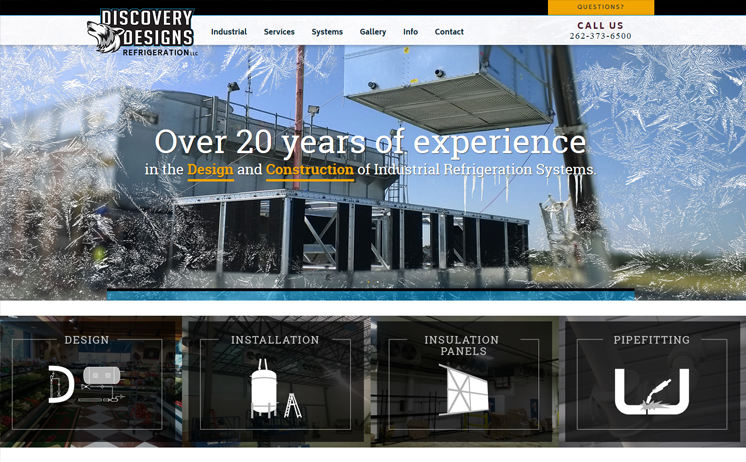 W
Businesses in need of refrigeration don't always have time to sit down at a desktop computer. The responsive design of the Discovery Designs website lets prospective customers search for what they need on tablets and smartphones.
W
A cool new look needs cool new writing. iNET copywriters wrote all-new content to help potential customers understand everything about Discovery Design refrigeration.

Click the links above to learn all about the unparalleled web marketing services that provided Discovery Designs Refrigeration
Discovery Designs Refrigeration-
Specializing in the design and installation of custom industrial refrigeration systems for businesses across the country, Discovery Designs Refrigeration brings over 20 years of experience to every job.
Website Dilemma-
Discovery Designs had an old template-based website lacking in visual appeal and content. It didn't even have photos of the work their technicians have done! It was as if Discovery Design were frozen in 1995. They desperately needed a new look and a content management system that would allow them to update their site as needed. Just as importantly, they needed a search engine optimized site to propel them to the top of search engine rankings for the most common queries of potential customers.
Technology Implemented-
Layout design – CSS – HTML - Search Engine Optimization - Plug-in JavaScript – Content management system
Outcome-
iNET created an entirely new look for Discovery Designs. We developed content positioning them as the experts in all aspects of industrial refrigeration systems—a platform that will continue to grow in relevance to search engines. Implementation of iNET's proprietary content management system allows Discovery Designs Refrigeration to easily update their site when the need arises. Through keyword research and site optimization, iNET has steadily raised their online rankings in a highly competitive organic search environment. Very cool, indeed.
Discovery Designs Refrigeration LLC is just one of several engineering firms who turned a profit with help from iNET.