Direct Drive Logistics
A nationwide freight broker like Direct Drive Logistics needs to showcase their diverse services as well as their detailed knowledge of advanced logistics. iNET designed a state-of-the-art website with results-driven, SEO-based content paired with unique targeted radio ads to drive site traffic.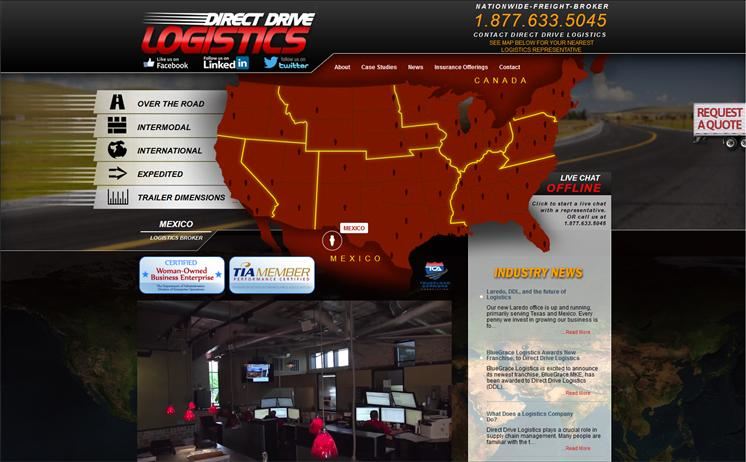 M
iNET's creative genius radio ads helped spread the word that DDL is looking to hire...and will pay generous salaries to boot.
M
iNET is more than a web development company. We also create compelling print media to promote your services.

Click the links above to learn all about the unparalleled web marketing services that provided Direct Drive Logistics
Direct Drive Logistics
Direct Drive Logistics is a nationally-recognized transportation logistics company with freight brokers connecting shippers to drivers all across the US. With their large network of reputable full truckload (FTL) and less than truckload (LTL) carriers, Direct Drive Logistics provides the highest standards of quality to ensure complete customer satisfaction.
Website Dilemmas
Direct Drive approached iNET back in 2014 for help updating their existing website. There were very few graphics and virtually no keyword-driven content on their site--a necessity for ranking high on Google search engines. As with most businesses, they wanted to drive more traffic toward their site and hopefully bring in more customers looking for their specialized services.
Technology Implemented
Responsive Technology – Professional Copywriting – Search Engine Optimization – CSS – HTML – Video Production – Radio Marketing
Outcome
Thanks to iNET-Web, Direct Drive has been steadily gaining more business. After just a few months, website traffic shot up, and it has continued to increase. With new graphics throughout the site and SEO-driven content being constantly added by iNET copywriters, Direct Drive Logistics is on track to dominate search engine results for their niche business.