Creative License
Creative radio ads, attractive website design, informative copy, and a simple but effective brand ("It's in you, let the art out!") draw users in and get them to contact or visit Creative License.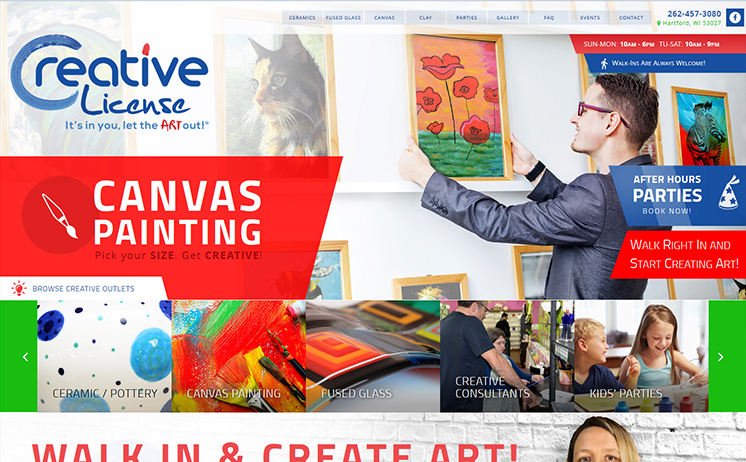 Click the links above to learn all about the unparalleled web marketing services that provided Creative License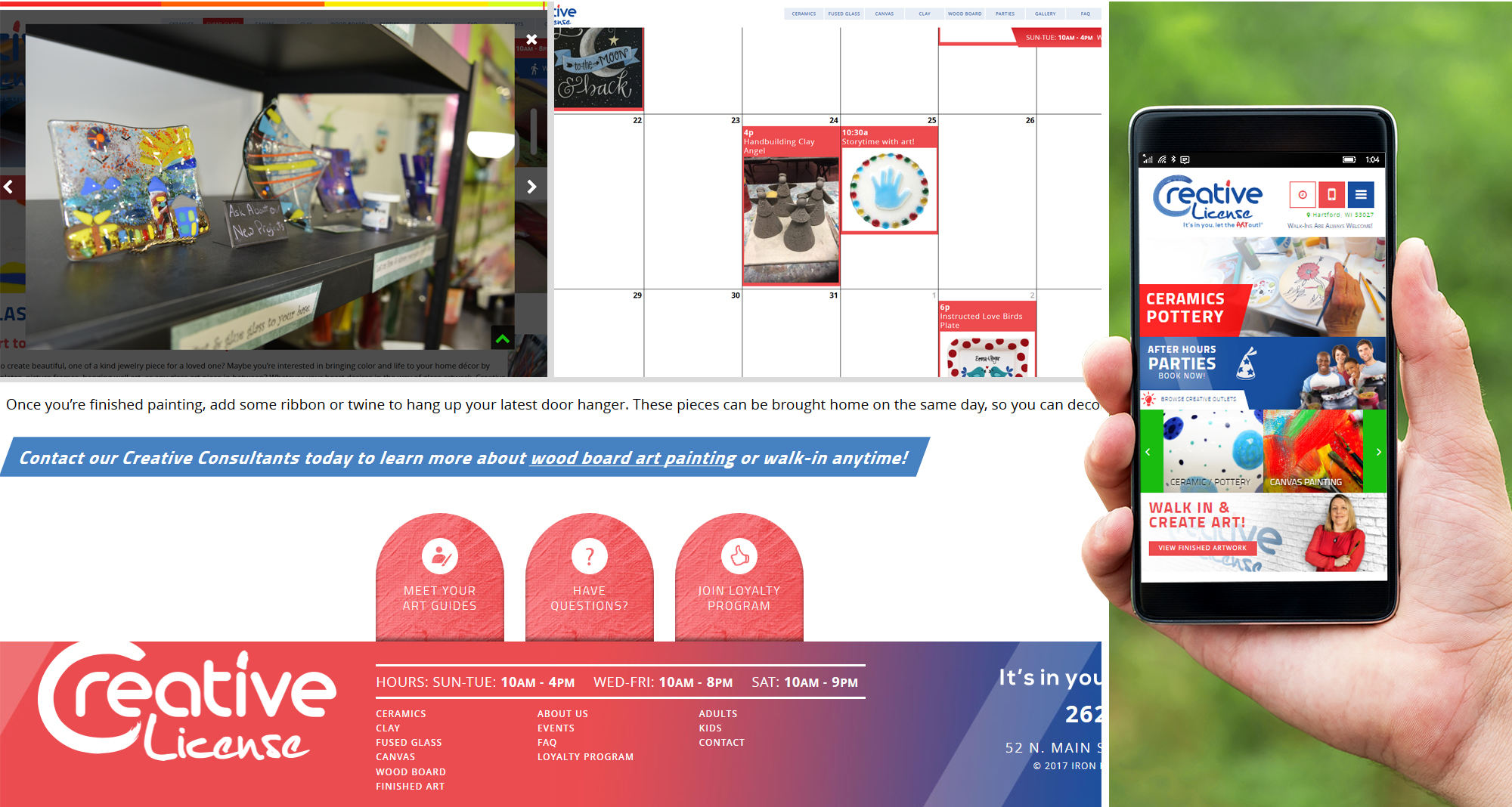 Creative License- iNET Web Marketing for Hartford Community Art Studio
Angela, the founder of Creative License in Hartford, knows the value of artful expression for people of all ages, backgrounds and skills. With her passion for pottery, painting and clay, she opened a unique space in Hartford dedicated to the enjoyment and production of art.
Website Dilemmas
You don't find a company more visually oriented than a paint party art studio. Angela wanted to display her customers' pottery, clay and canvas masterpieces. However, Creative License didn't have the web real estate or technology to embed galleries showcasing the work of their customers.
Creative License also faced extensive competition in the southeastern Wisconsin market. iNET needed to work with Angela to help find her differentiation and value-add. After collaboration and some research, an experiential branding approach was chosen. In many industries, consumers are demanding more than just products or services. They're looking for opportunities to participate in things with friends and family.
Website Technology Implemented
HTML - Search Engine Optimization - Image Gallery
Website Outcome
Creative License was a perfect candidate for experiential branding. iNET marketing researchers identified a niche in the market: family-friendly paint nights. The iNET copywriters promoted art creation at Creative License as a family experience, a story you can share and re-live. They wrote a script for Angela to read in an embedded video. She positions events at Creative License as permanent reminders of feelings or points in time. In addition, iNET-Web started posting more content about events and wrote copy targeting kids' groups like Girl Scouts.
The paint gallery succeeded. The photos exuded the Creative License brand: colorful, artsy and creative. It also increased web traffic. Customers returned to the website to admire their work and show it off to friends. Google's search algorithms determined more users were staying on the page when they searched it on the web and increased its rankings because of all of the image files it detected. Creative License's page ranked number 1 in results for queries like make your own art Hartford and paint parties Hartford.
Angela also noticed an immediate uptick in walk-in customers. Only a few days after iNET Web updated the content to sell the studio as an experience, prospective customers inundated her with phone calls and contact forms for scheduling special family and social events.
Want the web marketing Picassos at iNET to boost your traffic? Contact iNET's web developers today.