Cookies From Scratch
The tasty treats made by our client are featured throughout the site and in photo galleries.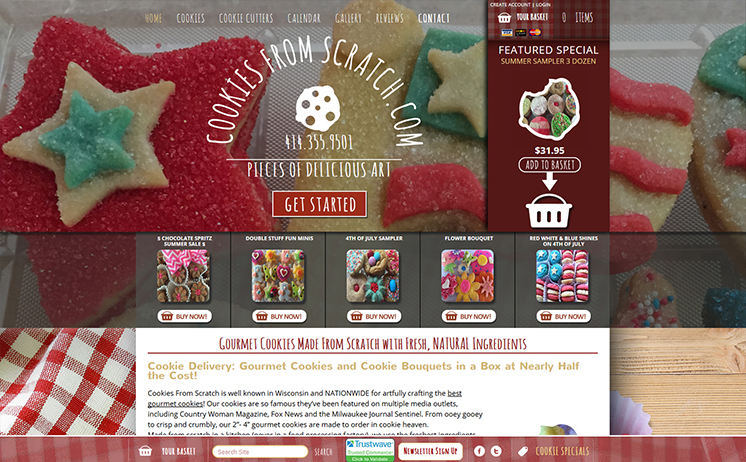 Click the links above to learn all about the unparalleled web marketing services that provided Cookies From Scratch
Cookies from Scratch - iNET Web Marketing for a Wisconsin Gourmet Cookie Store
Cookies from Scratch is dedicated to gourmet cookies untainted by preservatives, trans-fats, refined grains, high-fructose corn syrup and other things that have no business being in cookies. Instead, Cookies from Scratch sources its fresh ingredients from local farms in southern Wisconsin. Yes, you can taste the difference.
Website Dilemmas
A company purveying made-to-order, hand-delivered cookies is definitely unique, and their goal was to be the number 1 cookie delivery company in Milwaukee for special occasions like weddings. They just needed to position themselves as a tasty alternative to cake, or at least an addition worth considering. That's where iNET-Web came in.
Website Technology Implemented
Search Engine Optimization - HTML - Web Design
Website Outcome
iNET Web Marketing researched common online search queries for companies like Cookies from Scratch and discovered there was huge search volume for baked goods for weddings. The website we developed includes a Gallery of Wedding Photos optimized for keywords like wedding cookies. The result was a sudden boom in web traffic filtered from Google--before it was even wedding season! As a matter of fact, a year-over-year comparison of wedding queries showed organic search traffic doubled in the first year since iNET optimized the site. Demand has grown steadily since.
Let iNET treat your company to a boom in organic search traffic. Contact iNET's web designers now.