Cedarburg Creek Farm
Pumpkin patches, a corn maze, and petting zoo all make Cedarburg Creek Farm the place to visit during the holidays. iNET-Web made their new website to show off their fun activities to families across Wisconsin.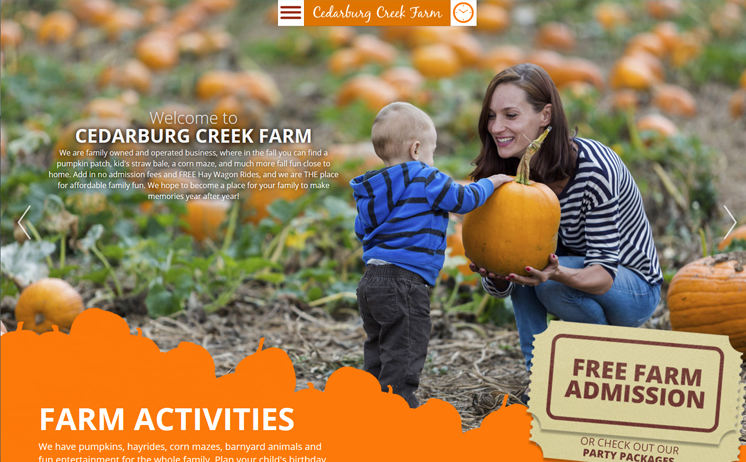 Click the links above to learn all about the unparalleled web marketing services that provided Cedarburg Creek Farm
Cedarburg Creek Farm
Cedarburg Creek Farm is a small family-owned pumpkin farm in Cedarburg, WI. It provides fun, affordable fall activities, including a pick-it-yourself pumpkin patch, free hayrides, corn mazes, a barnyard petting zoo and musical entertainment. In 2016, the owners of Cedarburg Creek Farm enlisted iNET-Web to create a newer, search engine optimized website to market their farm to more potential customers throughout southeastern Wisconsin.
Website Dilemmas
The owners of Cedarburg Creek Farm had put together a DIY website for their pumpkin farm in 2013. Unfortunately, it was a template-based site with flawed programming, a non-user friendly layout and no optimized content. Few people visited the site. Since Cedarburg Creek Farm is a small family-owned business offering mostly seasonal services, attracting new customers through the website was vital to their livelihood.
Technology Implemented
Responsive Web Design – Search Engine Optimization – HTML – CSS – Graphic Design - Copywriting
Outcome
Thanks to the expert web developers at iNET, Cedarburg Creek Farm now has a new, beautifully designed website. With a gorgeously unique, user-friendly site layout, optimized content and hi-res photos featuring their beautiful pumpkin farm, Cedarburg Creek Farm's new website recorded 20,000 hits one fall month shortly after the site went live.
Give iNET-Web a call at 262-574-9400 to get started on a profit-generating website for your business.