Boost Hydration
IV Hydration therapy wasn't a service most people had heard of. Even in Orange County. By building a brand and optimizing for the symptoms and problems the treatments address, iNET continues to drive business through their office doors.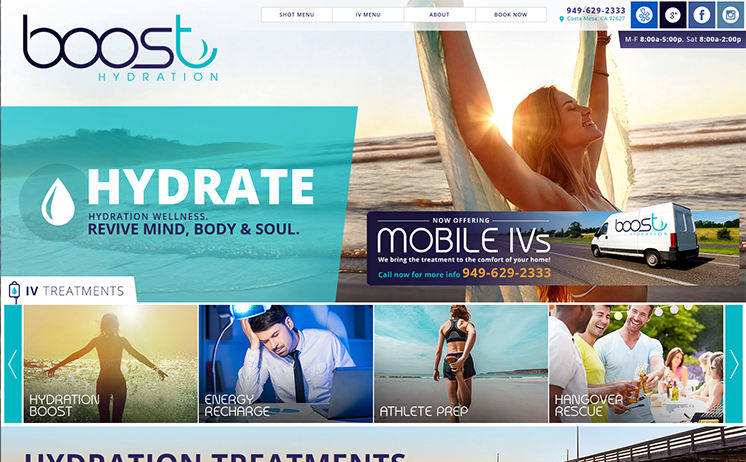 M
Boost Hydration provides a service few people knew existed, but iNET's creative team helped establish the Boost name as the definitive authority of an untapped market.
M
With contemporary fonts and symmetrical colors, the logo iNET assembled for Boost Hydration conveys their overarching themes of health and wellness.
M
Every brochure, sign, and pamphlet released by Boost features the design iNET created.

Click the links above to learn all about the unparalleled web marketing services that provided Boost Hydration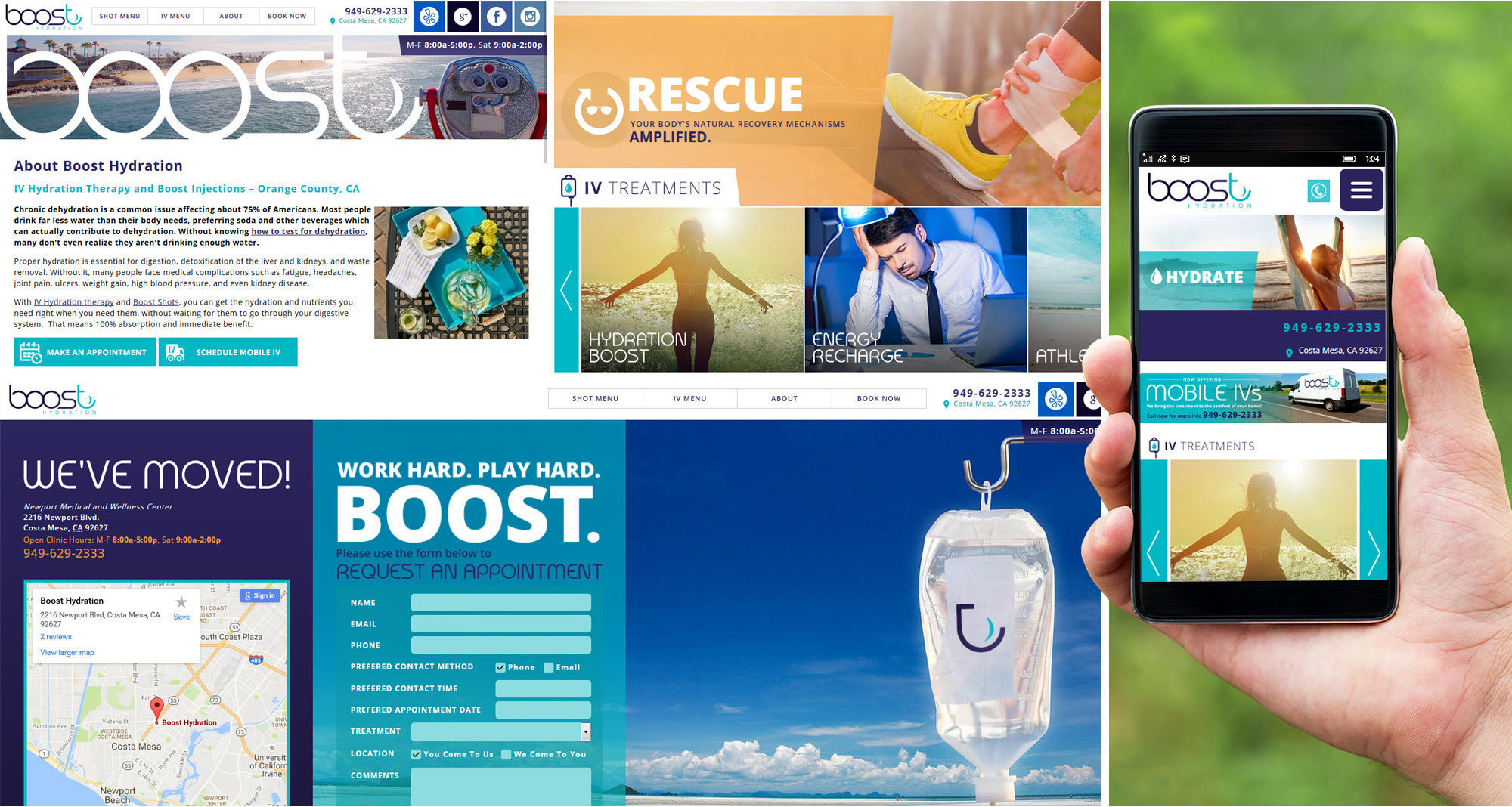 Boost Hydration
Located in Orange County, CA, Boost Hydration is a leader in the IV hydration therapy industry, providing essential hydration and specialized treatments for a wide variety of health and wellness concerns. Boost Hydration came to iNET as a new business in need of a website to reach potential customers online. iNET copywriters were tasked with selling internet searchers something they didn't yet know they needed. They also had to explain the benefits of supplements and IV hydration in a concise, engaging style appealing to fast-moving web users.
Website Dilemmas
Declining to see a dilemma, the creative genius design and SEO team took on the exciting challenge of increasing web traffic—and profits—for a startup offering a largely unknown niche service.
Technology Implemented
Logo Design – Graphic Design – CSS – JavaScript – Copywriting – HTML – Creative Genius – Search engine optimization – jQuery – Content Management System – Print – Branding
Outcome
iNET built a powerful brand to establish Boost Hydration as an authoritative presence in an emerging market. The contemporary font effortlessly incorporates the subtle curve of a water drop to convey leading-edge hydration. Web designers created a unique look for the website, fitting the target market perfectly. The rich, dynamic background and carefully chosen imagery, combined with custom fonts and icons, transmit a positive vibe synonymous with being hydrated and enjoying the California lifestyle.
The majority of Boost Hydration's organic traffic is mobile. iNET-Web programmers gave boosthydration.com responsive design so tablet and smartphone-using customers could easily enjoy a full online experience. SEO specialists worked closely with copywriters to optimize website content addressing the health complaints and symptoms Boost's treatments alleviate. The site became an online resource for IV hydration therapy candidates.
Since going live in July 2015, boosthydration.com has been steadily rising in organic search traffic from desired regions, matched by a constant increase in leads. After launching their website, Boost Hydration added successful online appointment booking and began offering a new service: Mobile IV therapy. The new venture benefited from increased visibility and marketing from iNET. Boost Hydration continues to use iNET for monthly SEO services to keep up the good vibrations—and continued growth!
Contact our creative genius inspired Milwaukee Web Design Firm for profit-boosting website strategies and marketing.