Bonness Cosmetic Surgery & Spa
You'd expect a cosmetic surgeon to have a beautiful website. iNET not only gave Bonness a gorgeous looking site, but one that also generates leads.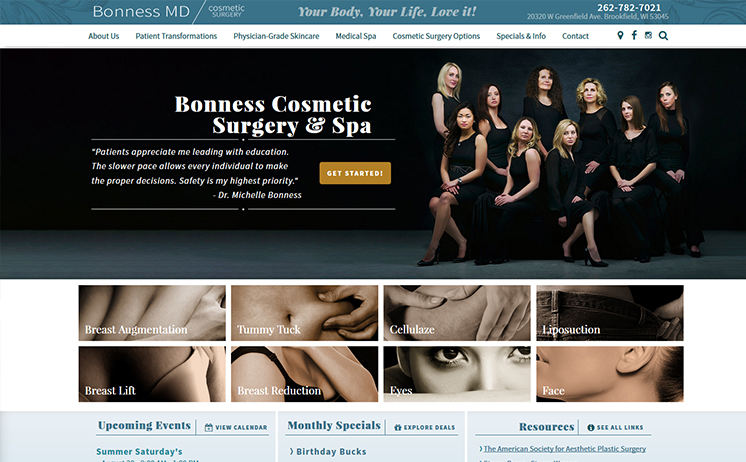 Click the links above to learn all about the unparalleled web marketing services that provided Bonness Cosmetic Surgery & Spa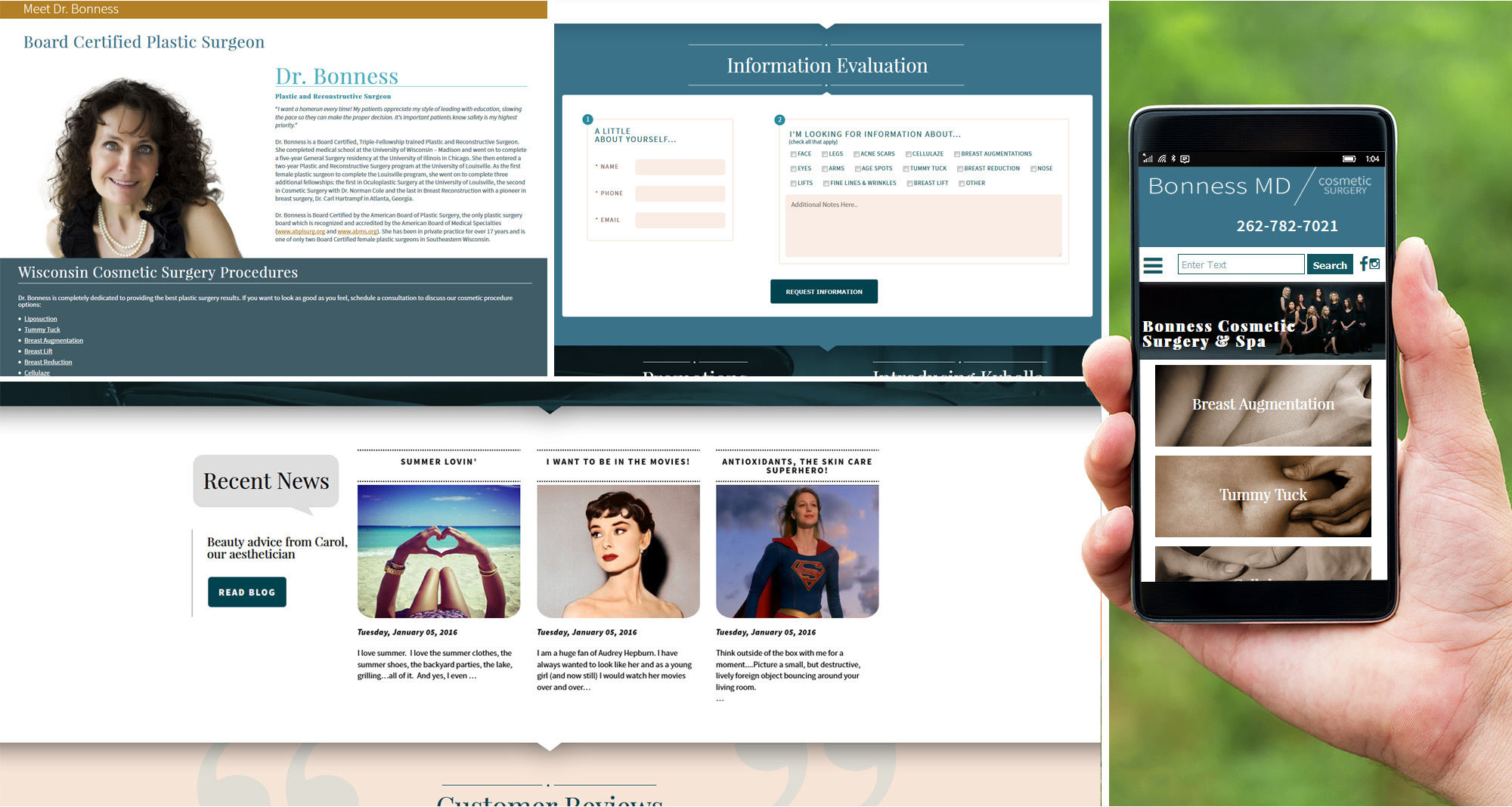 Bonness MD
Dr. Bonness is a board certified cosmetic surgeon in Brookfield, WI. Dr. Bonness utilizes surgical and nonsurgical procedures to help clients look and feel better. Her original website lacked aesthetic appeal and didn't reflect the professionalism of her practice. Dr. Bonness called on iNET's team of creative genius Milwaukee website designers and developers for a complete makeover of her website and an infusion of SEO to increase website traffic and expand her client-base.
Website Dilemma
The original Bonness website was outdated and unprofessional. The content of the website wasn't up to date or useful to potential clients, and the outdated design of the website led visitors to assume the business was also outdated. An unappealing website design did nothing to encourage visitors to explore past the Home page. Outdated website technology, shoddy design and a lack of engaging content all added up to an ugly situation.
Technology Implemented
Modern Website Design – Search Engine Optimization – Content Management System – Green Screen Video Production – Creative Genius Copywriting – Hover Images – Graphic Design – Mobile Development – URLs – Meta Data – HTML –Javascript
Outcome
After our Milwaukee web developers created a modern website and our SEO copywriters developed content worth reading, the new site went live in May 2013. Loaded with powerhouse SEO content, Dr. Bonness quickly ranked #1 on organic search engine results for key terms like "Cosmetic Surgery Brookfield" and "Cosmetic Surgery Waukesha." The site also ranked on the first page for other highly sought after industry terms like "Medical Spa Milwaukee" and "Botox Wisconsin."
High search engine rankings have helped Dr. Bonness's website see a significant increase in traffic and potential clients. The new website inspires users to explore the site further, which leads to new inquiries for her cosmetic services. With an engaging design, marketable content and ongoing search engine optimization from our Wisconsin SEO specialists, Dr. Bonness's business is thriving.
Dr. Bonness is just one of the several medical practices who are turning a profit with help from iNET.
Contact our Milwaukee website design and development company for an updated, professional and profit-driven website.