American Paper
iNET-Web brought American Paper & Packaging into the modern era with a custom-built website.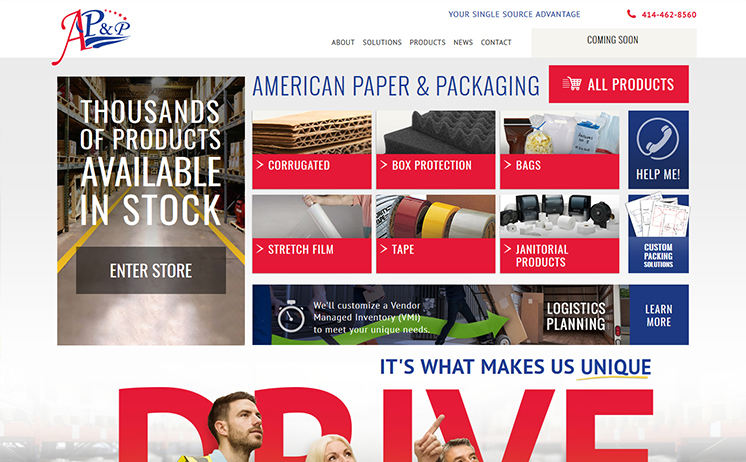 M
With a name like American Paper & Packaging, a red, white and blue color scheme was a natural for developing a brand identity.

Click the links above to learn all about the unparalleled web marketing services that provided American Paper
American Paper & Packaging-
For over 90 years, American Paper & Packaging has supplied essentials for businesses all over Wisconsin and the Midwest. They carry everything from corrugated containers and cleaning supplies to first aid kits and hand trucks. AP&P focuses on their customers' needs and objectives, constantly offering innovative and cost-effective solutions for the needs of each company they serve.
Website Dilemmas-
American Paper had a website built in 1998, but as web design evolved over the years their site looked increasingly dated. Besides looking its age, the site lacked search engine optimized content and wasn't ranking well on Google search engine results. While business continued to be decent, winning new customers in an increasingly digital world was proving difficult with their old website.
Technology Implemented-
Responsive Technology – Search Engine Optimization – Professional Copywriting – Green Screen Video Production – HTML – CSS
Outcome-
In 2015, American Paper came to iNET Web for a new website. The result was a beautiful new design with quality graphics, top-notch video production, and search engine optimized content about all their services. Thanks to iNET's copywriters and web developers, AP&P's new website is seeing a dramatic increase in traffic and they've gained many more customers.
Contact the Creative Geniuses at iNET today to learn more about how a new website can make your business more profitable.