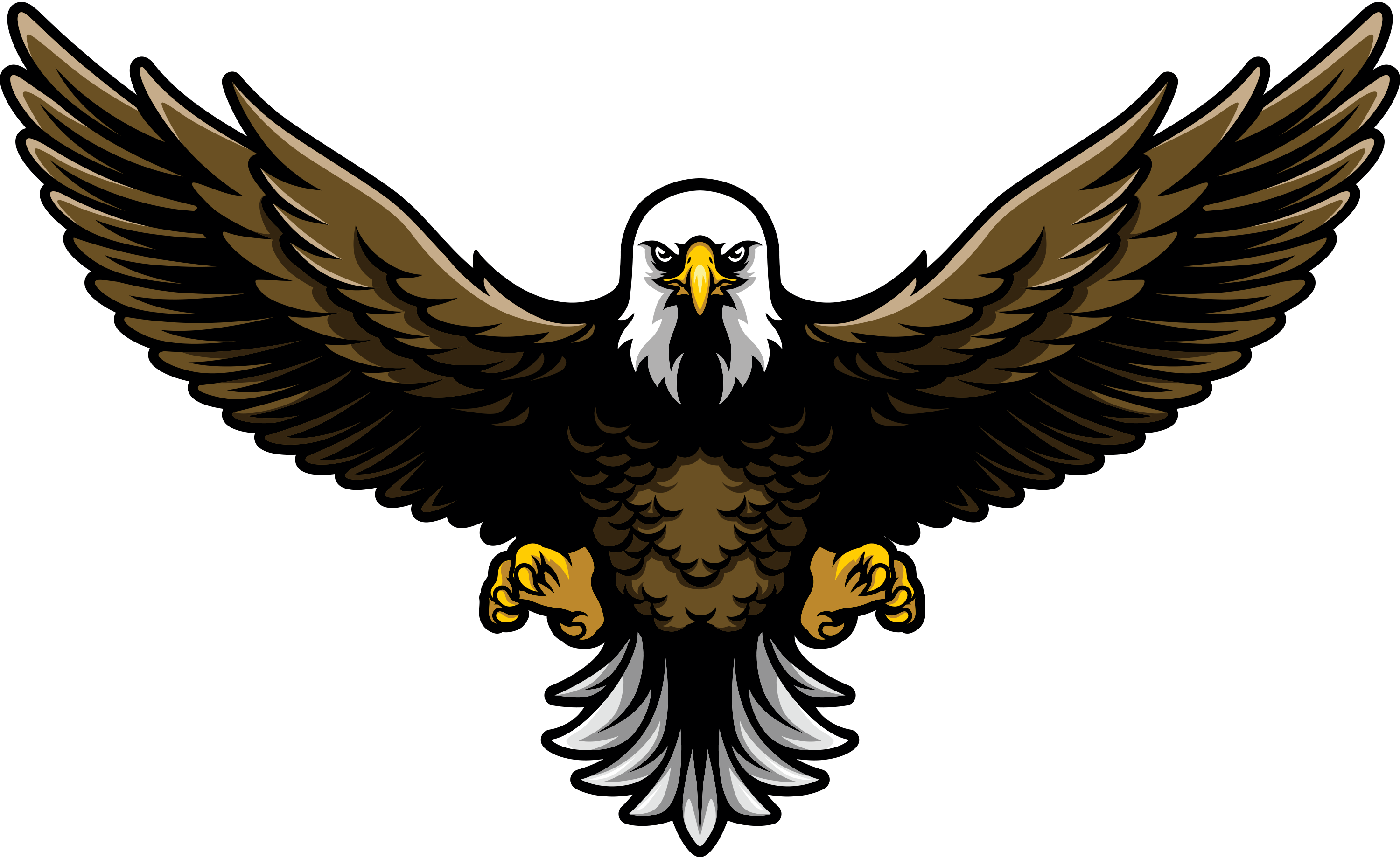 Greater Milwaukee Coin and Jewelry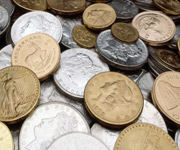 Update
INET Web Milwaukee website designers and developers worked together to create an intuitive and user-friendly header, visible on all webpages of the site. The unchanging header at the top of the website includes various Greater Milwaukee Coin dealership locations in Wisconsin and a phone number for convenient customer call-to-action. The bottom of the website was outfitted with its own banner, which includes accessible links to all webpages within the site for efficient customer scrolling and navigation. This cohesive banner includes interactive graphic-based links, allowing customers to view Greater Milwaukee Coin's affiliated and accredited partners in a separate browser window. By designing the website to open these independent links in a separate window, customers aren't forced off the Greater Milwaukee Coin website. Balancing maximum user-friendly navigation with professional website design is a specialty of the creative genius inspired iNET Web Milwaukee website design and development team.
INET Web Milwaukee website designers worked with Greater Milwaukee Coin to achieve a professional logo and tagline for their website. The tagline serves as a constant reminder to website visitors of Greater Milwaukee Coin's extensive experience in the business, proving themselves as a reputable antique coin dealer. With the interactive logo transfixed in the header, audiences are provided easy access back to the homepage at any point in their visit, instilling greater customer confidence. When the phone number on the header is clicked, customers are conveniently directed to the website contact form page. INET Web Milwaukee website developers and designers strategically implemented this cohesive, interactive header for optimal customer navigation.
INET Web Milwaukee website designers furthered Greater Milwaukee Coin's convenient, intuitive navigation by implementing relevant sub-headlines for each specific webpage. These stationary sub-headlines located in the cohesive header are highlighted when users scroll over them, simplifying customer navigation. Often an oversight by second-tier website development companies, iNET Web Milwaukee website designers understand the importance of intuitive and appealing navigation throughout a company website. From header development to website background, the iNET Web Milwaukee website design team never misses a detail.
With limited technology at the time, the Greater Milwaukee Coin's former website was outfitted with a bland template background. Today, the new website is fashioned with a cohesive and intuitive antique money-themed website design. This sleek and relevant new website design greatly improves the professional appearance of Greater Milwaukee Coin. INET Milwaukee website designers recognize the dual importance of professional website appearance and acknowledged accountability. Putting a face to the company adds legitimacy to a company's personal and professional integrity.
When website visitors seek detailed specifics about a company, they visit the "About" webpage. When visitors enter the "About" page on the Greater Milwaukee Coin website they are provided with a photograph of the owners, Russ and Ken Konig. Presenting the faces behind the business demonstrates company legitimacy and personal and professional integrity. INET Web Milwaukee website designers understand this personal touch of accountability builds customer confidence, while establishing interpersonal relationships with website visitors. Greater Milwaukee Coin's "About" page further accredits the business with information on the owners' extensive history in antique coin collecting and dealing. The "About" page text discussing the expansion of Greater Milwaukee Coin dealerships in Wisconsin is a testament to increased industry demand, as well as established company credibility. Throughout this page, iNET Web Milwaukee website developers inserted convenient call-to-action links, from dealership location maps to user-friendly contact forms and more.
When customers arrive on the Greater Milwaukee Coin "Contact" page they are provided with three separate Google maps for each dealership location. Each dealership location includes the address, hours of operation and telephone number. The convenient, interactive maps aligned with each dealership location, allows users to plug in their address information to be easily directed to their desired Greater Milwaukee Coin dealership location. Users are also given the option to view a larger version of the map in a separate browser window for optimal viewing. At the left of the "Contact" page is a convenient, user-friendly contact form, which allows interested parties to email Greater Milwaukee Coin with additional queries.
As technology advanced, iNET Web Milwaukee website designers improved the coin show and trading event calendar on the Greater Milwaukee Coin website. The previous calendar was bland, simplistic and unattractive. By seamlessly incorporating the website's cohesive money-themed background into the calendar's design, iNET Web Milwaukee website designers created a highly attractive and interactive calendar version. Through iNET Web's customized content management system Greater Milwaukee Coin was provided a user-friendly platform to update the website calendar event information at their convenience.
INET Web's Milwaukee website copywriters effectively articulated the Greater Milwaukee Coin website's message to resonate with potential customers. Powerful writing successfully prompted visitors to explore all aspects of the website, creating measurable success in audience absorption and online profitability. Effectively developing industry-defining content throughout the website instilled customer confidence in Greater Milwaukee Coin as a professional and reputable leader in the antique coin industry. The creative genius inspired iNET Web Milwaukee website copywriters created informative and sales driven content, measurably increasing Greater Milwaukee Coin's web marketing platform.
INET Web's Milwaukee copywriters' inclusion of 100% unique content is further enhanced by proper search engine optimization, which brings the Greater Milwaukee Coin website to the forefront of search engine results. Constantly progressing search engine ranking formulas make iNET Web's Milwaukee search engine optimization specialists an integral part of online profitability. Effectively incorporating top key terms and phrases throughout the website, including properly saturating within the content and optimized meta data, image titles and descriptions, navigational and link tags and virtually keywording every aspect of the website put the icing on the cake of web-marketing success for Greater Milwaukee Coin. INET Web Milwaukee SEO specialists continued their profit-driven work by imbedding keyword saturated links with valuable and highly sought after industry terms, further enhancing Greater Milwaukee Coin's credibility and online presence. Through proper search engine optimization and targeting key markets, iNET Web created a strong web presence for Greater Milwaukee Coin in search engine moguls like Google. Soon, Greater Milwaukee Coin was listed on the first page of organic Google search results for "coin collecting dealers in Wisconsin" and "antique coin dealerships in Wisconsin." Effectively connecting antique coin web searchers with the services they seek, iNET Web's Milwaukee SEO specialists provided Greater Milwaukee Coin with measurably increased web presence resulting in online profitability.
If cutting edge technology is surpassing the capabilities of your company's website, come to the iNET Web Milwaukee website development experts. Our website designers and developers work with you to create a completely customized website with a professional and modern appeal. From customized website design and development to an in-house green screen facility, iNET Web specializes in the latest technology advancements. Let our team of Milwaukee SEO specialists, copywriters, video developers, website designers and developers show YOU the money!
Call iNET Web today at 262-574-9400 for your free consultation with Southeastern Wisconsin's leading web development company. INET Web, improving the economy one business at a time ®.
Greater Milwaukee Coin has been and is the premier coin dealer in the Milwaukee metropolitan area for over 20 years. Buying and selling all types of coins, paper money, gold, silver, and old jewelry has made Greater Milwaukee Coin a resource for many Wisconsin numismatic and precious metal enthusiasts.
Before Greater Milwaukee Coin came to iNET, they had a website that "really didn't do much" for them. Their web site developer was a typical independent Milwaukee web designer, selling second tier website solutions at first tier prices while outsourcing the website hosting to a company in New York who was overcharging Greater Milwaukee Coin for hosting fees. With their iNET Custom Creative Genius inspired website solution, Greater Milwaukee Coin received a more attractive website at a lower price than the second tier solution. Not only is the new Greater Milwaukee Coin Website graphically more appealing, the new Milwaukee coin website is dominating all Milwaukee coin collecting and appraisal search engine results (#1 on Google for EVERYTHING coin related in Milwaukee), where it is bringing in new customers.
The first step in fixing the Greater Milwaukee Coin website was upgrading the graphic website design to a level of imagery capable of representing the Milwaukee area's most respected coin dealer. The largely whitespace "design" of their previous website was replaced with granite and wood grain textures along with coins from Greater Milwaukee Coin's collection framing the website. The text area in the center of the Greater Milwaukee Coin website is beveled with 3D shading and resizes based on the monitor resolution of the website viewer to completely fill the web browser. Greater Milwaukee Coin has gotten completely positive feedback from customers about their website. They also enjoy the ease of working with iNET Web and managing an iNET website.
With iNET Web client side website content management tools, Greater Milwaukee Coin is able to add or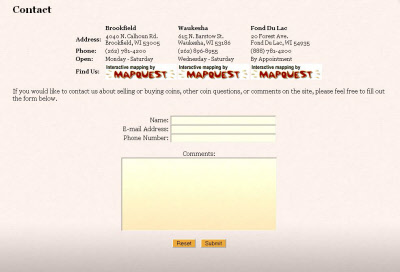 edit content on every area of their website as quickly and easily as sending an e-mail. Editable areas of the Greater Milwaukee Coin website include an internet based calendar showing when Greater Milwaukee Coin will be attending coin shows and an FAQ section with lots of helpful information about coin collection and appraisal. The valuable information on the Greater Milwaukee Coin website, along with custom, proprietary iNET search engine friendly code is what allows Greater Milwaukee Coin to completely dominate search engine results. The website quickly achieved and maintains #1 ranking on Google for Milwaukee coin collecting, Milwaukee coin appraisal, Waukesha coin collecting, Milwaukee coin buyer, and many more terms. Every month, hundreds of people do Milwaukee area coin related searches on Google and see Greater Milwaukee Coin listed before every competitor, giving them priceless credibility with prospective customers, who view Google ranking as a valuable indicator of legitimacy because it can't be bought – unlike the pay-per-click solutions pushed by iNET's second tier Milwaukee website design competitors.
To buy, sell, or appraise all coins, jewelry, gold and silver items, head to Greater Milwaukee Coin in Waukesha, Brookfield, and Fond Du Lac for the highest grade of coin appraisal expertise. For the highest grade of web development in Milwaukee, sure to appreciate in value as your website climbs up the search engine charts, bringing you more and more customers year after year, head to iNET Web in Waukesha to learn what profitable (for YOU) website development is all about.