The Shooters Sports Center
A sport's center in Waukesha needed a way to target new customers. iNET-Web provided irresistible bait by designing a fresh logo and building a brand new website.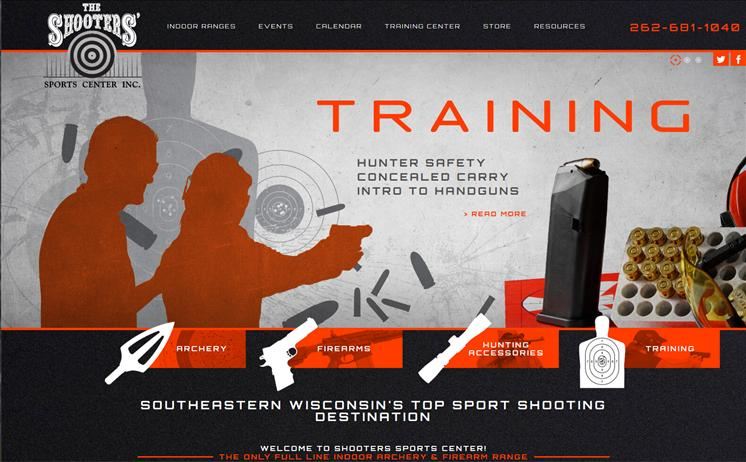 Click the links above to learn all about the unparalleled web marketing services that provided The Shooters Sports Center
Shooters Sports Center
Shooters Sports Center in Racine, WI is a family-owned indoor shooting range that also inventories a host of firearms, archery supplies and hunting accessories. Founded in 1986 by Jim Schunk and Bernie Kupper, Shooters Sports Center is locally owned and provides area shooters of all skill levels a safe place to practice and provides firearm safety courses. They first contacted the creative geniuses at iNET Web about building a profit-generating website in the summer of 2015.
Website Dilemmas-
Shooters Sports Center wanted a custom website that portrayed the scope of their indoor archery and firearm ranges, available products, services, and safety courses. They wanted to visually and conceptually emphasize the charm of a locally operated, family-owned establishment. In addition, we had to supply them with a mobile converted version of their site that would work better for potential customers viewing the page on their mobile devices.
Technology Implemented-
Genesis content management system – Responsive mobile web design – Ecommerce purchasing and check-out system – Logo Design
Outcome-
After many thorough discussions with Shooters Sports Center to determine their website needs and hard work from iNET's team of professional web developers, we created a website which expanded their online presence, bringing in new sales and local leads. The Shooters Sports Center's website by iNET is a modern web developing marvel, and we take great pride in helping businesses like The Shooters Sports Center throughout southeastern wisconsin expand their business and represent their mission and focus to customers.
If you're a Wisconsin business owner who is finally ready to see what iNET's profit generating websites can do for you, contact us today!