Retlaw Industries
iNET-Web created the new website for Retlaw Industries in Hartland, WI. Their site now reflects their professional values and plastic injection molding services.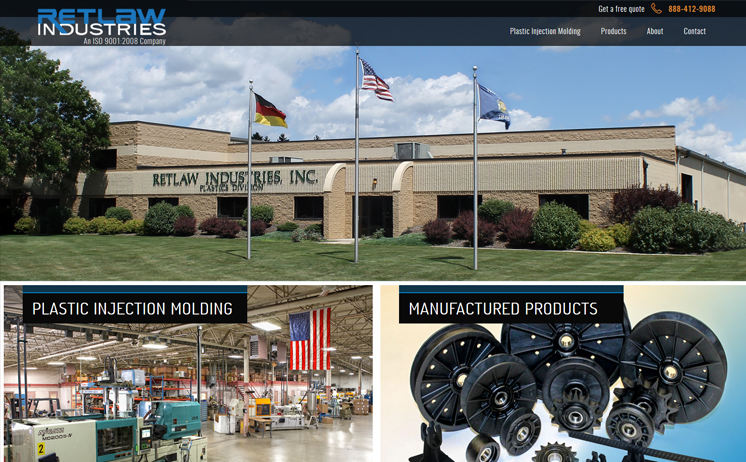 Click the links above to learn all about the unparalleled web marketing services that provided Retlaw Industries
Retlaw Industries
Retlaw Industries is a leading manufacturer and supplier of plastic injection molding products. Since 1977, Retlaw has been based in Hartland, WI and specializes in high quality part design and production of injection-molded parts for a variety of industries. Whether you need idler pulleys, adapters, sprockets, rebar chairs or a custom molded part, Retlaw makes it happen. The Retlaw engineers use superior CAD technology, design software and 3D prototypes to develop every OEM component to exacting specifications.
Website Dilemmas
Retlaw has advertised on line for over 15 years, but as the years went by and the internet kept getting newer and more optimized, Retlaw's website began looking a bit old and dated. With a poor layout and limited content, Retlaw's sales suffered from poor digital marketing. In 2016, Retlaw approached the web development experts at iNET to create a new site with a flawlessly integrated design, professionally optimized content and amazing green screen video production.
Technology Implemented
Responsive Web Design – Search Engine Optimization – Green Screen Video Production – Copywriting – CSS – HTML
Outcome
Thanks to the expert web developers at iNET, Retlaw Industries has a beautifully-designed website with hi-res imagery, innovative green screen video production and professionally optimized content which ranks high on Google search engines. With iNET's help, Retlaw now advertises their plastic injection molding services to a wider market. Retlaw still caters to customers in Hartland, WI, but now they serve OEM manufacturers across the country.
Retlaw Industries is one of several engineering firms who turned a profit with help from iNET.
Contact the Creative Genius marketing team at iNET-Web to learn how you too can create a new website for your business!