Krausko
A couple high school football coaches built a better piece of football equipment and needed to get the word out. With the help of their Creative Genius inspired website their pad percolated up through the high school, major college and NFL ranks. They soon got a licensing deal with a national distributor.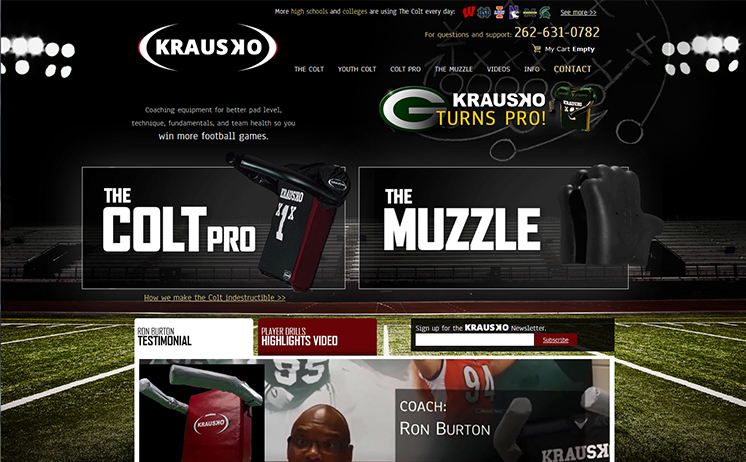 M
The Krausko team made a fantastic product. What iNET creates so well are brands. Thanks to iNET, Krausko proves to the sports training market that better technology equals better players and safety.
M
The Krausko logo was designed to be proudly displayed on thousands upon thousands of blocking pads, serving as a staple for athletes training in mediums beyond just football.
M
Krausko's brand is proudly touted on more than blocking pads. Sports apparel spreads the word to get their products in the right hands.

Click the links above to learn all about the unparalleled web marketing services that provided Krausko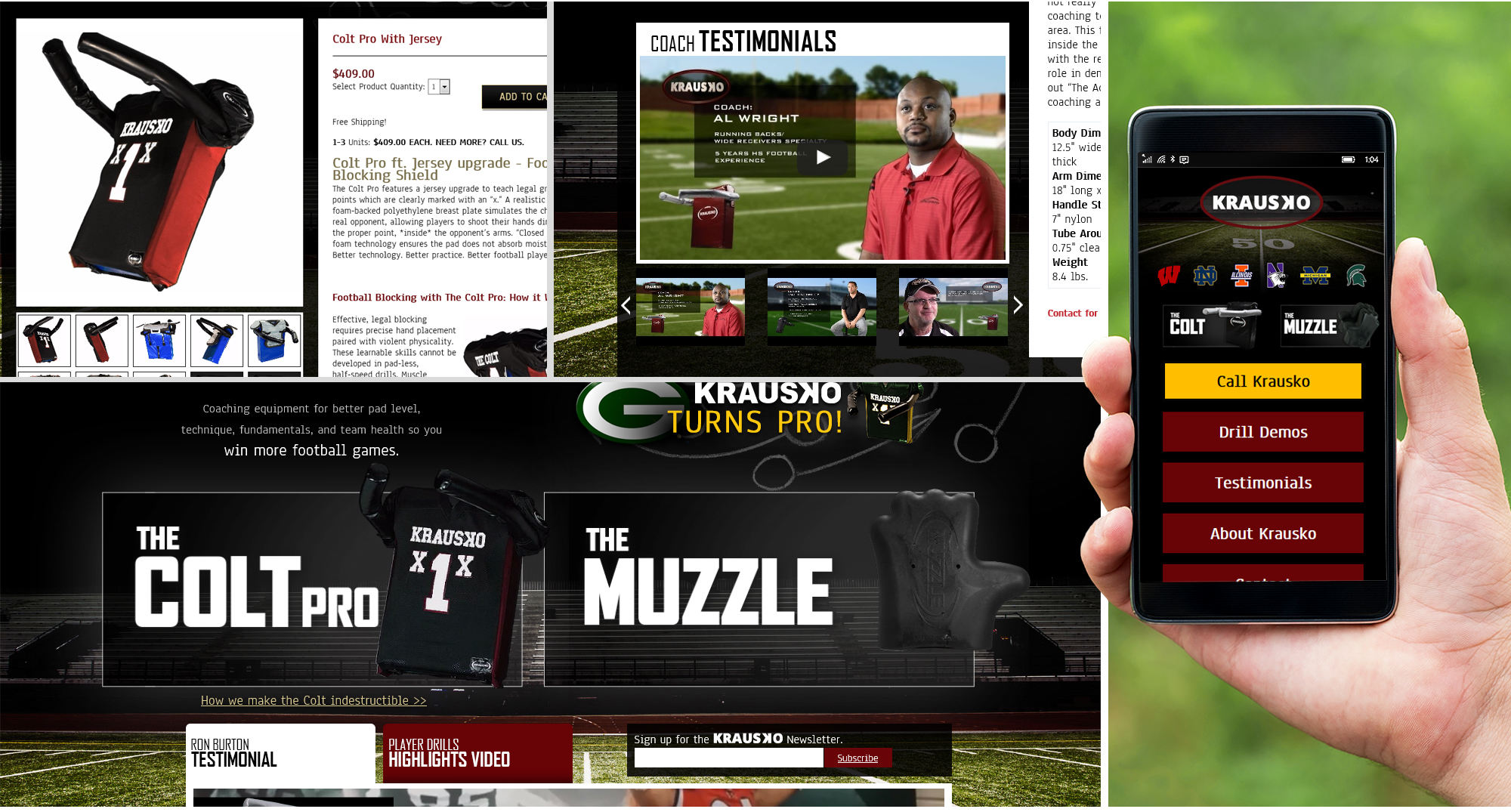 Krausko
Krausko manufactures and sells blocking pads for amateur and professional football teams. Krausko's tackling accessories simulate authentic, live-action gameplay for team practices, building muscle memory while keeping players safe from practice injury. Particularly innovative are Krausko's line of pads called The Colt. They are designed to accurately simulate an opposing player's arms. Coaches can set the arms up or down depending on whether they're arranging offensive or defensive line drills to help their teammates learn how and where to hit opposing players.
Website Dilemmas
Tackling pads are a visual product. Coaches and managers want to see them in action on a practice field before buying them on ecommerce sites. They also want to know how the pads integrate in specific practice drills. Krausko's original webpage had limited Flash player capabilities, and the page was text-heavy. There's nothing wrong with text, but Krausko's target audience desired a combination of video and textual information to help with their purchasing decisions. iNET Web was a perfect candidate to enhance Krausko's webpage. Web design revamps are iNET's turf, so we unleashed a blitz of profit-pulling aesthetic concepts.
Technology Implemented
Search Engine Optimization - Content Management - Flash - Web Design - Photo Galley - Video Gallery
Outcome
iNET Web worked one-on-one with Krausko's founders and proposed a visually exciting and informative site. We powered up Krausko's site by integrating dozens of HD videos using Flash. As users previously saw only excessive strings of text on the page, they now enjoy abundant photo and video galleries and instructions for how to use the pads embedded into the page copy. Users new to Krausko's products can even watch a collection of Drill Demos to increase interest in and familiarity with the products. The result is an attractive, user-friendly and audience-driven treasure trove of information about the drill pads and how to use them. As a byproduct, the increase of videos keeps users on the webpage and ranks the page higher in Google search results for popular queries related to football pads.
Let iNET Web intercept your competition's web traffic leads. Contact iNET Web today!