Kokomo Jackrabbits
A compelling logo is required for every business or organization – especially sports teams. Your logo will be seen on jerseys, t-shirts, printed ads and tickets. Let iNET create a unique, memorable logo for you and your team.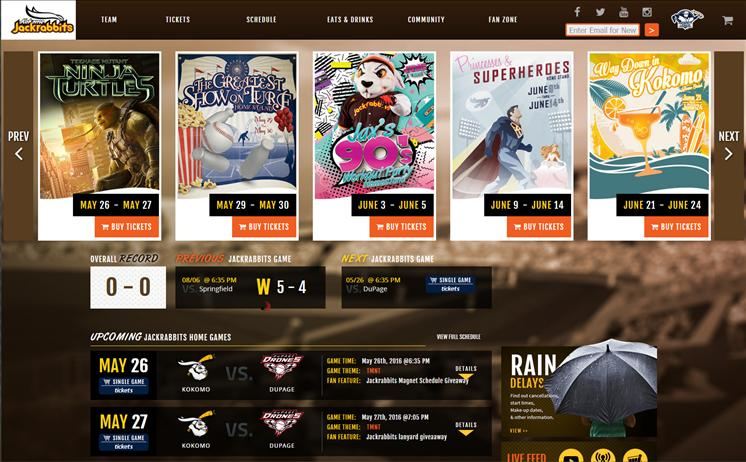 Click the links above to learn all about the unparalleled web marketing services that provided Kokomo Jackrabbits
Kokomo Jackrabbits
This prospect league baseball team from the medium-sized Indiana town of about 50,000 people has character. The Jackrabbits earned their name in 2014 naming contest. It was suggested by 15 people because Kokomo was also home to a popular automobile called the Jackrabbit. Each summer, the Jackrabbits showcase upper echelon collegiate players from throughout the Midwest for thrilling baseball for Kokomo residents and families. When iNET found out about them, we decided that there is only one thing to do for a team with so much character: design them a character!
Website Dilemmas
Because Prospect League sports teams targets families and kids, delightful, colorful mascots are essential for branding. The Jackrabbits were an expansion team in the league in 2014. They had a decent customer base of families but no consistent theme or identity. The Milwaukee-based managers of the team (MKE Sports) approached iNET Web to help them move beyond a compelling community-based baseball team into a quickly recommended and beloved brand in the Midwest.
Technology Implemented
Mascot Design- Logo Design- Web Design- Search Engine Optimization
Outcome
INET Web knew that compelling graphic design would be pivotal to the launch of the Jackrabbits. The kids of Kokomo needed branding to which they could emotionally connect. iNET rounded up our talented, visionary graphic artists. They conceptualized a story, theme, atmosphere and voice for the team. The theme's focal point was the team logo. It was a fierce, muscle-bound jackrabbit swinging a carrot/bat.
INET Web's colorful and fun branding generated buzz for the team. Kokomo families flocked to the stadium and continue to fill it to this day. The Kokomo Jackrabbits (and MKE Sports) enjoyed a further revenue boost when the iNET-created designs were licensed as t-shirts and memorabilia sold at the stadium. To this day, the seats fill up at every Kokomo Jackrabbit game. Parents attend the exciting match-ups with their children to enjoy a safe, fun and affordable family experience. INET web took a great idea for a team in a medium market and helped it find its voice and its audience.
We can help you find your voice and audience as well. Just Contact iNet Web Today.