Jamestown Jammers
Colors, logos, uniforms and merch are all the fun parts of baseball marketing. Packing the bleachers full of supportive fans is the gelatinous lifeblood the Jammers' survival depends on. Better marketing and a better online ticketing system made it happen.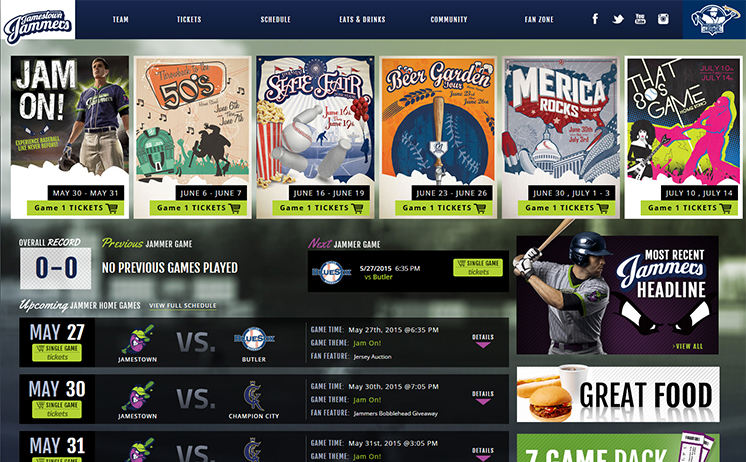 W
If you can't easily purchase tickets and merchandise from a smartphone these days, then organizations might as well hang it up. The Jamestown Jammers website is responsive to all mobile devices for a heightened user experience.
W
For an increased click-through-rate, iNET optimized the Jamestown Jammers' multiple entrance URLs with enticing meta titles and descriptions. Their SEO-friendly sitemap is fully loaded with effectively keyworded links.
M
The Jamestown Jammers were in dire need of couture branding, which revitalized the team's overall image with a fresh coat of vibrancy.
M
In the world of sports, a team's logo will graze hats, jerseys, t-shirts, and countless other apparel items. The cooler the team logo, the more merchandise gets sold.
M
The Jamestown Jammers wear their uniforms in front of thousands of fans every season. Jammers' apparel has one thing in common, however: iNET's design.

Click the links above to learn all about the unparalleled web marketing services that provided Jamestown Jammers
Jamestown Jammers
MKE Sports, the overseer of several Prospect League franchises, has an irresistible value-add that entertains families in small and medium towns throughout America: provide elite collegiate athletes a platform to showcase their skills and stay fresh in the off season. The prospect league was born from that idea. INET Web markets several minor and prospect league teams including the Kokomo Jack Rabbit, the Lafayette Aviators, and–of course– the Jamestown Jammers. We've mastered the complexities and nuances of positioning a team as a brand in a saturated market.
Website Dilemmas
The Jammers endured several transitions throughout their history. The team started as an affiliate of the Pittsburgh Pirates but were relocated to Morgantown, West Virginia. The prospect league team operated by MKE Sports assumed the Jammer name. Prospective fans were confused about the Jammers branding and the kind of team it was. They needed a clear visual web concept that not only reintroduced the team as a Prospect Team but also generated buzz for the upcoming season.
Technology Implemented
Webpage design - Logo Design - SEO - Content management
Outcome
iNET Web's in-house graphic designers shine when marketing baseball teams. They regularly design logos, brands, concepts and even hats and t-shirts for sports teams. Accounting for elements like demographics, team origin and local history, iNET web goes to work to craft unique visual concepts for teams that are rooted in the values of those teams and their community.
The Jamestown Jammers design work was no exception. Inspired by the celebrated grape-growing tradition in Chautauqua County, iNET Web's artists originated Bubba, a scowling grape with a bat cocked over its shoulder. The design rooted the team in Jamestown's heritage, and iNET increased apparel sales. The comical illustration appealed to the kids of Chautauqua County who started lining up after games to pose with Bubba and begging their parents to buy Jammers' merchandise. It became a destination landing page for families querying Google about special events, team standings and ticket sales.
Who said art doesn't make money? When the art is strategic, customer-centered and rooted in a community's values it's amazing the traffic it generates whether it be for a baseball team or any other kind of company in southeastern Wisconsin. iNET is strategic in all that we do. Our only objective: make your company money.
Need a logo or some graphic arts work? Contact iNET Web today!