Cookies From Scratch
This site showcases the detailed and intricate treats made by our client, making users (and us) want to eat them.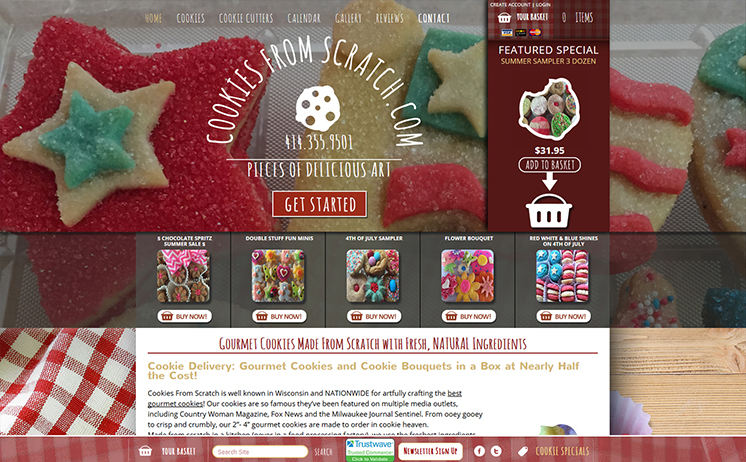 Click the links above to learn all about the unparalleled web marketing services that provided Cookies From Scratch
Cookies from Scratch - iNET Web Marketing for a Wisconsin Gourmet Cookie Store
Most processed cookies are engineered with enough preservatives to endure the aftermath of a meteor strike. In considering your family's health, that's not good news! For 45 years, Cookies from Scratch has been dedicated to gourmet cookies untainted by trans-fat, refined grains, high-fructose corn syrup and the other food-flavored additives. Cookies from Scratch is a different kind of cookie company. Resisting the temptation to save money with low-cost, low health imports, Cookies from Scratch sources its fresh ingredients from farms right here in southern Wisconsin. The company serves not only the physical health but the economic health of Milwaukee and Waukesha counties.
Website Dilemmas
A web e-commerce company purveying made-to-order, hand-delivered cookies is valuable and unique in the southern Wisconsin market, especially in competition with the plethora of wedding cake bakers on the web. Cookies from Scratch had compiled a differentiated, measurable business objective: be the number 1 go-to cookie delivery service in Milwaukee for special occasions like weddings. There was room in the market for them, but it needed positioning as a different kind of wedding cake company in southeastern Wisconsin.
Website Technology Implemented
Search Engine Optimization - HTML - Web Design
Website Outcome
iNET Web Marketing did an analysis of common search queries for companies like Cookies from Scratch. The researchers discovered a wealth of searchers looking for baked good for weddings. Designers enhanced the page with a Gallery of Wedding Photos. They also optimized the page for keywords like wedding cookies. The result was a boom in web traffic filtered from Google, and it wasn't even wedding season yet. As a matter of fact, a year-over-year comparison of wedding queries revealed that organic search traffic doubled since the changes! Cookies from Scratch is now enjoying tremendous demand for wedding services from smitten couples across southeastern Wisconsin.
Let iNET treat your company to a boom in organic search traffic. Contact iNET's web designers now.