American Paper
iNET-Web brought American Paper & Packaging into a modern website thanks to our custom design skills.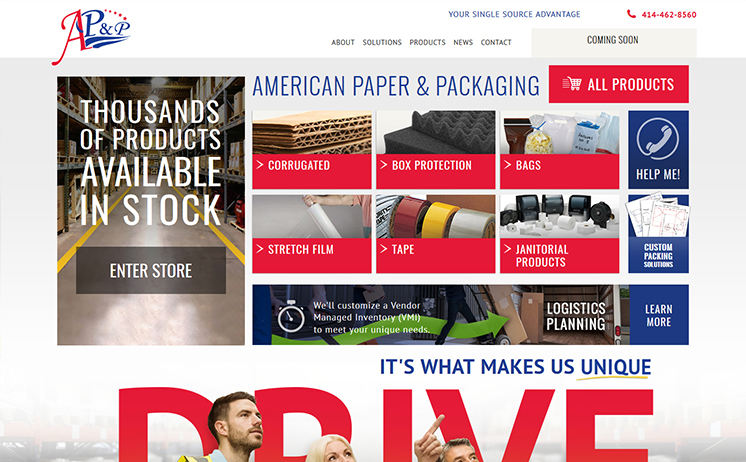 M
How else could American Paper & Packaging be branded other than in red, white, and blue? The team at iNET-Web took the American Paper website and made it delightfully patriotic, with a red and blue logo and headers of the American flag.

Click the links above to learn all about the unparalleled web marketing services that provided American Paper
American Paper & Packaging-
For over 90 years, American Paper & Packaging has offered the best supplies to help businesses all over Wisconsin and the Midwest. They offer everything, from corrugated containers and cleaning supplies to first aid kits and hand trucks, and they continue to provide companies throughout the Midwest with necessary business supplies. AP&P focuses on their customers' needs and objectives, and they constantly create innovative and cost-effective solutions for the needs of each company they serve.
Website Dilemmas-
American Paper has had a professional website for their company since 1998, but as the internet continued to grow over the years, the AP&P site began to look more dated and old. In addition to its outdated format, the site didn't have any optimized content. It didn't rank high on Google search engine results. While business continued to be decent, winning customers in an increasingly digital world was proving difficult with a poorly formatted website.
Technology Implemented-
Responsive Technology – Search Engine Optimization – Professional Copywriting – Green Screen Video Production – HTML – CSS
Outcome-
In 2015, American Paper approached the professionals at iNET to create a new website. The result was a beautiful new layout with quality graphics, top notch video production, and optimized content about their services. Thanks to iNET's expert copywriters and web developers, AP&P's website has significantly increased its traffic and have gained many more customers who continuously rely on AP&P's services.
Contact the Creative Geniuses at iNET today to learn more about how you too can make more money with a new website!