Royal Lee Organics
The brand Intelligent, Healthful Living carries through to all the Royal Lee Organics marketing including their grains and redesigned flour mill. The rich design speaks to the quality of the mill: it's the best in the market. By far.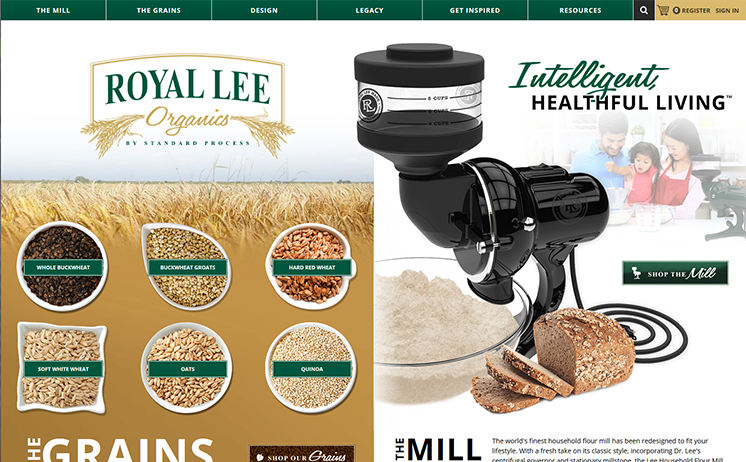 M
With royal green text and decorative golden overtones invoking all-natural grains, the Royal Lee Organics logo is optimistic and peaceful, implying health with gentle warmth and clarity. Preview our logos here!

Click the links above to learn all about the unparalleled web marketing services that provided Royal Lee Organics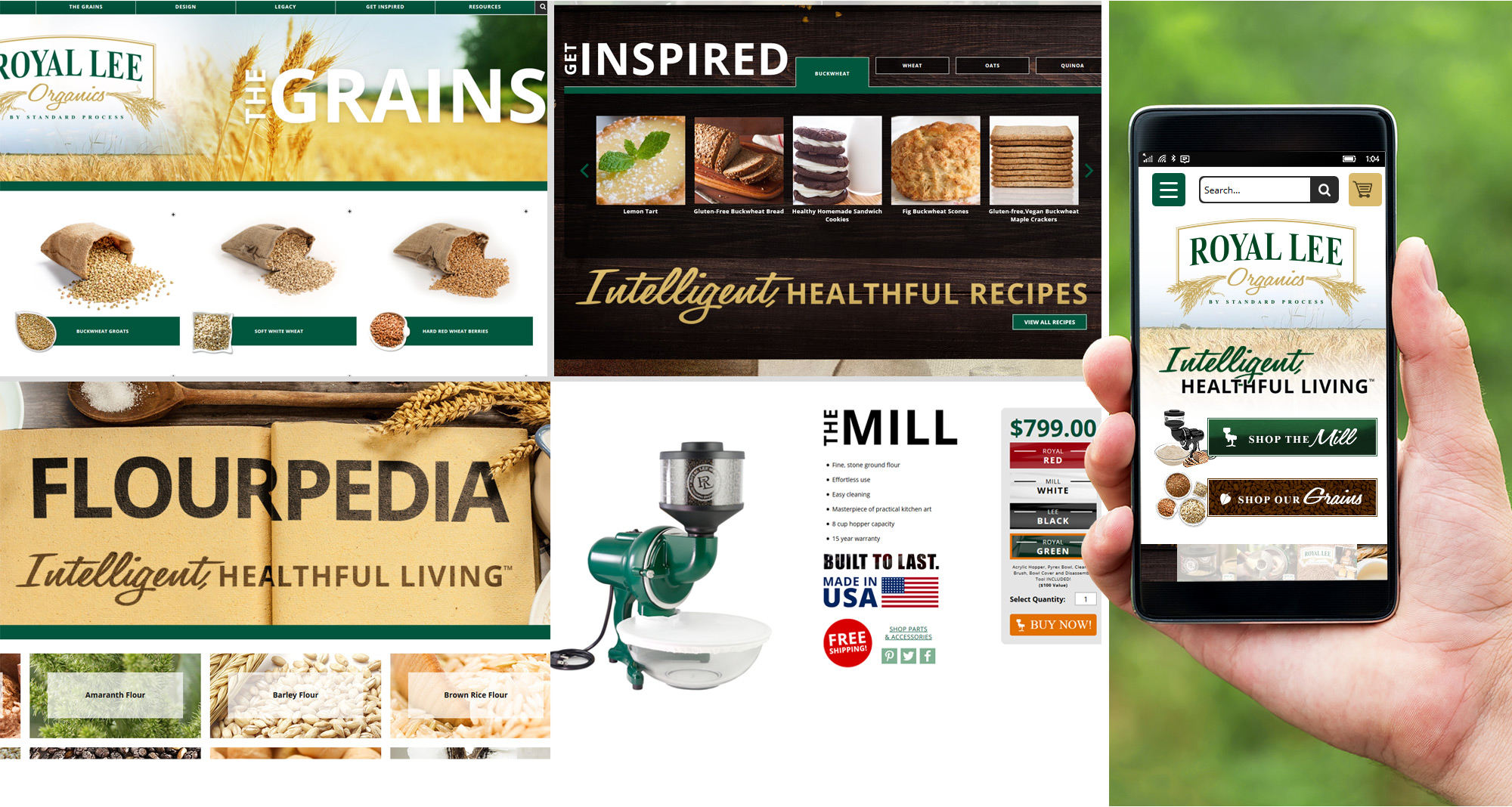 iNET's Web Marketers Make Dough for Milwaukee Flour Mill Manufacturer
Dr. Royal Lee was a Wisconsin visionary. His prolific work on centrifugal units in the '20s earned hundreds of mechanical engineering patents. Most notable was a technology that pureed food (Lee Liquidator) and another that extracted juice from puree (Pexton Press). He also invented numerous footswitches and scientific applications prevalent in manufacturing today. Dr. Lee's namesake graces two companies managed by iNET Web's profit-generating web design specialists: Lee Engineering and Royal Lee Organics.
Website Dilemmas
Royal Lee Organics incorporated around Dr. Lee's home-use flour mill. The mill incorporates centrifugal governor technology. Dr. Lee innovated it in the '20s to solve the industry problem of controlling process motor speeds while under load. He solved the problem masterfully, but his namesake company had a problem of its own: promoting the mill on the web to Milwaukee consumers who didn't know what it was or how much they wanted the mill. In a move as ingenious as Dr. Lee enrolling in Marquette's school of dentistry to study drill motor technology, Royal Lee Organics spun a contact with iNET Web. From one industry innovator to another, iNET Web was dizzy with excitement.
Website Technology Implemented
Search Engine Optimization - Responsive Graphic Design - HTML - CSS - Video Development
Website Outcome
Informed consumers are willing consumers. If, like Lee's mill, your product is quality and meets a consumer need, they will become YOUR consumers. iNET Web's copy writers and SEO specialists went to the grind on a Flourpedia informational page. It is an unprecedented cornucopia of information about millable plants and organics. iNET Web's copywriters described dozens of organics commonly processed in machines like the mill. In clear, concise detail our web content development team covered the spectrum of gluten-free flour-making with materials like almonds, rice and even tapioca. Through it, users soon realized the versatility of the mill. iNET Web's search engine optimization specialists then paired each description with recipes. The web marketing strategy maximized user interaction, linking, and time-on-site. To top it off, the web content was fresh and relevant because the gluten-free movement in Milwaukee was just warming up.
iNET Web's strategic Flourpedia copy fulfilled searchers' questions. Google searchers with queries such as "how to make semolina flour," "quinoa flour pizza crust" and "spelt flour substitute" landed on Flourpedia's pages. Users explored other pages from there. Most of this wave of users funneled to the web page were new visitors. It translated to new contacts for Royal Lee through its web-based contact page. Royal Lee found its customer base, and the company's online volume is flourishing. iNET Web's creative geniuses know good marketing is like yeast: a little of it leavens the whole lump of dough.
Royal Lee Organics is one of the several nutritionists who turned a profit with help from iNET.
Royal Lee Organics and iNET Web Design are perfect partners; we both help you make dough. Contact iNET Web Design today.